Integration with Lenovo Vantage makes it a Breeze to Discover Exclusive Deals on PC games
Close to 71 percent of PC gamers prefer digitally downloaded games to physical copies, according to a recent study. When taking a deeper dive into these numbers and listening to feedback from our gaming community, we knew the time was ripe for us to expand from providing high-performance Lenovo Legion gaming hardware to adding a digital gaming platform. Today, we're taking the next step into PC content and e-commerce with the announcement of the new Lenovo Legion Game Store – offering gamers a new way to buy the latest PC releases alongside their favorite classics directly from Lenovo in one convenient, online destination.

The Lenovo Legion Game Store is a web-based e-commerce site that offers a robust catalog of more than 200 of the latest and greatest PC games including hit new titles such as Fallout® 76 and Battlefield™ V, and some of the best indie discoveries like Dead Cells™ and Frostpunk™. We've partnered directly with a variety of publishers, allowing for a myriad of discounts and exclusives not available to other retailers. Unlike other digital download services, the Lenovo Legion Game Store will have a regimented screening process with the intent of allowing only fully developed or closed beta titles onto the platform. We know gamers can get frustrated with having to pay for half-finished, half-hearted demos, and we want to help put an end to that.
Better yet, the Lenovo Legion Game Store is integrated into Lenovo Vantage, our one-stop PC application supporting system updates, health and support capabilities available to all Windows 10 PCs, including those by Lenovo Legion. On Lenovo Legion PCs, Lenovo Vantage comes with features designed specifically for gamers, from overclocking your CPU and RAM, to full customization of the chassis lighting design. By adding the Lenovo Legion Game Store to Lenovo Vantage, we're empowering gamers by offering less clutter and more control to easily discover exclusive deals on game titles. Unlike other platforms which require separate applications, the integration of the Lenovo Legion Game Store with Lenovo Vantage makes it a seamless experience to discover and buy without downloading a third party application.
With the announcement of our latest Lenovo Legion gaming PCs earlier this year and the new rollout of the Lenovo Legion Game Store, we're connecting our gaming hardware with greater accessibility to content – with the goal of providing our gaming community a seamless, high-performance and fun experience.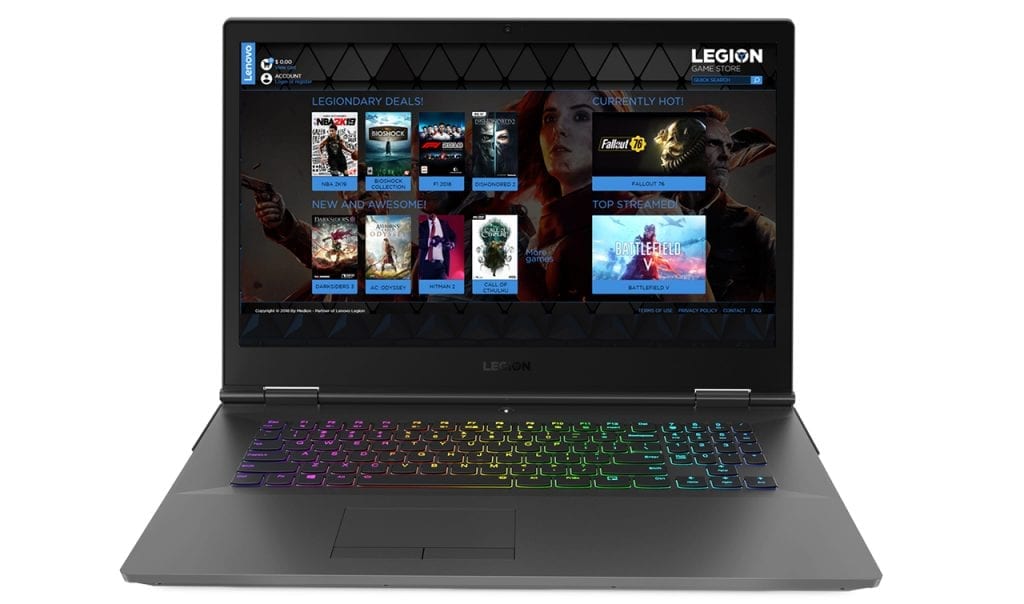 The Lenovo Legion Game Store will be available in the U.S. online here, starting November 26 on Cyber Monday, with plans to expand on exclusive content and offers. For more information about Lenovo Legion visit our gaming page or YouTube channel.
LENOVO and LENOVO LEGION are trademarks of Lenovo. FALLOUT is a trademark of Bethesda Softworks LLC. BATTLEFIELD is a trademark of Electronic Arts Inc. DEAD CELLS is a trademark of Motion Twin. FROSTPUNK is a trademark of 11 bit studios S.A. All other trademarks are the property of their respective owners. ©2018, Lenovo Group Limited.