For the past three years, Lenovo Foundation has offered a special opportunity for Lenovo's employee resource groups (ERGs). The annual ERG Grant Round gives ERGs the opportunity to make an external impact through partnerships with non-profits serving their respective diversity segments. Whether it's to support non-profits empowering women, people with disabilities, providing resources for immigrants, or any other diversity-aligned initiative, ERG leaders have consistently applied for these funding opportunities.
During Global Diversity Awareness Month, we interviewed leaders who not only deliver incredible impact through these grants, but also demonstrate the power of aligning their roles at Lenovo to purpose. Even though the leaders are in different countries, different cultures, and help to lead different ERGs, trends in what drives these social impact champions emerged. See their four main tips for engaging in social impact in your workplace or community, and how it can contribute to your workplace satisfaction and wellness.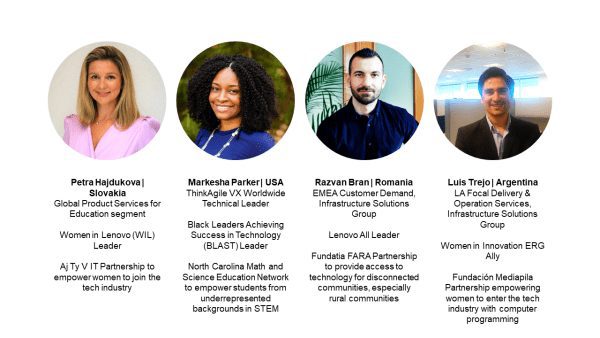 Bring your authentic self to work through social impact
Social impact leaders are driven through authentic leadership. Leading with authenticity not only powers a sense of purpose, but helps leaders use less energy to posture, making their unique professional approach more sustainable. "Find what you believe in, what is close to your heart, be authentic… find time for this, spread positive energy there – it will return to you multiplied," shared Petra Hajdukova, a leader of Women in Lenovo in Slovakia who leads the partnership with Aj Ty v IT, an NGO that focuses on helping women enter the STEM field.
For many of us, increasing authenticity in the workplace can simply mean not being afraid to soften our approach or use the relationship building strategies that are most core to us. "I owe this passion for giving thanks to my mother who has instilled in me and my sister this since we were very young, growing up in Romania as it developed," shares Razvan Bran, the leader of Lenovo All in Romania, a coalition that includes all diversity segments. "Knowing that there is talent that can impact and shape tomorrow's community or society is enough to keep me motivated to want to do this, regardless of where I am or what I do in my day-to-day role."
Understand the benefit that social impact brings the business.
Corporate Citizenship and social impact aren't just about doing good in the community. Research shows that social impact programs can benefit workforce well-being, corporate reputation, consumer perception, and can even deliver competitive insights. Additionally, social impact can attract new talent. "Our current community relationships provide exposure to a larger pool of influential young minds while providing them access to diverse technical resources," shared Markesha Parker, who leads a partnership with North Carolina Math and Science Education Network as a leader of Lenovo's Black Leaders Achieving Success in Technology ERG. "The greatest return on this investment would be an increased pipeline of diverse leaders. Being able to see someone that looks like you doing great things provides a level of confidence and motivation that can only set you up for greatness."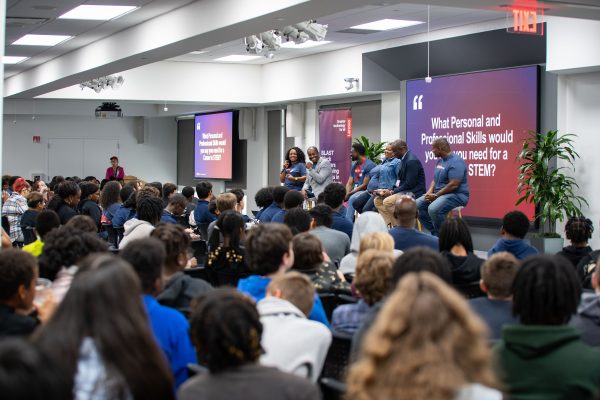 "Social impact work helps to humanize our company to our community and future clients," shared Luis Trejo, an ally for the Women in Innovation group in Argentina who helps mentor girls in STEM. "It can help people recognize the diverse paths people take to success, and that there are possibilities for everyone when one wants to progress."
Understand the benefit that social impact brings to you.
Razvan Bran leads a partnership with Fundatia FARA for Lenovo ALL Romania, which connects underprivileged and underrepresented youth with training and education so that they can pursue a career in STEM. For Razvan, it has been a mutually rewarding experience. "I believe that giving back in many ways is the only way we can ensure we can leave a meaningful impact. It is beyond rewarding, it is fulfilling, a unique way to express gratitude; and it can really support our mental health. Giving back keeps us grounded in the day-to-day reality, especially during times of uncertainty. We need to focus on making a positive impact so much, maybe now more than ever."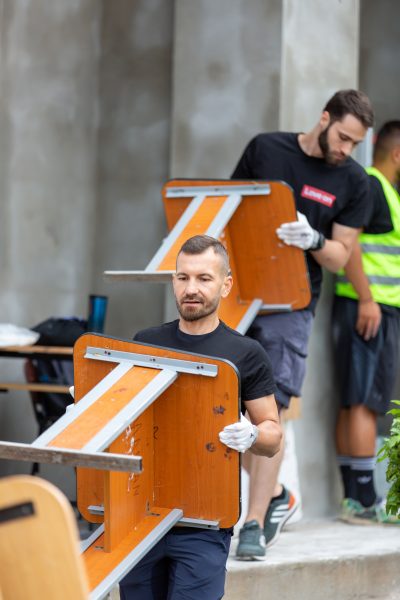 Many struggle to take opportunities to volunteer based on bandwidth and personal demands. "If you need more reasons to volunteer, then think of a time when you desperately needed help or support from someone; and maybe you were fortunate to receive it – or not," shared Razvan. "When someone is there to help you, or when you don't receive the help you need, it makes a huge impact on you, right?"
Dive in!
"Even the smallest actions can add up to a lot, and there are no excuses not to do them," shared Luis Trejo. "You don't need to have a large budget, just a desire to share knowledge and experience with the next generation."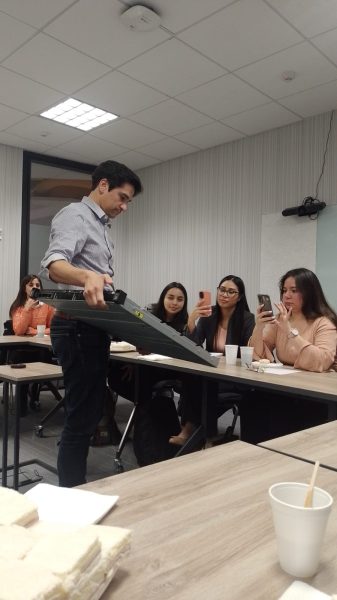 "It can be difficult to work on both business and ERG activities, but it's also very fulfilling – especially when you have feedback from people who say that the things you're doing help them, it actually energizes you so you feel more motivated," shared Petra.
But while you dive in, Markesha Parker stresses the importance of maintaining authenticity. "Find organizations and missions that you are passionate about so that you are giving genuinely and not to be seen. Start cultivating your relationships one at a time, and of course have fun! There is a lot of work behind the scenes, but it never feels that way when you enjoy what you do."