By Cassidy Lammers
What if you could build a house like you build a playlist, selecting each material as carefully as you would pick your favorite songs? That's what Dutch design firm DUS and its architectural fabrication sister company Aectual envision – a future where building products are 3D-printed on demand in a sustainable, reusable manner.
Founded in 2004, DUS began with the desire to reconnect architecture with the public. The company started with the 3D-printing of an entire canal house and urban cabin, and now Aectual is continuing its research on digital fabrication techniques. Aectual's bespoke technology produces 3D-printed building products on an industrial scale – including floors, facades, millwork and even small homes. Most recently, the company took on 3D printing and fabricating floors in the Amsterdam Airport Schiphol.
To produce these structures, the company uses two types of plastics – bio-based building plastics and recycled waste plastics. Though not commonly used for building, these plastics are plant-based and extremely sculptural, allowing DUS and Aectual to create structures that are not only revolutionary in the industry but also environmentally conscious. In fact, Aectual's concrete products made with 3D-printed molds already lead to a reduction of up to 60% in CO2 emissions during production.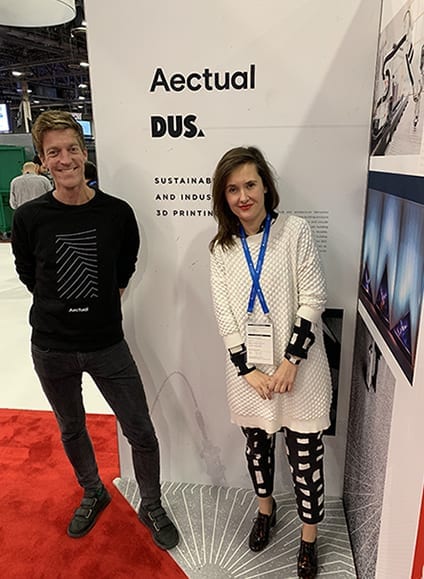 "Buildings are being designed to fit materials that already exist and we're trying to flip this process around – especially since building with those materials is resulting in so much waste," said Hedwig Heinsman, COO & co-founder of Aectual and DUS. "Our goal is to provide the tools and materials to create any kind of building product that allows you then to create any kind of architecture."
Through every step of the process, Lenovo workstations are powering the technologies Aectual and DUS require to bring tailor-made architecture to the masses. From fueling 3D-modeling software and 3D-printing technologies to powering the connection between Aectual's 3D-printing robots and printers, Lenovo provides the massive amount of computing power these companies need to build structures and floors quickly and efficiently.
DUS and Aectual's portfolio of building products is growing into a full digital platform for the AEC industry, with the goal of eventually allowing people to build their own homes out of their favorite 3D-printed building products.
Last week, Heinsman attended AU 2018 to showcase the revolutionary work of DUS and Aectual. She demonstrated how their latest work in digital fabrication is creating a space where the manufacturing and construction industries converge – allowing for revolutionary new methods of building.
To see more of Heinsman and her team in action, check out our video below.