At Lenovo we are committed to diversifying our teams and bringing in a wide spectrum of young and bright talent. We know that in order to deliver on our promise to provide smarter technology for all – and to keep pace with the innovation curve – we need to take steps to bring in the next generation.
So we were thrilled to welcome Lenovo EMEA's inaugural cohort of sales graduates, part of the EAGLeS (EMEA Academy for Graduates in Lenovo Sales) program, earlier this month. The new two-year course is designed to give some of the most promising talent from across EMEA a rich and diverse experience working at Lenovo to accelerate their career. We are committed to investing in their future, and ensuring the cohort have the best possible experience with us.
Through initiatives such as the EAGLeS program we can hear what the next generation have to say – and in turn, help drive innovation from within the business.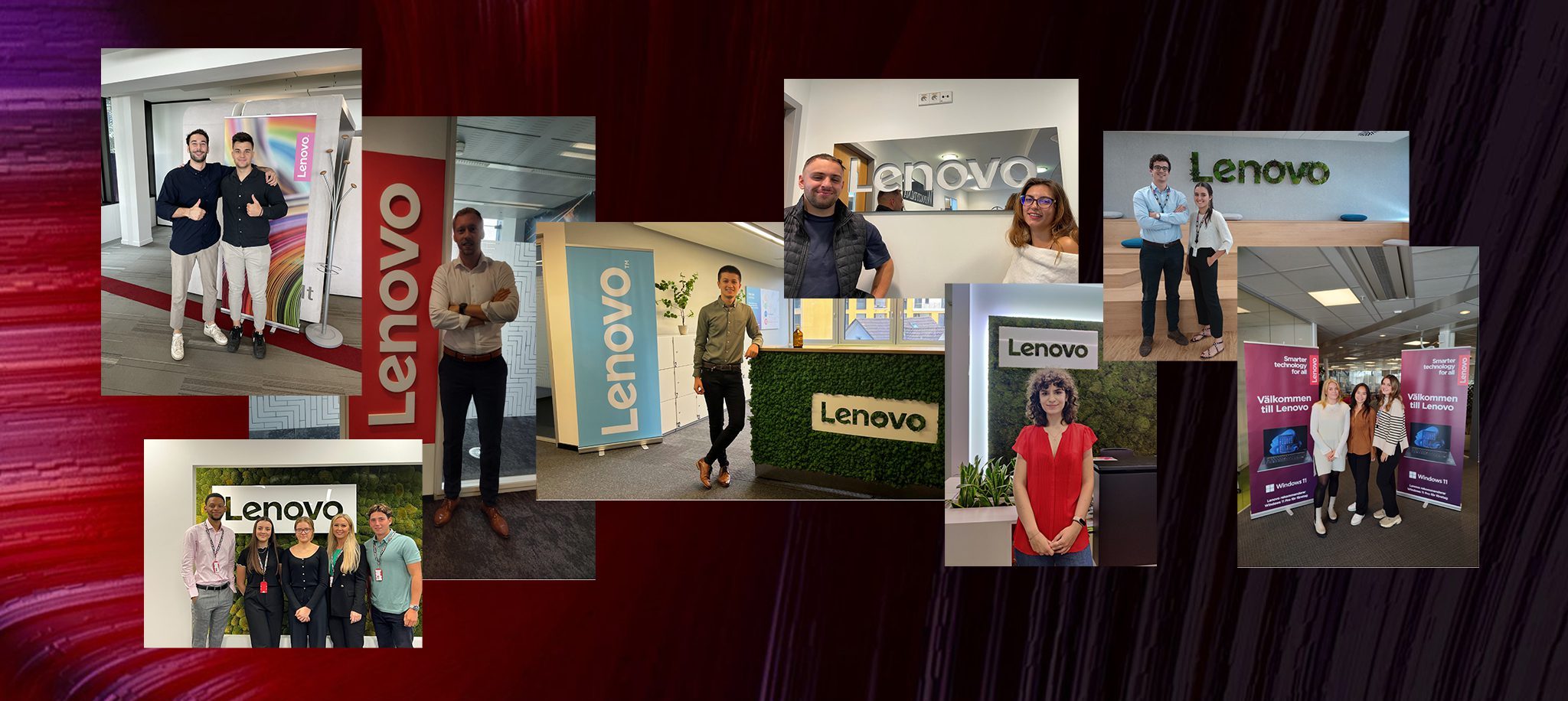 Getting It Right from the Start
In order to create Smarter Technology for All, we need to practice what we preach and have a diverse workforce that contributes to every part of our business.
Diversity is at the heart of everything we do, so it was essential to ensure the recruitment and assessment process for the EAGLeS scheme was as equitable as possible. Ensuring diversity is built-in from the start helps foster a spectrum of voices, from across the entire EMEA region.
Initial assessment was primarily online, ensuring anonymity and, in turn, inclusivity. The result? We had over 1,400 applicants from across the EMEA region and our successful graduates come from 13 different countries – from Romania through to Saudi Arabia. We were also able to exceed our equal gender targets for the scheme; of our 21 graduates, 13 are female.
Welcoming Our Students
As the program was developed we ensured the graduates would have the best possible welcome to the business, followed up by ongoing support. That's why each student has been provided with both a Line Manager and a Buddy to help guide them through the process.
Speaking of the program, one of the graduates Corina Picus, said: "From the first day I felt like a regular employee, so I can say that the Lenovo team is very welcoming and also people-centric. Everyone is supporting my development and growth as a professional."
At its core, the scheme is designed to encourage a two-way learning process. It is through our Line Managers and Buddies that we at Lenovo can learn from our graduates, ensuring we are listening – and reacting – to what the next generation have to say.
Creating Development Opportunities
For our graduates, having a precise career ambition and direction is uncommon. That's why the scheme is designed to offer the cohort as many development and training opportunities as possible, exposing them to different areas of the business and its people.
The group will undergo a six-month rotation program across two years, through which they will be able to experience as many different functions as possible. Graduates will be able to try their hand at everything from sales training and accreditation through to business and softer-skills training.
As Amanda Ewald, an EAGLeS participant, said: "What I have seen and experienced so far, makes me believe and feel like I really do have tons of opportunities to develop myself professionally and personally. This is an amazing start to my career!"
What's Next
It's just the beginning for our 2022 graduates as they embark on their two-year program. I can't wait to hear how their journey progresses, and to see the graduates flourish at Lenovo.
We are committed to investing in their future and ensuring we offer them the best experience possible. We know that at every step of the way across all functions, they will be warmly welcomed by our colleagues here in EMEA. Please do look out for them and say hello.
If you would like to register your interest in future programs please contact us at eagles@lenovo.com or visit our Lenovo Talent Community Page.