By Chris Ruffo
To say we live in a fast-changing world of technology is an understatement. From artificial intelligence to digital fabrication, new technologies are rapidly advancing to help us solve some of the world's toughest challenges. Through it all, Lenovo is by your side. With support for AI, digital fabrication and now NVIDIA Quadro RTX GPUs, Lenovo is providing innovative tools that help you change the way things are designed, made and used.
Artificial Intelligence Around the World
One of the biggest technological breakthroughs we're seeing today is the evolution of AI, and Lenovo is investing support and exploring what's possible with companies across the globe.
First, let's stop in Amsterdam with MX3D. Known around the world for creating the first-ever, 3D-printed steel bridge, MX3D is using AI to revolutionize the way bridges are built with its new IoT "nervous system" – a system of sensors that use AI to monitor the bridge's health over its lifespan.
"The opportunity to examine real-time data from these sensors will provide insight to inform designs for future 3D-printed metallic structures. For something like this to succeed, you need partners who are going to help you reimagine the way things are designed and help you stay ahead," said Gijs van der Velden, CEO of MX3D. "Lenovo workstations have been key in providing the computing power we need to run these complex AI workflows to help our team revolutionize how bridges are built."
Beyond advancing first-of-its-kind architecture, we're also working to further climate change research. At North Carolina State University, a research team is using AI to optimize agricultural irrigation routines and predict the performance of crops in drought-prone regions. To harness this vast level of computing power, the team turns to Lenovo ThinkStations. The team can now prototype deep learning algorithms from complex spatial and temporal data all from a deskside workstation – allowing them to monitor crops from plantation to harvest and predict whether crops are doing well before issues arise.
Lenovo is also partnering with Texas-based Mark III Systems to bring AI to mainstream manufacturing. Using the Lenovo Data Center to develop AI image recognition and the ThinkStation P330 Tiny to operate verification systems in the factory, Mark III has implemented a quality assurance process that allows it to quickly identify product defects prior to shipping to deliver a high-quality product.
Around the world, Lenovo is excited to help industry professionals augment human intelligence to solve increasingly complex problems with AI.
Paving the Way for User-Friendly Digital Fabrication
AI isn't the only area where professionals are disrupting the status quo. Digital fabrication is bringing the worlds of manufacturing and construction together – allowing for new methods for building.
One company at the forefront of this is Dutch design firm, DUS, and its architectural fabrication sister company, Aectual. The company's latest endeavor includes 3D printing and fabricating floors in the Amsterdam Airport Schiphol. But its bespoke technology produces far more – from 3D-printed facades to millwork and even small homes. Soon, Aectual's portfolio of building products will grow into a full digital platform to allow AEC professionals to build their own homes like they're creating a playlist composed of their favorite 3D-printed building products.
From initial design to final production, Lenovo workstations ensure DUS and Aectual never have to slow down – by powering the development of advanced 3D software and 3D printing technologies as well as the gigantic, on-site robotic printers that are creating these groundbreaking structures and floors.
Unlocking Your Potential with NVDIA Quadro RTX
Revolutionizing the way we do things starts with visualizing the future in a new way. Today, that means introducing NVIDIA's Quadro RTX GPUs into our portfolio. Lenovo recognizes the power and potential these cards possess, and we're all in. Lenovo is announcing support of NVIDIA Quadro RTX for the ThinkStation P330 Tower up to the ThinkStation P920.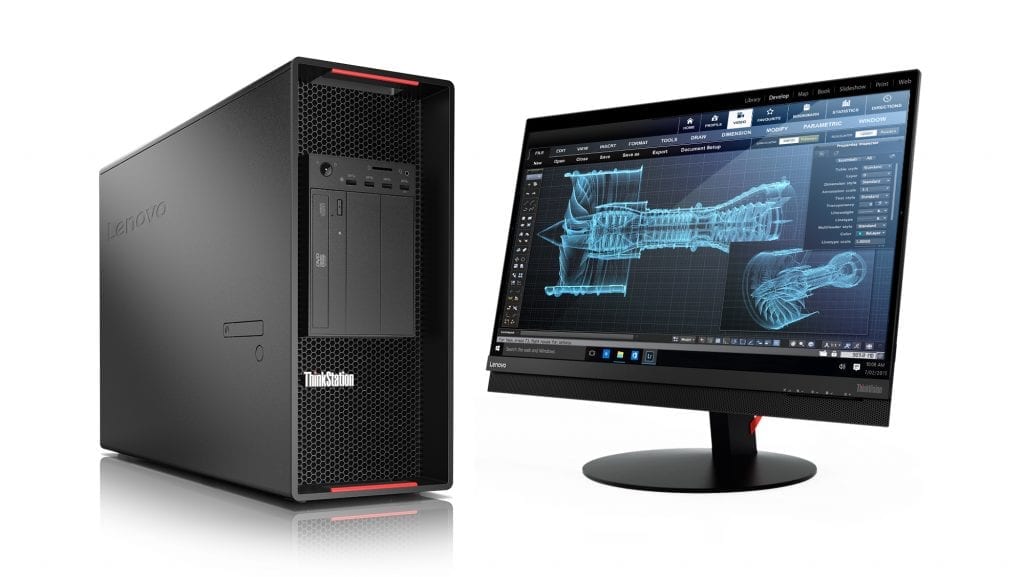 Offering real-time ray tracing and AI-enhanced workflows, the Quadro RTX GPU scales graphics memory and performance to drive the most demanding rendering, AI and visual computing workloads.
With new RT and Tensor cores, Quadro RTX takes rendering from simulated to real-time. Now, instead of waiting several minutes or even hours for the creation of photoreal renders, instant viewing means designers in both the AEC and manufacturing industries can remain immersed in the creative flow and iterate faster to explore more design innovations.
The company at the forefront of this technology is Epic Games with its Unreal Engine – an industry-leading suite of tools designed for professionals working with real-time technology to design and build games, simulations and visualizations, films and broadcast content.
"At Epic, we are constantly striving to set new visual fidelity standards with Unreal Engine to empower architects, designers and engineers to create fully interactive experiences that convey the creative intent behind their designs," said Marc Petit, General Manager, Unreal Engine Enterprise at Epic Games. "Lenovo understands the needs of the Unreal Engine community, offering AEC professionals powerful workstation solutions featuring the new NVIDA Quadro RTX cards that enable the development of photorealistic real-time applications."
With RTX, professionals get the best graphics performance. And with Lenovo, they get the best technology to meet their evolving needs and daily demands of their workloads. With the introduction of NVIDIA Quadro RTX cards, Lenovo is excited to bring the future of technology to design and creative professionals across the globe.
To learn more about our workstations and this new offering, visit https://www.lenovo.com/us/en/thinkworkstations.