I was 24 years old and everything in life seemed perfect: halfway through medical school, dating a wonderful guy, going on weekly climbing trips… Then suddenly, I noticed I couldn't breathe whenever I tried raising my arms or lying down. Eventually I struggled to breath all the time. Doctors said it was my "asthma" acting up. My new boyfriend, Brian, asked me to attend his best friend's wedding where I would meet his entire family. I was so excited to be integrated into his life. But at the wedding, I discovered I couldn't swallow food anymore.
That's when I knew this wasn't just "asthma," so I found a doctor that agreed to a CT scan. A few days later, my phone rang, and the physician said I needed to come into the hospital to get my results. I rushed to the hospital, terrified of what they were going to tell me. While waiting in an exam room, there came a procession of very sad doctors. All the doctors I saw the previous week were standing in this tiny room looking at me as if someone had died. I knew that someone was me.
I don't remember who actually broke the cancer news to me or how, but it was very somber and without any hope in their voice. They didn't know what type of cancer I had, or what type of treatment I would need, but they said I had the strength to overcome this. In a way, I felt ready to start this battle and beat it. Unfortunately, it ended up being much more than a single battle, I was fighting a lifelong war.
What happened next was a blur. A friend drove me home and stayed with me until Brian arrived. He held me while we cried and watched my favorite season of Big Brother. Until this point, I had never said "I love you" to any male in my entire life, but I knew I was madly in love with him. I couldn't believe I might die before getting the chance to start a life with him. Still too scared to say it, I wrote it down on a piece of paper and handed it to him.
Leading up to my first surgery, I lived every day as if it was my last. I learned how to change my car's oil, went out to eat at fancy restaurants, played with a lot of cats, and tried my best to forget my impending surgery.
Then, the day came when I had to check in to the hospital for my surgery. I walked in alongside my family, tightly grasping Brian's hand. The doctors explained to me that the surgery would be easy. They would get a sample of tissue, the pathologists would make a quick diagnosis, and then I would immediately start treatment. Everything sounded easy and not scary whatsoever.
It wasn't long before my hopefulness was gone, and I was brought back to reality. It became clear all too soon that this was going to be an extremely difficult journey. To figure out what type of cancer I had, I underwent three surgeries– each leading to life-threatening side effects, including collapsed lungs, infections, fluid build-up around my heart, and clots in my major vein that doctors call SVC syndrome. From what I read, even with treatment, 99% of patients with SVC syndrome die within two and a half years.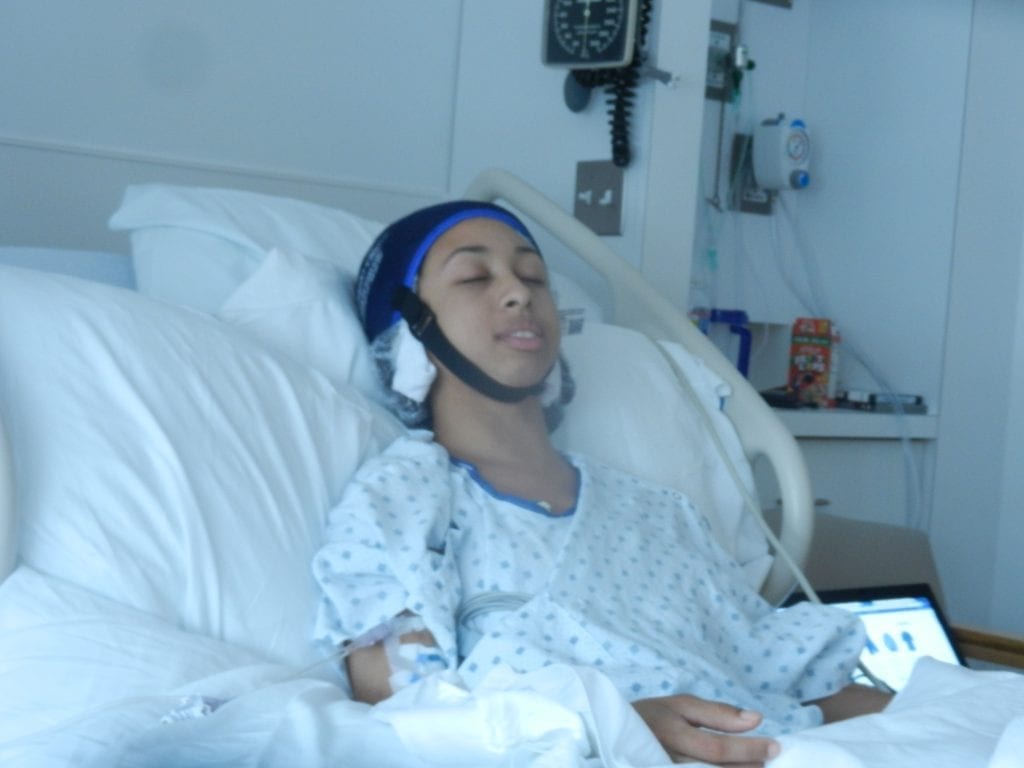 Three weeks after my initial biopsy, the pathology report was finally in. Cancer: Hodgkins Lymphoma. I was relieved. Every day without a specific diagnosis up to this point meant I was one day closer to death. But now, I was finally able to start the next phase of my life: chemotherapy.
I was dreading it, but not nearly as much as I should have. I needed 24/7 care after my first round of chemo, so I moved in with Brian. I was quite excited to be living with my first boyfriend, regardless of the circumstances. At this time, I still had stitches in my pecs, so every move hurt. I walked around with my hand over my chest, as if I were having a heart attack, to decrease the pain.
After my next rounds of chemo, I would vomit and sleep for the next three days. Words can't describe how bad I felt waking from my chemo coma. The pain, nausea, hot flashes, weakness. Through sobs and tears, I thought I couldn't endure this life anymore.
For those who know what I am talking about, never lose hope that you CAN get through this and you ARE strong enough.
"Never lose hope that you CAN get through this and you ARE strong enough."
Finally, after six months of chemo, it was time to see if the treatments had worked. My mass had shrunk from 13 cm to 4 cm! From here on out, my treatment was just surveillance — scans and blood work. I'd like to say that the road to recovery was easier than the treatment, but it wasn't. That's a story for another day.
I am eternally grateful to the pathologists who worked tirelessly on my case to make my diagnosis. They allowed me to move forward with my life, find my purpose and that's what inspired me to become a pathologist and start my own medical education clinic. Today, I get to help patients like myself who are searching for answers during scary and uncertain times.
Patients can make appointments in 15-minute increments for as long as they like so they don't feel rushed. Ahead of their scheduled appointment, the patient can upload their lab results and pathology reports to a HIPAA secure medical record system that I will review on my Lenovo laptop.
During our meeting, I will answer whatever pathology-related questions they have about their diagnosis. I will explain how the lab processes their specimen to how the pathologist makes the diagnosis.
My story is unfortunately not an isolated one. It seems everyone knows someone who has been affected by cancer – whether it be a friend, colleague, loved one or themselves. Today, on National Cancer Survivors Day, I want to share what keeps me strong in my fight against cancer and that is thinking of the future.
During chemotherapy and the subsequent recovery, I thought about all things I wanted to do again. Sometimes it was as small as finishing a TV show or ranking first in a video game. Other times it was something bigger, like touching real rock again or practicing medicine. Just dreaming about those things made the day to day hardships much more tolerable! My advice to you is to never lose hope or sight of who you are. Remember, cancer is just a chapter in your life – it's not your whole story.
Follow Favia on Instagram (@felinefavia) to be part of her #LenovoInnovators journey and support her mission to promote health and diversity through medicine and rock climbing.