Gone are the days when college students would be considered slacking on their studies if they chose to pick up a video game controller over a textbook. For some students at the University of North Carolina at Chapel Hill, video games are the textbook.
They have Dr. Courtney Rivard to thank for that. Dr. Rivard is the Director of the Digital Literacy and Communications (DLC) Lab and Teaching Associate Professor in English & Comparative Literature at UNC-Chapel Hill. With input from her DLC colleagues, she developed a vision for an immersive classroom where students across disciplines could explore culture, history, narratives, and storytelling through the lens of video gaming.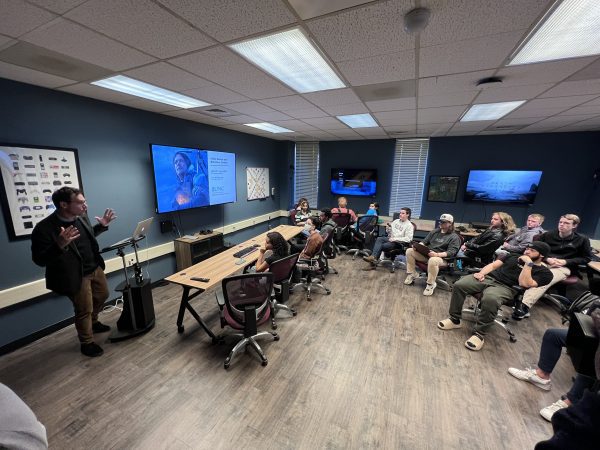 The Greenlaw Gameroom was created in the English & Comparative Literature Department in 2020, thanks to the Lenovo Instructional Innovation Grant offered to UNC faculty through UNC's Center for Faculty Excellence. The program, created as part of a Lenovo technology partnership at the University, provides financial support to instructors seeking innovative ways to use technology in their classrooms to engage students, improve accessibility and enhance the overall learning experience. Grants of up to $75,000 are awarded annually to qualifying projects.
Dr. Rivard's project was selected as a grant recipient in 2019 and the department transformed a classroom into a dynamic, flexible space that can enable simultaneous gameplay for up to 25 students. It's equipped with five large screens, PlayStation 4's, Nintendo Switches, gaming towers and a flexible design with moveable desks and chairs to enable all types of gaming, including tabletop games.
Today, it is the first and only classroom dedicated to game studies at UNC and courses taught in the game room have become top choices among students as they select their coursework each semester. Following the game room's rapid rise in popularity on campus, Dr. Rivard has been able to expand resources to students pursuing their interests in gaming while also facilitating collaboration between the Triangle region of North Carolina's top universities.
Controlling the narrative
In the Greenlaw Gameroom, video games are treated as rich cultural forms of expression — similar to poetry, films, and art — that inform players about power structures, history, morality, race and more. Students in the game room play all types of games from The Sims to the dystopian zombie game, The Last of Us.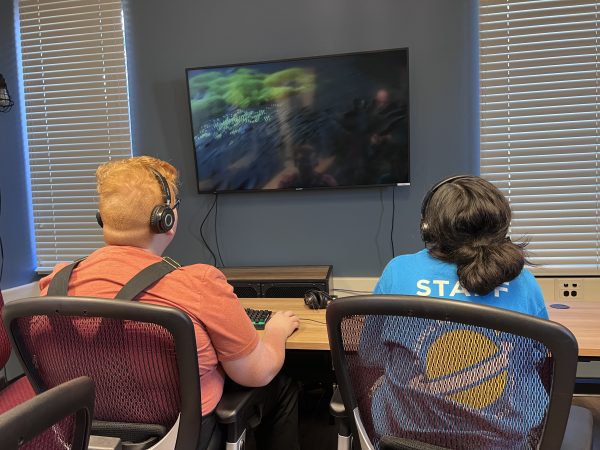 Dr. Rivard explains that students explore how stories are developing in these games and how, as players, they have control in the story.
"What we're interested in in the English Department is, what stories are being told? How are they being told? What makes them so compelling? Who's being represented? Who's not? Who's telling these stories? These are the same questions that we apply to literature and film. And now we're thinking of games as text in the same way," Dr. Rivard said.
For instance, one English professor, Dr. Danielle Christmas, used the game room for students to analyze representations of Blackness and enslavement in Assassin's Creed Freedom Cry, set in Haiti in the 1730's, in which the main character faces brutal slavery practices that were common in the West Indies.
The Greenlaw Gameroom serves a variety of disciplines, including literature, indigenous studies, classics, and archaeology. More than 40 classes have been taught in the space, serving 1,000 students in its three years of operation.
Dr. Rivard said her course taught in the Greenlaw Gameroom, "Introduction to Critical Game Study," is so popular that it has waitlists of up to 20 students per course.
Industry players
Students are benefitting not just from the analysis of games, but many are also learning how to craft their own narratives for games. That's important for the next generation of storytellers, Dr. Rivard said, because the video game industry is among the most profitable in the world, netting more than $200 billion in 2021, according to PwC.
"About two-thirds of Americans regularly play games. What this means is that people are playing games to consume stories," she said. "We need people to tell good stories or people wouldn't play the games. We need artists, we need people into sound and music to work together collaboratively to create these games."
UNC student Santos Lopez-Lucas said that's why he has learned so much from the courses he's taken in the Greenlaw Gameroom. As someone interested in a career in game development, he said the narrative analysis helps complement the more technical skills he's learning in computer science.
"I think being able to think in all these different aspects is very important if you want to go into the game development industry," he said.
Thanks to a grant from the National Endowment for the Humanities, the English & Comparative Literature Department plans to create a new critical game studies minor to continue supporting students like Santos, who benefit from that analytical lens.
Teaming up in the Triangle
Dr. Rivard is now working with other academic institutions in the Triangle to leverage their various approaches to gaming. Duke University also has a gaming lab, while NC State is developing a multimillion-dollar esports arena. She has been working with colleagues at NC State to explore the possibility of creating an analytical lab for games as part of that new arena, which would combine their various focuses on areas such as sports medicine, computer science, English comparative literature, and language acquisition.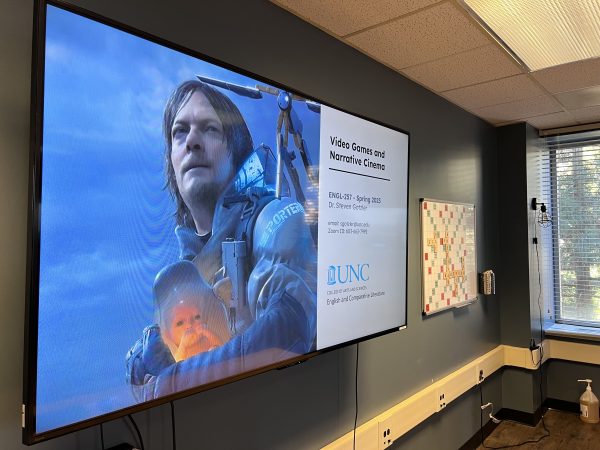 The Triangle is an ideal location for this collaboration due to the strong game industry that already exists in the region and across North Carolina, Dr. Rivard said.
"I think there's really exciting things happening in the game industry," she said. "And universities are starting to take notice of that and say, 'hey, there's something here that we can use to educate our students and to really engage with the community."