Lenovo's International Services Supply Chain (ISSC) is the winner of the 2023 Award of Excellence for Making an Impact from the Association for Supply Chain Management (ASCM). The award recognizes that Lenovo ISSC is working to create a better world through social responsibility, proven business integrity, and a strong focus on sustainability.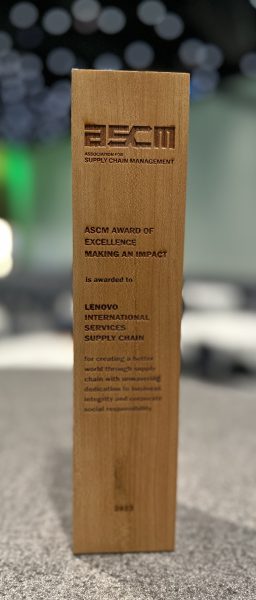 "We firmly believe that authentic sustainability leadership extends far beyond symbolic actions like curbing travel or planting trees. It is an urgent imperative that holds the potential to become a decisive driver of success, and sustainability offers a unique opportunity to gain a competitive edge," said Steven JX Chen, Executive Director of Lenovo International Services Supply Chain.
"The Services Supply Chain aspect of sustainability is sometimes overlooked, but embracing sustainability as a core mission means integrating seamlessly throughout the entire value chain, including critical areas like product design, sourcing, manufacturing, and service."
ASCM awarded Lenovo's International Services Supply Chain for its efforts to work toward zero waste, greenhouse gas reduction, and shipping optimization. A sharpened focus on forecasting, parts harvesting, and extending lifecycles have all contributed to improving PC parts recycling. In addition, logistics initiatives have had a significant positive impact on operations, including exceeding ocean shipment targets and reducing logistics carbon footprint.
The ISSC team's commitment to sustainability mirrors Lenovo's larger corporate vision to provide a smarter, more sustainable future for all. As a global technology leader with 77,000 employees around the world and serving millions of customers each day in 180 markets, Lenovo is transitioning to a circular economy through supply chain, product design, and services innovations such as those recognized through the ASCM Award of Excellence. To this end, Lenovo is making it easier for customers to participate in the circular economy and meet their own environmental goals through Lenovo initiatives like:
Deploying technology on a consumption basis
Optimizing energy efficiency of customers' data centers
Offsetting CO2 emissions across the average lifecycle of the device
Innovating for more sustainability in logistics
Read more about how Lenovo sustainability objectives benefit customers here.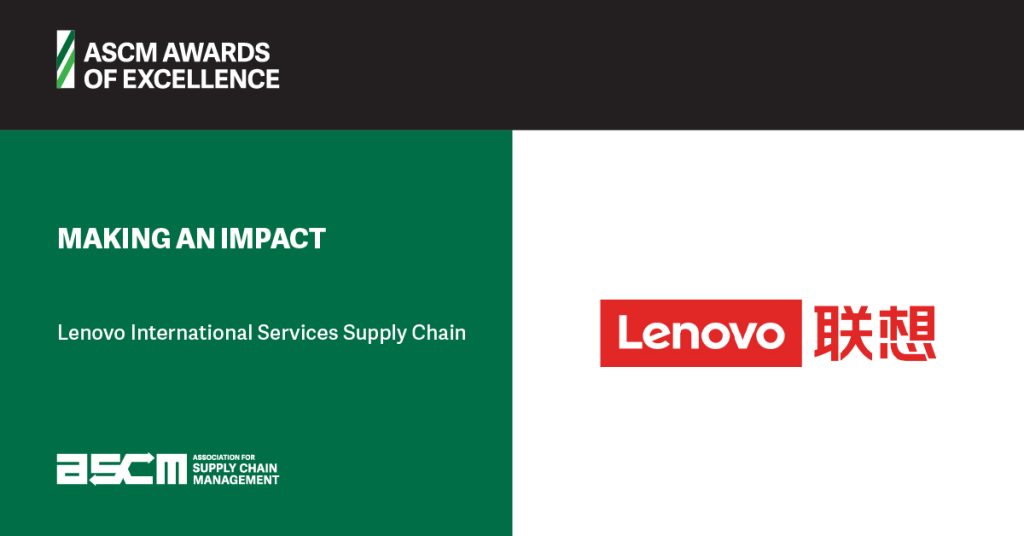 As the largest association for supply chain, ASCM principles help guide global supply chains towards better supplier partnerships through innovation measured alongside typical supplier appraisals like cost, quality, and delivery. Lenovo ISSC was recognized during a live presentation at the ASCM CONNECT Annual Conference in September. To learn more about ASCM, visit ascm.org.