Devices are getting smarter. Sensors, Internet connectivity (especially forthcoming 5G), and technologies like AR and AI are driving the Intelligent Transformation. From PCs to smartphones to cars, our devices are starting to understand the environment around them like never before. And they're by interacting with the cloud and with AI to even become predictive and suggest things for you to do.
Chances are, you're using a smart device, and you'll be using even more in the future.
Consider that:
"In the future, our smart device will use all types of inputs – typing, voice, gesturing and thinking – thus enabling them to move from image recognition and location to augmenting your physical world with virtual images and interact between them. Thanks to the large number of IoT devices, billions of new endpoints will connect to edge servers or the cloud through high capacity, high bandwidth, low latency 5G networks. Deep learning algorithms with AI will help us see patterns that were previously unseen to tackle really tough challenges," said Daryl Cromer, Vice President, Lenovo Research.
That's a few years away, but today, we're starting to create devices and solutions that get us closer to that vision.
Say It, Don't Type It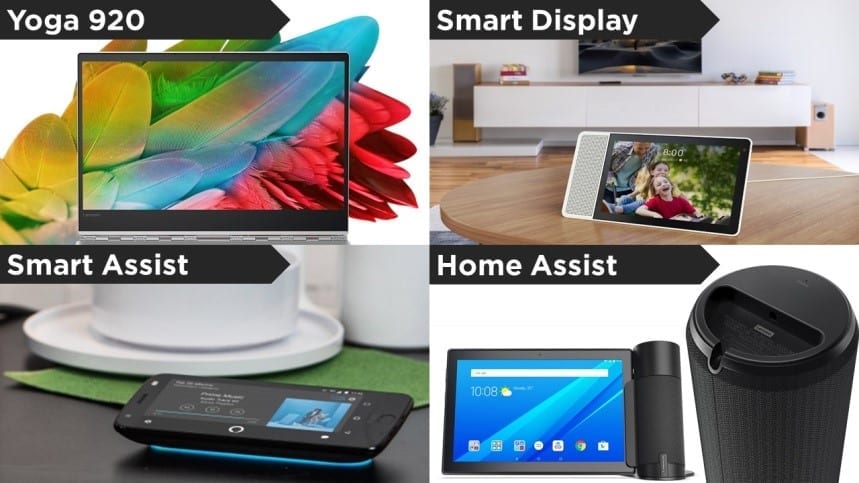 Already, 100% of Lenovo PCs have smart features using voice-assisted technology:
Microsoft Cortana and Amazon Alexa on the Yoga 920 and 730 convertibles, IdeaPad 720S
Alexa and Cortana on the Lenovo Tab 4 Series with the Home Assistant Pack, ThinkPad X1 Yoga and X1 Carbon
And Moto Voice or Smartspeaker with Alexa
We've also built smart first devices like the Lenovo Smart Display that uses the Google Assistant to marry voice technology and an up to 10-in full HD touchscreen display for two ways to stay connected. And the Lenovo Smart Assistant is a stand-alone digital personal assistant with Amazon Alexa cloud-based voice services. Moto g6 plus and Moto G6 are our first Moto Gs with a smart camera system that recognizes your face, objects, and landmarks. It even scans text. You can use your phone's camera to copy text from physical documents and paste it into messages, emails, notes and more. And if you want to know more about something you see, just point the camera and press a button. The smart camera recognizes the object and tells you more about it.
*Text scanner supports text recognition for the following languages: English, Portuguese, Spanish, German, French, Italian, Russian
AI – A Key Building Block in Smart Technology
Devices that leverage the power of AR, AI and IoT are the cornerstones of the move to intelligent transformation. That's why we've invested $1.2bn in AI R&D with our Data Center Group operating three AI innovation centers in Morrisville, North Carolina; Stuttgart, Germany and Beijing, China. Link to Zac video short montage of AI labs. AI is a key ingredient that allows smart devices to become even smarter – not just collecting contextual information, but using it to make recommendations in real-time.
It's helping better the virtual learning experience too. Lenovo AirClass lets teachers get feedback on how students who opt in are responding to the class. It uses emotion detection technology to read your participants' facial expressions to gauge attention and records responses as positive, negative or neutral data. This feedback can help you understand exactly when your content engages and when it doesn't.
Augment Your Reality
AR is one of the technologies leading the smartification of consumer products. It's an area we've focused heavily on with devices like the Star Wars Jedi Challenges AR headset – it lets you train virtually to be a Jedi. What makes it breakthrough the early adopter market is that it packages a new type of hardware experience, AR, with the Star Wars content from Disney. This combination makes AR an easy, convenient and affordable experience for those of us who aren't familiar or comfortable with what's still considered by many an emerging technology.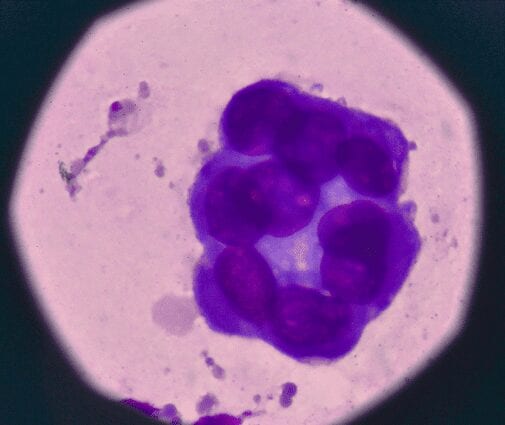 AR technology can make life better too. Progression mapping created by Lenovo Research is helping the Huntsman Cancer Center in Utah improve upon melanoma malignant ulcer progression mapping. This helps doctors treat melanoma more accurately and earlier with a smartphone, AR headset and AI. We're excited about this solution because of its wide applicability to track anything that's changing, from tumor growth to wound healing rates to even weight loss and outside of medicine, to construction projects.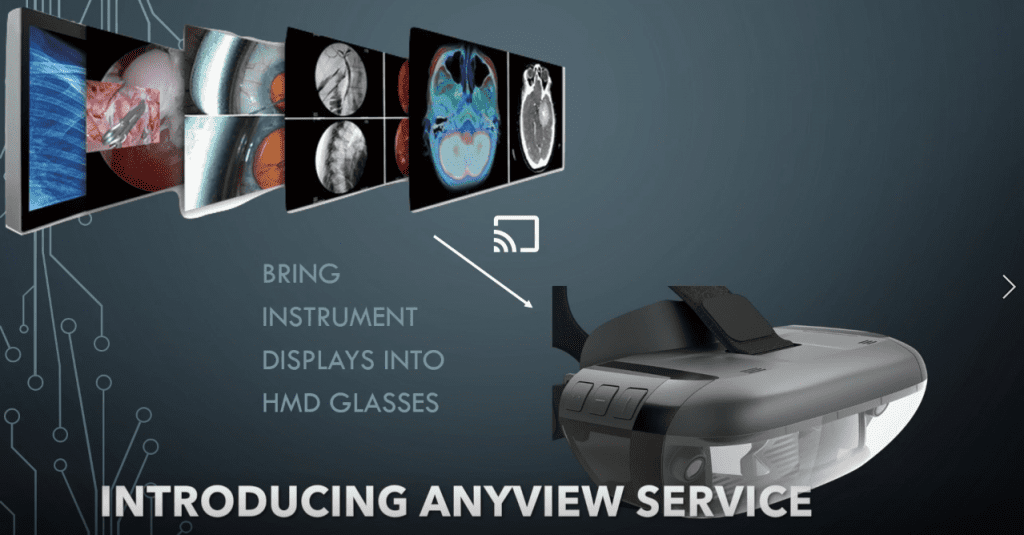 Our Anyview AR Service created by Lenovo Research lets Duke Medical University doctors perform procedures like neonatal incubation better by allowing them to see what's normally projected on a monitor now on an AR headset – freeing them to use both hands and directly monitor the patient for any signs of distress.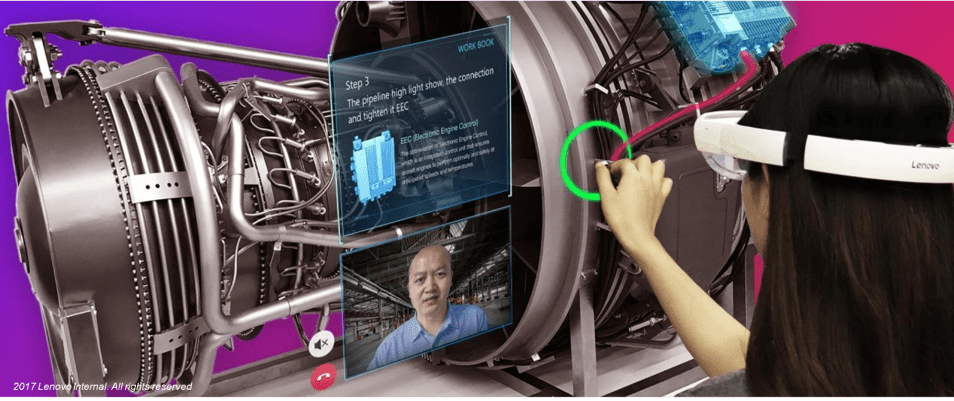 Our AR glasses are changing the nature of repair work and training. In this situation the AR Glasses allow businesses to leverage the expertise of a remote master technician to train workers locally. The lower skill technician wears the AR glasses while the expert verbally guides him/her step- by-step. Meanwhile, the system pulls up the correct page automatically from the repair manual and AR overlays exactly where the technician needs to check the wire.
Explore New Worlds, Virtually
VR is also part of the smartification wave. Our Mirage Solo with Daydream headset, the first VR mobile device with 3D motion tracking, lets you completely immerse yourself in a scenario. We've extended this with the Lenovo Virtual Reality Classroom solution to let students take virtual field trips and experience a place that's as close to real-life as you can get.
Use the Power of AI to Explore Your Physical World
When you put the power of different smart technologies together you get something really special that goes beyond the device level. Meet Lenovo's unmanned store by the Lenovo Research team. What can building a store without employees and without cash registers teach a technology giant like Lenovo?
"Everything!" according to Daryl Cromer, Vice President, Lenovo Research.
Lenovo Go simplifies the shopping experience. At the door, it recognizes your face, then you browse the aisle, pick out what you want, and then you wank out. As you shop AI-based algorithms make recommendations that appear on your smartphone. Camera and RFID technology automatically scans your items and deducts the amount from your account linked to your profile before you leave. Besides demonstrating what the store of the future holds today, Lenovo Go serves as a testbed for learning. For example, it's helping us build tablets, PCs and smartphones with better cameras for facial recognition.
"When people think of a retail experience they think of a PC, keyboard, a barcode reader, and a cash drawer," continued Cromer. "Going forward this will be defined by mobile payment, by empowering the user to their own selection, fast payout, etc. That would imply our tablets, PC's, phones would evolve to better fit this ecosystem, and over time the options for each will become more optimized to fit these scenarios."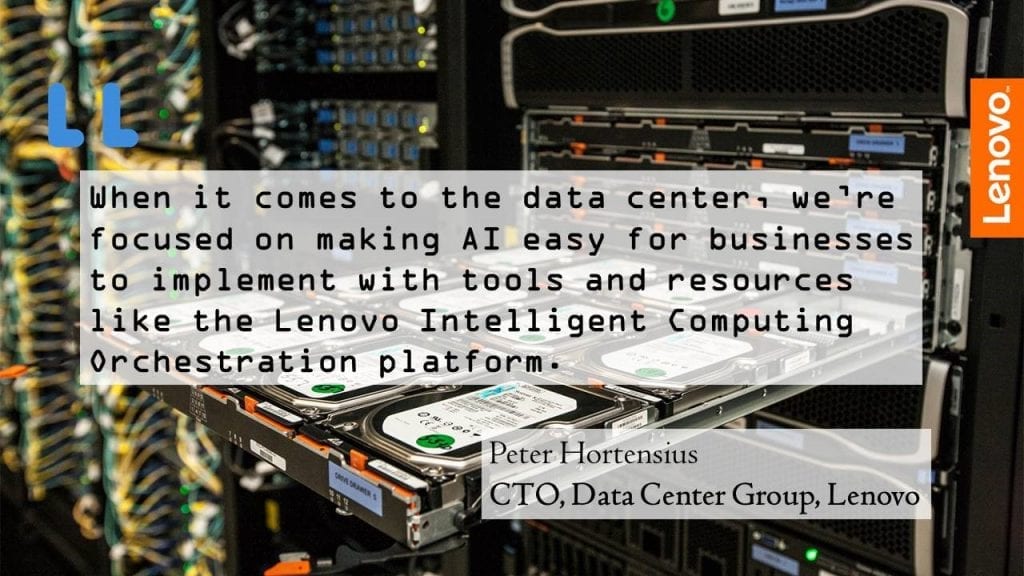 "When it comes to the data center, we're focused on making AI easy for businesses to implement with the tools and resources like the Lenovo Intelligent Computing Orchestration platform," said Peter Hortensius, Chief Technology Officer, Data Center Group, Lenovo. "This tool lets data scientists and researchers easily train machine learning models in a scalable environment."
Customers can come to one of our three AI innovation centers around the world to experience the power of AI where they can work with our Data Scientist and AI Architects to build out proof-of-concepts and discover how AI can transform their business. Today we're working with customers and our partners on AI initiatives ranging from tracking climate change to improving healthcare and creating efficient manufacturing processes.