At Lenovo, our approach to environmental, social, and governance (ESG) is driven by our vision to provide smarter technology that builds a brighter, more sustainable future for our customers, colleagues, communities, and the planet. Our commitment to meeting our ESG goals and moving our efforts forward is dependent on learning from peers, being inspired by those in other industries, and taking collective action to make transformational impacts on the issues that matter most, both inside and outside of Lenovo.
Last month, Mary Jacques, Executive Director, Global ESG and Regulatory Compliance, participated in the annual Leaders on Purpose CEO Summit, a leading global platform for businesses transitioning toward a purpose-first economy that was hosted in conjunction with Climate Week NYC. This year's event was centered around the theme, "Shared Planet, Shared Future, Shared Purpose," highlighting how the challenges facing the world today are interconnected and the importance of working together to find solutions. The event was an opportunity to collaborate with other leaders, share important knowledge to impact positive change and promote business practices that unlock a more sustainable future.
"At Lenovo, we focus our ESG efforts on the issues that matter most – whether they connect to who we are as a company or even where we can have the greatest, most meaningful impact," Mary said. "One of my greatest takeaways from the event was the emphasis placed not only on the importance of setting ambitious goals but the small steps taken along the way to achieve those goals. For example, we set aggressive, science-based greenhouse gas emission reduction goals for 2030. Every day, we are working hard and taking actions that will help us achieve these goals, including investing in sustainable innovations and finding efficiencies in our supply chains."
During the summit, Mary participated in a fireside chat titled, "The Frontier of Circular Economy: Advancing to Future Fit Purpose-Driven Markets." In this session, she and her fellow panelist, Haley Lowry, Global Director of Sustainability at Dow, discussed the challenges and opportunities to advancing the circular economy. Mary provided audience members and summit attendees with an overview of how Lenovo supports the transition to a circular economy and continuously innovates the design and delivery of products with circularity top-of-mind. She also touched on the importance of partnering with suppliers to accomplish sustainability goals and leveraging resources to promote mutual success. In working with its supplier network, Lenovo works to ensure its products are designed with responsibly and efficiently sourced materials, are made to last, and can be returned and recycled at the end of their life. For instance, by 2025/26, Lenovo will have enabled the recycling and reuse of 800 million pounds of end-of-life products since 2005 (cumulative total).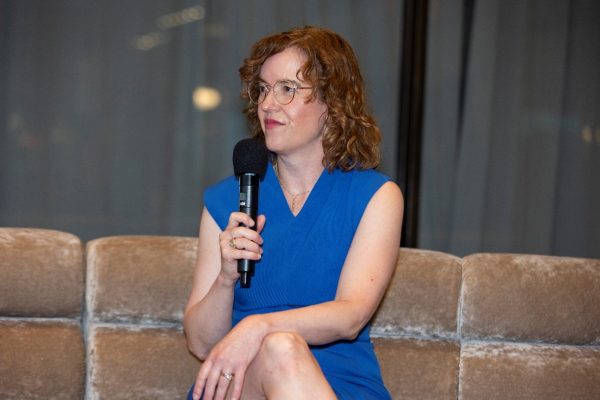 "This event underscored how critical collaboration is when talking about the biggest issues we're facing today – from fighting climate change to preserving our natural resources for future generations.," Mary said. "We all have something to learn from one another and when we all share our points of view, best practices, and expertise, real change can happen."
As we continue on our ESG journey, we understand the importance of making a positive impact wherever we do business. In participating in events like Leaders on Purpose, we are inspired by others across industries who are on a similar journey to make our planet more sustainable for communities around the world. The power of collaboration and learning from one another – regardless of industry -allows us to make important progress on the issues that will impact future generations. When we drive this important work forward, together, we all succeed.