Edward Huang talks the vision and engineering behind new ultra-slim Yoga Book with dual display including E Ink technology
Lenovo just released the Yoga Book C930, an ultra-slim, ultra-light and ultra-flexible dual display laptop with E Ink technology, and the first successor to the ground-breaking 2016 Yoga Book. With the new Yoga Book C930 2-in-1 convertible running Windows® 10, we've ushered in the next generation of mobile computing with a laptop delivering more flexibility to PC users in more places, more ways and more times. Adapting to the on-the-go needs of today's users, the latest Yoga Book C930 provides a premium, high-quality experience.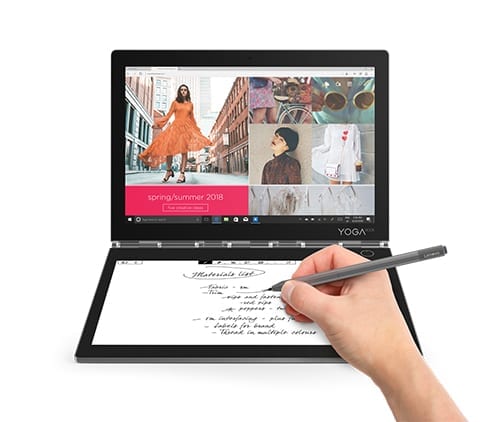 As the world's thinnest and lightest dual-screen device,1 the Yoga Book C930 tapers down to 4mm at its thinnest edge when open and 9.9mm when closed, while weighing well under two pounds (775 g).2 Offering up to 10 hours of battery life,3 users can take their thin and light Yoga Book C930 wherever they go. It's small enough to take even on grocery trips, tucked neatly into your shoulder bag, purse or satchel.
As the world's first dual display laptop with E Ink,1 the Yoga Book's 10.8-inch high-resolution IPS display interacts with an E Ink display that functions as a notepad, sketchbook, eReader and a self-learning keyboard. And with the 7th Generation Intel® Core™ processor which was purpose built to deliver incredible processing power for a fan-less laptop, the Yoga Book C930 is designed to produce no thermal noise. It's got a 10.8-inch QHD 2K IPS display, two speakers, and features Dolby Atmos® immersive audio that transports you with breathtaking sound that flows around you.
The Yoga Book C930 is also incredibly flexible. Its 360-degree hinge allows users to transition seamlessly between five different modes – type, create, read, browse and watch. You can now watch shows, create or do work on a laptop regardless of where you are, or what you're doing—standing up in the subway, scrunched up on a plane, running on a treadmill or lying on the couch after a busy day.
We spoke with Edward Huang, an engineer on the Yoga Book C930 development team, to explain the vision and engineering that drove the development of the Yoga Book C930.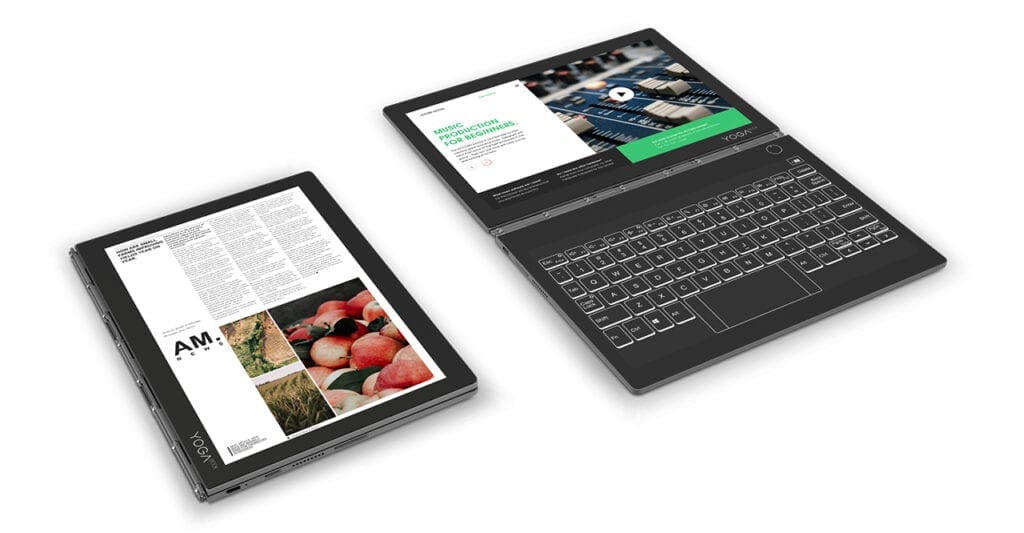 What's the concept behind the Yoga Book C930?
We developed the Yoga Book C930 after over two years of user studies. We feel that this ultra-thin, ultra-light laptop represents a dramatic step forward for a complete reassessment of how our Yoga Book family can better suit the needs of our users.
Our studies showed that tablets were better suited for multi-tasking and multi-screen actions, while PCs excelled at much longer, uninterrupted sessions, including activities that require intense focus, such as long-form writing, video editing or binge watching.
What we found was that our users needed to be more productive than ever, but changing lifestyles and work lives meant they were no longer tied down to desks or workstations. We therefore needed a personal device that would allow people to be fully creative and productive anywhere at any time—on the plane, at a restaurant or outside a lecture hall. The Yoga Book C930 was created to adapt to this new way of productivity and creativity.
Most of us still interface with our PCs through a keyboard and mouse. We're championing a different way of working on a laptop with the Yoga Book C930, which we hope will increase efficiency and introduce a range of new and valuable user experiences.
What's the biggest change from the first generation of the Yoga Book?
Obviously, the biggest thing about the Yoga Book C930 is that it now has two screens—the LCD and E Ink dual display—and they are designed to allow the users to engage in more ways. The 360-degree rotatable dual display offers people new ways to consume content while staying creative and productive at the same time.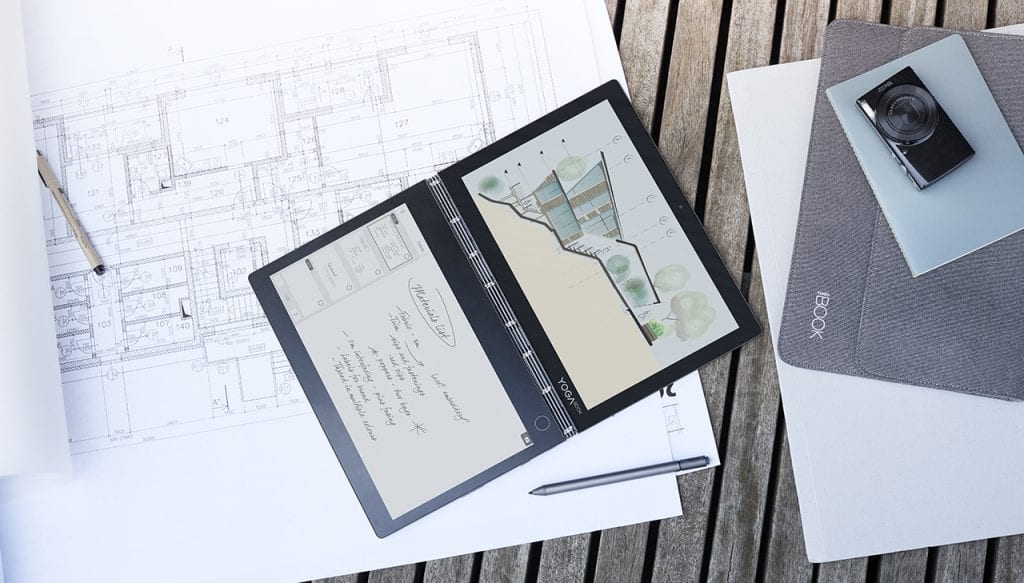 What's the benefit of the E Ink display?
On its own merits, the Yoga Book C930's E Ink display is anti-glare, high-resolution and paper-like—making it one of the most versatile devices on the market. We designed for it to be held in one hand, and it allows for users to read, highlight and annotate on it like digital paper. The E Ink display transforms your laptop into an eReader for browsing long reports, research papers or other book-length files while decreasing eye strain and consuming less power over all—when you read with the LCD display turned off.
And what if you need to type something? Where's the keyboard?
One of the most amazing things about the E Ink display is that it can change into a dynamic keyboard. This is something that we're particularly proud of showing off, as we've been perfecting touch keyboards for years through user testing to improve on the overall experience.
Compared with the original Yoga Book, the new E Ink keyboard gives you the tools to type faster and more accurately than ever before.4 And best of all, you can now personalize your keyboard with three distinct keyboard layouts, two skins, and multiple languages with non-QWERTY keyboards.
So what have you done to improve the keyboard typing experience?
The E Ink keyboard is self-learning, so it picks up on and compensates for your keystroke habits while you type. We've also optimized the ergonomic virtual layout set for different typing styles (hunt and peck and touch typing), resulting in significant typing error reduction and increased typing speeds in our user tests.
We also improved the auditory and haptic feedback to make the experience as tactile as possible. We've added visual feedback as well, as the keys now look more three-dimensional when you press on them. All this together has led to noticeable improvements in speed and accuracy in our user tests.
To push productivity and creativity, you also created the Precision Pen—what does it offer?
The optional Precision Pen5 is designed for users to annotate on reports, jot down notes or sketch out ideas on either the LCD or E Ink display. It's the latest Bluetooth active pen with Wacom™ technology, so users can now apply up to 4,096 levels of pressure sensitivity, along with pen tilt support to achieve natural shading effects.
What were some of the challenges the team had to face in developing the Yoga Book?
It's a challenge whenever you're trying something new. The Yoga Book is no exception, especially when we're trying to tackle preconceptions about the category from a hardware, software and user experience standpoint. The dual display and self-learning E Ink keyboards were features we've never attempted before, and we had to dig deep to find the right solutions.
One hurdle, for instance, was in getting the E Ink display to work and interact properly with the LCD panel. Many of the applications on the E Ink were button based, so we needed to develop and write the software from scratch. In order to transfer and cut and paste documents from one screen to the other, we also needed to experiment with the USB interface.
Another problem was that we made the Yoga Book incredibly thin—at 9.9 mm when closed, which led to a challenge from a hardware perspective. For example, we needed a special 360-degree watchband hinge, a problem we also encountered while developing the original Yoga Book. The hinge used for Lenovo's 2-in-1 convertibles was too large for this thin design–meaning that it wouldn't close properly. We therefore needed to make a smaller hinge. The original Yoga multimode hinge incorporated four axial rods on which the laptop could rotate. The Yoga hinge mandated the need for an even number of axial rods, four, six or eight – with a minimum of four. This time around, we've even packed the Wi-Fi antennas in the hinge, to maximize its usefulness further.
It was challenging to make the Yoga Book C930 close correctly as the two panels would misalign. And because the hinge only contained three axial rods, it was much less sturdy and less forgiving when users rotated it. It would snap apart numerous times. In the end, we had to open and close the hinge over 50,000 times in the lab to ensure it was durable.
And finally, keeping the laptop easy to open was a real challenge, especially considering the Yoga Book's premium metal frame. It took an entire year of experimentation, but we finally solved this problem by developing an innovative knock-to-open solution.
It's a complex mechanism developed by our team. It uses a combination of accelerometers, magnets and memory shape materials. When the accelerometer detects the double "knock", it sends current into the memory shape alloy, which contracts and moves the magnets, changing the magnet attraction force from pull to push, and causing the lid to open.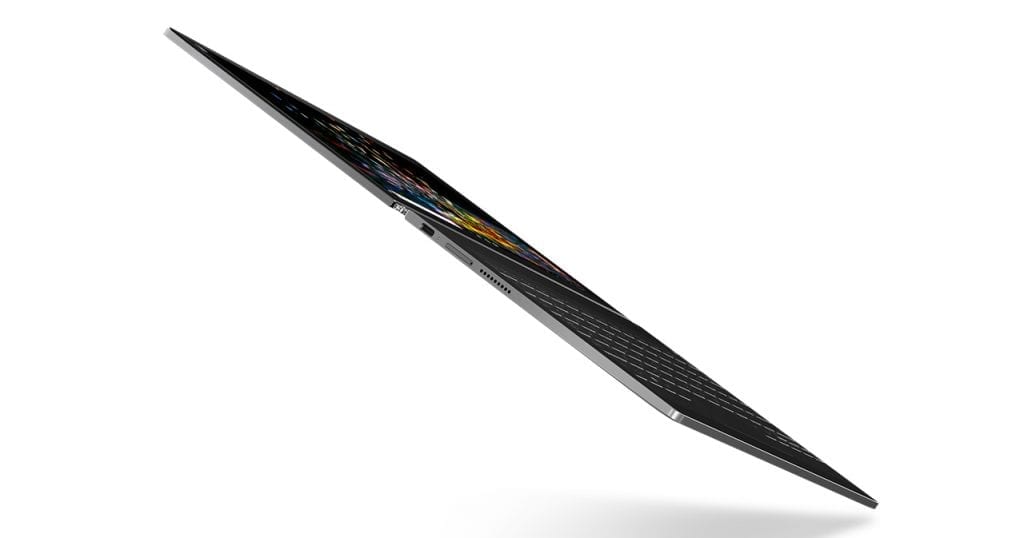 The Yoga Book C930 lets users engage in more places, more times and more ways. Why the emphasis on productivity?
In our user studies for the first generation Yoga Book, we were surprised to find that our users were actually spending over half their time typing on the Halo Keyboard when using the device. In fact, our users didn't treat the Yoga Book as a tablet so much as an ultra-portable laptop—using it to edit documents, write emails and edit PowerPoint® presentations. Many of our customers were professionals who needed an ultra-slim device to do their work while outside the office.
So we developed a few user scenarios for the dual display. Let's say you need to take notes while watching a presentation on the screen. You can now take notes or sketch on the E Ink display while you watch or browse content on the LCD display. And you can also convert and share anything you create on the E Ink screen application to the LCD screen, or transfer a screenshot or PDF file from the LCD directly to the E Ink screen.
And professionals who need to read a lot while on the go can now use the Yoga Book C930's E Ink screen as an eReader.
Finally, what's your favorite feature from the Yoga Book C930?
I like to sketch a lot, so I love the note mode. Often, when I come home from work I go online to search for a few funny pictures. Then I'll copy the pictures from the LCD and paste them onto the E Ink screen and then draw on top of them.
Discover more at www.lenovo.com/IFA and www.lenovo.com/yoga.
IFA 2018 press kit with images and full specs are available here.
In EMEA, the Yoga Book C930 starts at €999 (VAT included) and is expected to be available starting September 2018 on www.lenovo.com and select retailers.6
1 Based on research conducted by Lenovo August 23, 2018 of laptops sold by major PC manufacturers shipping > 1 million units worldwide annually.
2 Wi-Fi model
3 Based on a mixed usage profile that includes online browsing, playing music and video, drawing, reading and typing. Actual results will vary, and depend on numerous factors including product configuration and usage, software, operating conditions, wireless functionality, power management settings, screen brightness and other factors. The maximum capacity of the battery will naturally decrease with time and usage.
4 Based on Lenovo user tests comparing typing speeds and accuracy from the first generation of the Yoga Book with the Yoga Book C930, respondents registered 4% error reduction and 22% increased productivity from Yoga Book C930's advanced ergonomic virtual layout.
5 Available with select models, or sold separately.
6 Prices may not include tax and do not include shipping or options and are subject to change without notice; additional terms and conditions apply. Reseller prices may vary. On-shelf dates and color options may vary by geography and products may only be available in selected markets. All offers subject to availability. Lenovo reserves the right to alter product offerings, features and specifications at any time without notice.

LENOVO is a trademark of Lenovo. WINDOWS is a trademark of Microsoft Corporation. Intel and Intel Core are trademarks of Intel Corporation or its subsidiaries in the U.S. and/or other countries. Dolby Atmos is a trademark of Dolby Laboratories. E INK is a trademark of E Ink Corporation. WACOM is a trademark of Wacom Co., Ltd. POWERPOINT is a trademark of Microsoft Corporation. All other trademarks are the property of their respective owners. ©2018, Lenovo Group Limited.