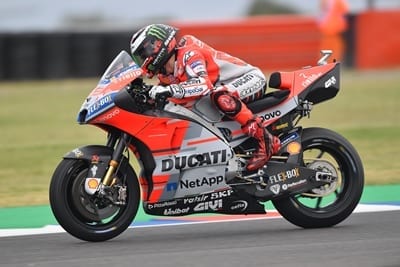 The Lenovo-sponsored Ducati Team motored into first place in the Catalan GP at
Montmeló on June 17. The Lenovo team went to Spain to support the Ducati team in its nail-biting victory, while showcasing the significant role of IT in motorsport racing. While on the ground, Lenovo product teams met with several members of the Ducati Team, including Luigi Dall'Igna, the Ducati Corse General Manager, Paolo Ciabatti, the Ducati Corse Sporting Director, and Gabriele Conti, the Software and Strategies Manager. Lenovo employees also met with Davide Tardozzi, the Ducati Team Manager and Jorge Lorenzo, one of the world's top professional motorcyclists, who thrilled audiences with a riveting performance to win first place for Ducati. This was Lorenzo's second consecutive first place finish at a Grand Prix in 2018, having won gold earlier in June at the Italian GP in Scarperia e San Piero.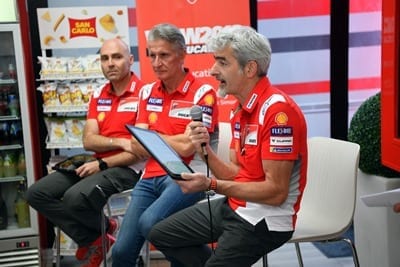 Lenovo recently signed a multi-year sponsorship deal making it the preferred technology partner for Ducati. Ducati uses the ThinkPad X1 Carbon and ThinkPad XI Tablet in daily operations. During the trip, Luigi Dall'Igna of Ducati remarked, "ThinkPad X1 Tablet has become my office. I always take it with me, so I can check my information anytime anywhere." The versatility and ultra-mobility of the ThinkPad XI Tablet allows Dall'Igna to optimize his work and allocate more time to improving the performance of his racers. The weekend also included a first look at the new Legion portfolio announced at Lenovo's E3, which introduced a family of six new gaming PCs.
More than 20 ThinkSystem servers have been delivered to the Ducati MotoGP Team, and Ducati hopes to take further advantage of Lenovo's high-performance technology by employing Lenovo desktops, laptops and workstations throughout all aspects of the operation. An additional feature of the collaboration involves product research and development with the goal of advancing the Ducati Team's technological progress.