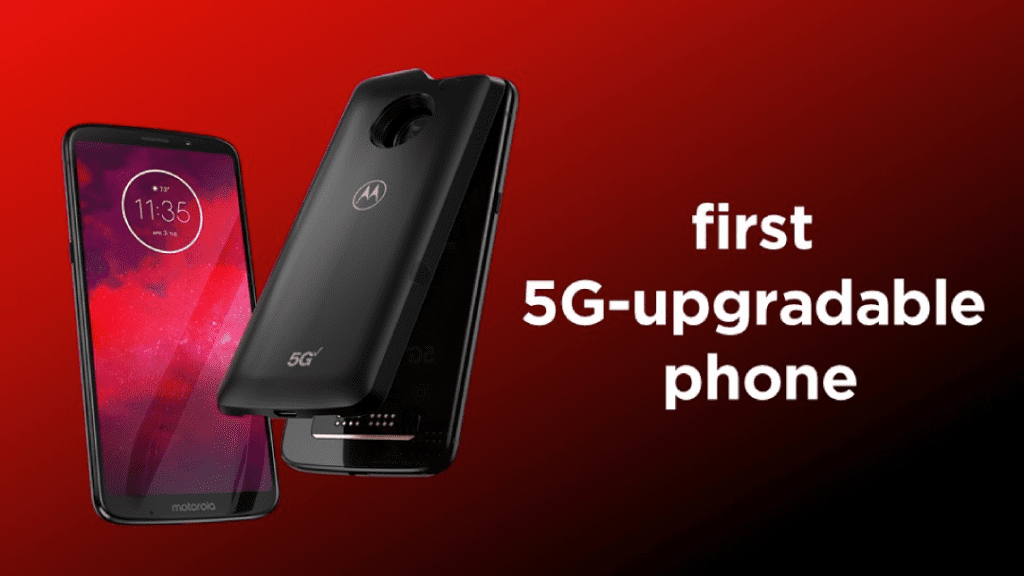 Earlier this year, we celebrated 45 years of major mobile moments. From the world's first portable cell phone to the iconic RAZR to the launch of the moto z family and our revolutionary modular technology: moto mods™, Motorola is a leading innovator in the mobile industry.
We're making history again as the first manufacturer to connect mobile consumers with a 5G network using our moto mod technology. With up to 10 times the speed of today's wireless technology, lower latency and higher bandwidth, access to 5G networks will strengthen mobile connectivity and radically improve the smartphone experience.
Get ready for uninterrupted 4K live streaming and video chatting, lag-free gaming and VR experiences, and the fastest download speeds ever. 5G will make using smartphones dramatically faster and smoother for consumers, and enable businesses to empower their employees with greater efficiency and productivity on the go. 5G will even bring to life new and exciting experiences not yet conceived.
After two years of expanding smartphone capabilities with better photography, sound, battery life, and more, Motorola is excited to unleash the full potential of the moto mods™ platform by delivering first-to-market technology with 5G.
Say Hello to the new moto z3 and 5G moto mod™1 . When paired with the mod, moto z3 is the world's first smartphone with access to Verizon's 5G Network, delivering a new beginning for indulging in video, connecting home devices, working remotely and gaming in AR and VR. Motorola also partnered with Qualcomm to achieve this industry milestone utilizing the flagship Snapdragon X50 modem and millimeter wave components.
Endless Possibilities with 5G
Building upon our deep history in innovation, our intent is to put meaningful technology in consumers hands as soon as it's ready and never stop looking for new ways to deliver the best mobile devices on the planet. Today, we're taking mobile technology to the next level by not only transforming the device but also what fuels it.
Downloading with 5G: Watch Your Favorite show with No Interruption
These days everything from eating to watching movies is on-the-go. Infact, over 50% of millennials prefer to watch video content on their smartphone.2 With the new 5G network, as you move million miles an hour and travel more than ever, you can download the latest season of your favorite show in HD in minutes before your airplane takes off.3
Mobile Viewing with 5G: Never Miss a GOOOOOOALLL When Watching From Your Phone
During the World Cup, a total of 486 million attempts were made to stream the games, but 93 million of them were unsuccessful, due to streaming errors and slow start times.4 On a 5G network, watch live games without any delay and avoid the crowds and bad nosebleed seats at the stadium. In the future, 5G will enable immersive VR so you can get a court side view right from home.
Sharing with 5G: Craft the Perfect Vacation Shot and Share it with Your Friends and Family Instantly
It is so important that you have access to a network you can rely on to upload your favorite moments from vacation. With the 5G network, you can upload and send 300 vacation photos to family back home in the time it takes to make the perfect Mai Tai.5 When traveling in the future the 5G network will enhance your experience by enabling natural language translation in real-time. This will allow you to speak with international tour guides, hotel concierges and new friends with ease.
Gaming with 5G: Play All Night with a Constant Connection
The 5G network reduces lag and buffering for augmented and virtual reality experiences, and a smoother experience means that the possibilities are endless. In 2019, it is projected that 40 percent of US consumers will use augmented reality apps on their mobile devices.65G will enable a world where your kids are interacting with life-like superheroes in the park with VR glasses.
Education with 5G: Learn Outside the Classroom
With over 88% of K-12 students using a smartphone to do school work at least once a week and 64% of college students using a smartphone for course work and school related tasks7, students can use AR to travel to a historical monument, re-live notable speeches, or collaborate on projects with students around the globe world in real-time. 5G will deliver Martin Luther King Jr.'s I Have A Dream speech with continuous connectivity and reduced buffering, so you can hang onto every last word.
The Next Generation moto z
The new moto z3 features a 6″ Max Vision Full HD+ OLED display with an expansive 18:9 aspect ratio, an all-day 3000 mAh battery8, dual depth-sensing smart camera system with Google Lens9 built in. moto z3 maintains our pure Android experience, cutting down on unnecessary apps and bloatware, and including the latest software with Android Oreo. And we've gone one step further with moto experiences. The seamless integration of hardware and software makes interacting with your smartphone more fun and intuitive than ever with fast and easy shortcuts to the features you use most.
Availability and Pricing
moto z3 will be available in the U.S. exclusively through Verizon starting on August 16 at $20 a month for 24 months on Verizon device payment ($480 retail; 0% APR). To make it easier to move to 5G, we're offering up to $300 off a new moto z3 on our device payment plan when you switch to Verizon and trade-in your old phone.10
The 5G moto mod™ will be available in the US exclusively in early 2019.
MOTOROLA, Stylized M Logo, MOTO and the MOTO family of marks are trademarks of Motorola Trademark Holdings, LLC. Android, Google and Google Photos are trademarks of Google Inc.. Verizon is trademark of Verizon. All other trademarks are the property of their respective owners.
©2018 Motorola Mobility LLC. All rights reserved. moto z3 play is designed and manufactured by Motorola Mobility, a wholly owned subsidiary of Lenovo.
Images can be found here (you agree to our license terms when downloading images or video).
Disclaimers
Features, functionality, and product specifications vary by mobile carrier, and are subject to change without notice or obligation. Certain features, functionality and product specifications may be network dependent and subject to additional terms, conditions, and charges. Please review the product details for your specific mobile carrier prior to purchasing.
1 5G connectivity available with 5G moto mod (sold separately, coming early 2019) and 5G network coverage (launching in select areas in 2019; expanding after that). See www.verizon.com/about/our-company/5g for details.
2 Foresight Factory, Shared Viewing, 2018
3 2.5 minutes
4 How Many People Have Streamed the World Cup So Far, 2018
5 1 minute
6 Mixed Reality Mobile Media — Foresight Factory, 2018
7 Pearson Student Mobile Device Survey, 2015
8 All battery life claims are approximate and based on a mixed use profile (which includes both usage and standby time) under optimal network conditions. Actual battery performance will vary and depends on many factors including signal strength, network and device settings, temperature, battery condition, and usage patterns.
9 Google Lens is currently supports the following languages: English, Spanish, French, German, Italian, Portuguese, Polish, Dutch, Finnish, Hungarian, Chinese, Hindi, Thai, Indonesian, Filipino, Turkish. Additional languages may be added in the future.
10 Up to $480.00 device payment purchase req'd. Less up to $300 trade-in/promo credit applied to account over 24 mos.; promo credit ends when balance paid or line terminated; 0% APR. Eligible trade-in must be in good working & cosmetic condition.