Q: When you have 500 CIOs together in a room, how do you entertain them?
A: A guest DJ slot from Shaquille O'Neal and a Formula 1 slot car racing game.
Everyone knows that a good party needs great music, a few games to break the ice and engaging conversation.
So, when Lenovo hosted a reception for 500 CIOs at this October's Gartner IT Symposium in Orlando, Florida, these party essentials were front and center. Shaq's DJ skills provided the soundtrack to the evening, combining his star power with a mix of classic tracks and the latest hits. Lenovo's technology partnership with F1® brought the action, with some guests lucky enough to try and beat Shaq's top score on the racetrack.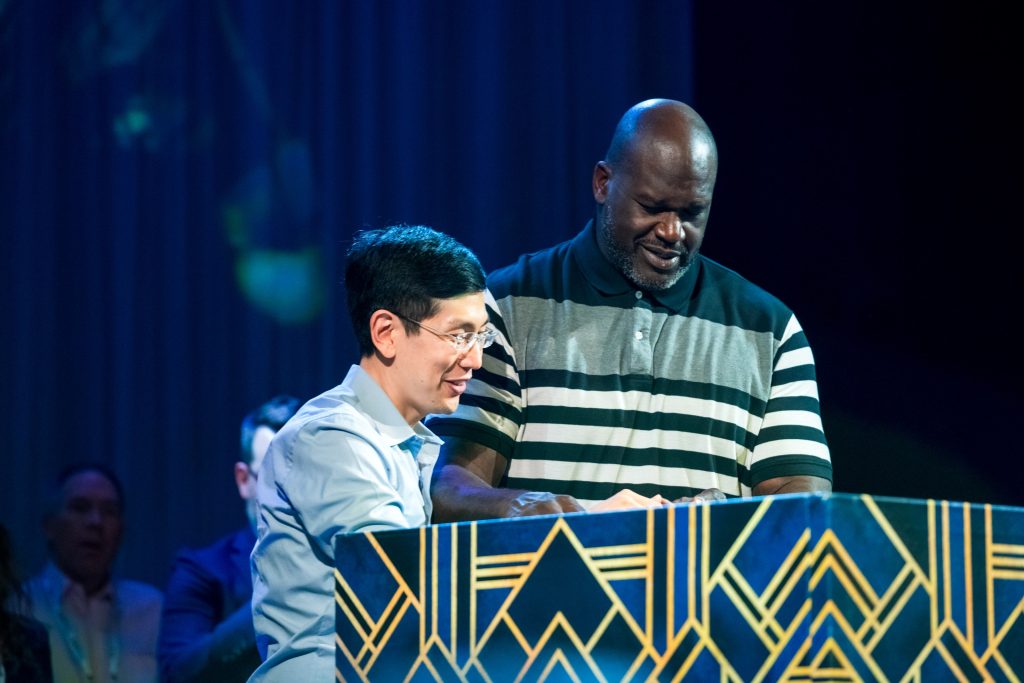 And the conversation was led by Lenovo's Global CIO and Chief Technology and Delivery Officer of its Services and Solutions Group, Arthur Hu, moving discussions on from Shaq and F1 and onto the hottest topic of 2023: AI.
Across the event, gen AI had come up in many sessions: its business potential and growth to an expected $1.3 trillion market by 2032; how it's leading the pack of emerging technologies that are top of mind for CIOs; and its transformative potential for industries such as manufacturing, healthcare and education.
Everything as a Service (aaS)
Given the explosion in conversations around AI this year, it wasn't a surprise that so much of the event focused on the technology. Fueled by advancements in the infrastructure, as well as human interest in the topic, it's the latest rapid change to hit the sector. But, for CIOs, it's one of many trends keeping them busy.
The ongoing growth and development of policies around hybrid work require their attention in ensuring hardware and devices enable productivity while keeping company data secure. Increased focus on sustainability requires both analysis of data and a constant eye on how a technology stack is impacting power consumption. These additional challenges were also covered at the Symposium, with Executive Director, Global Sustainability Solutions, Claudia Contreras, taking to the stage to consider how sustainability can enhance the technology value chain, and Vijay Gopal, Global Offering Leader, Digital Workplace Solutions, delving into how cutting-edge digital workplace solutions empower businesses to thrive in the digital age.
With these changes and more, the role of the CIO has expanded and the need for digital transformation has never been higher. According to IDC, global spending on digital transformation will grow 16.3% annually for the next five years, reaching $3.4 trillion in 2026.
While more money is needed, this is also not without its challenges. Lenovo's recent research, the second edition of its annual Global CIO Study, found that 83% of CIOs are concerned that there will be insufficient budgets to properly invest in innovation and digital transformation, while almost half (48%) say they are "extremely" or "very" concerned.
These upcoming and rapid changes were a hot topic at the CIO reception, with the CIOs in attendance agreeing on the need to focus on what is driving their strategic priorities. This will help them invest in specific technology and digital transformation that delivers value for internal and external stakeholders.
Arthur Hu shared more: "As a CIO myself, I understand that the more complex the technology landscape, the more challenging it is for the CIO to enact organization-wide digital transformation and prioritize initiatives and investments that will deliver business outcomes," he said. "CIOs are at the forefront of this change and need to be educating those in the C-suite, peers, and the ecosystem about what matters from a practitioner's perspective and what needs to be prioritized."
Faced with these challenges CIOs are turning towards more flexible solutions, such as "as a Service" (aaS) offerings for their tech stacks. aaS answers the demand for digital transformation with a model that is flexible and scalable, allowing IT leaders to focus on innovation and be more agile in responding to their businesses' changing needs. A pay-as-you-go consumption model empowers CIOs and IT teams to focus on innovation or more strategic imperatives.
Change is already underway, with the vast majority (92%) of CIOs considering adding new aaS solutions to their tech stacks over the next two years and 71% already making these moves.

The many dimensions of AI
Many of these use cases will be informed by how businesses invest in AI. At the reception, CIOs were asked about where they're prioritizing AI investments and a range of use cases came up. Automation, education, work force and internal efficiency, customer service and research were some of the top answers.
It is clear that CIOs play an important role when it comes to deciding the AI tools an organization should invest in. Choosing the highest value use cases and ensuring data readiness will build a futureproof AI strategy.
AI has the potential to solve many of the challenges facing businesses and to be the next driver of digital transformation. With AI-powered solutions, companies can elevate levels of efficiency and innovation. But it also adds another layer of complexity.
Partnering for business transformation
From conversations at the event, it was clear that strong partnerships are needed to realize this potential. Driven by the CIO, working with the right partners will help implement the right models (such as aaS) to drive business transformation.
Taking a partnership approach brings in broader expertise and more options for scalability, which are key when navigating the increasingly complex IT landscape. This will help CIOs transform their organizations, make them future-ready and simplify their all-important roles.
And that's why good conversations are the backbone of any good party. Because the connections they make and the ideas they spark lead to the most impactful partnerships.
For more insights from Lenovo's second Global CIO Study, visit: https://news.lenovo.com/pressroom/press-releases/study-reveals-cio-commitment-concerns-technology-innovation/