Battery anxiety and LTE connectivity are no longer a worry with new premium connected PC
The symptoms can be downright scary: Your heart races, you feel dizzy, you have shortness of breath—all because your laptop is running out of battery power or cannot connect to the Internet.
Researchers call it low battery anxiety or nomophobia, which is short for no-mobile phobia: the fear people feel when they're out of mobile contact entirely. More than 15 papers have been published about nomophobia since 2014,1 and there's even an app that helps people who have less than 5 percent battery cope.2
The phobia affects those who use all portable tech devices that offer mobility and connectivity, including laptops and tablets. It's not surprising, given global Internet usage rates have gone up 1000 percent since the beginning of the decade,3 and in the U.S. for example, three-quarters of Americans are online every day, while a quarter are online almost constantly.4
As we become an increasingly mobile and connected society, almost everyone wants fast and easy connectivity. That means quick access to shared files stored in the cloud for real-time collaboration, zero wait time when streaming videos and being able to connect with friends and family virtually anytime, anywhere. Enough battery power becomes a necessity, not just a convenience, to stay connected on the go.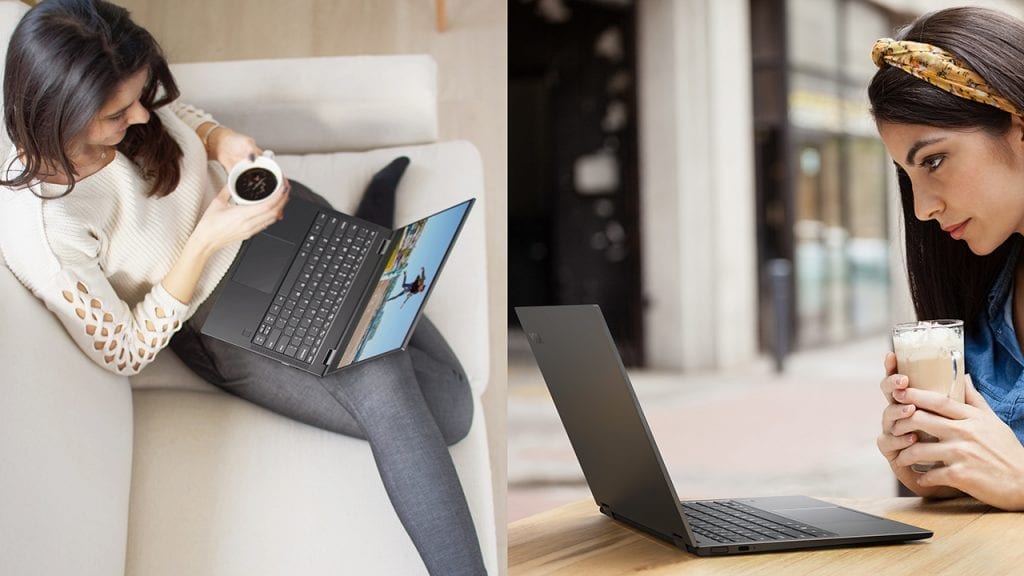 Connectivity Whenever, Wherever
One way to curb nomophobia is to choose the right device. Today's always-connected, multi-tasking generation want long-lasting power in portable laptops that let them stay connected and productive on the road. But while they need their device to be more portable than ever, they also need a laptop form factor that offers a full-sized keyboard for typing those longer reports or building out a presentation.
Lenovo's latest always-connected PC, the Yoga C630 WOS (Windows® on Snapdragon™) 2-in-1 convertible laptop, combines mobile connectivity with enduring battery life that bridges smartphone mobility with laptop performance.
As the first device to be powered by the latest Qualcomm® Snapdragon 850 Mobile Compute Platform, the Yoga C630 WOS has an integrated Snapdragon X20 LTE modem which supports up to 1.2 Gigabits per second speeds on LTE Advanced Pro5 designed to stay constantly connected  when uploading that file while commuting from home to the coffee shop to the next meeting. Its integrated LTE connectivity frees users from reliance on unsecured public Wi-Fi networks or the hassle of smartphone hotspots.
Built to support up to a 30 percent performance increase over previous Windows on Snapdragon devices,6 the Yoga C630 WOS runs on Windows 10 for a more secure and streamlined experience, and has an optional Lenovo Pen and Windows Ink™ for a natural pen-on-paper experience when drawing or annotating.
Enough Battery to for up to a Full Day and Night7
Another cure for nomophobia? How about the Yoga C630 WOS' up to 25+ hours of local video playback on a single charge.7 That's enough battery life to binge on an entire season of your favorite show without lugging around a charger or looking for an outlet.
But longer battery life doesn't mean the Yoga C630 WOS is loud and clunky. A slim profile at 12.5mm and weighing just 1.2kg, the Yoga C630 WOS features a fan-less design for cool, whisper-quiet operations. It's easy on the eyes too, featuring a premium, polished aluminum cover in an elegantly subtle design and a vibrant 13.3-inch Full HD IPS touchscreen display for work or play.
Nomophobia may be on the rise, but rest assured the Yoga C630 WOS is designed to ease those very symptoms and prevent them before they strike.

In EMEA, the Yoga C630 WOS starts at €999 (VAT included) and is expected to be available starting November 2018 on www.lenovo.com and select retailers,8 and will be compatible with select local carriers (prices may vary per market).5
Discover more at www.lenovo.com/IFA and www.lenovo.com/yoga.
IFA 2018 press kit with images and full specs are available here.
1 "Your phone is almost out of battery. Remain calm. Call a doctor," Wall Street Journal: May 4, 2018
2  Die With Me app
3 Internet World Statistics as of December 31, 2017
4 "About a quarter of U.S. adults say they are 'almost constantly' online," Pew Research Center: March 14, 2018
5 Requires separately purchased cellular data plan that may vary by location. Additional terms, conditions and/or charges apply. Connection speeds will vary due to location, environment, network conditions and other factors.
6 Based on Qualcomm analysis
7 Up to 25+ hours based on local video playback requires unit configured with Qualcomm Snapdragon 850 Mobile Compute Platform. All battery life claims are approximate. Actual battery performance will vary and depend on numerous factors including product configuration and usage, software, operating conditions, wireless functionality, power management settings, screen brightness and other factors. The maximum capacity of the battery will naturally decrease with time and usage.
8 Prices may not include tax and do not include shipping or options and are subject to change without notice; additional terms and conditions apply. Reseller prices may vary. On-shelf dates and color options may vary by geography and products may only be available in selected markets. All offers subject to availability. Lenovo reserves the right to alter product offerings, features and specifications at any time without notice.

LENOVO is a trademark of Lenovo. Qualcomm and Snapdragon are trademarks of Qualcomm Incorporated, registered in the United States and other countries. WINDOWS and WINDOWS INK are trademarks of Microsoft Corporation. All other trademarks are the property of their respective owners. ©2018, Lenovo Group Limited.