World's first multimode workstation delivers the creative freedom of a tablet with the performance and reliability of a fully loaded mobile workstation
LAS VEGAS – Dec. 1, 2015: Today, at Autodesk University 2015, Lenovo (HKSE: 992) (ADR: LNVGY) unveiled the ThinkPad P40 Yoga, a high-performing mobile workstation that helps unleash the full power of professional creativity. The Lenovo ThinkPad P40 Yoga delivers a first-class digital sketching experience with the ultimate in mobile workstation performance and reliability.
From digital artists storyboarding the latest Hollywood blockbuster to engineers designing the next hot new car, creative professionals need to both sketch their designs and bring those designs to life. To do this, users typically to purchased two systems – a tablet to deliver the sensitivity and accuracy of a premium sketching experience and a mobile workstation to render designs in powerful applications.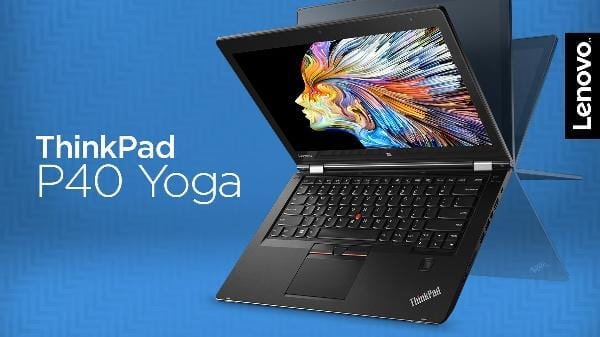 Designing with Power
As the first-ever multimode mobile workstation, the ThinkPad P40 Yoga offers the versatility to work across four modes—laptop, stand, tent and tablet—giving professionals the flexibility to do more no matter the use. The system provides the utmost in sketching precision through a highly responsive pen and touchscreen powered by the Wacom® Active ES technology, offering a full, 2,048 levels of pressure sensitivity on a high-res (2560 x 1440) IPS display. Professional artists and designers have been clear with the need for absolute precision and accuracy. Working with Wacom®, Lenovo developed a unique driver to get closer than ever to the 'pen to paper' experience. For a comfortable and realistic sketching experience, the rechargeable ThinkPad Pen Pro is included, along with additional pen tips providing varied levels of tactile feedback for the professional community.
"Sketching is the foundation of everything we do," said Kyle Runciman, industrial designer and strategic content manager, Autodesk. "Designers can sketch for months to hone their ideas, and when they do get them to a point where they feel they're ready for prime time, they can benefit from a separate, ISV-certified mobile workstation to visualize the designs. The ability to perform all of these capabilities on a single machine is huge for our industry."
Along with its premium sketching capabilities, Lenovo ThinkPad P40 Yoga offers mobile workstation performance without compromise. Powered by an NVIDIA® Quadro® M500M GPU with 2GB VRAM, the ThinkPad P40 Yoga is certified to run a full range of professional applications without compromise. Moreover, the system also features an Intel® 6th Generation Core™ i7 CPU and up to 16GB of RAM and 512GB SSD storage for ultrafast processing.
And for the first time in a mobile workstation, the Lenovo ThinkPad P40 Yoga features Lenovo's innovative Lift 'n Lock keyboard with a frame that automatically rises around the keys when the Yoga device switches into tablet mode, giving users the ability to work in a more comfortable and efficient manner. The machine features tried-and-true ThinkPad reliability for maximum uptime in or out of the office, with long battery life, Mil-SPEC tested construction to ensure uptime under the toughest conditions, and a lightweight design using advanced materials.
Lenovo ThinkPad P50s and Lenovo ThinkStation P310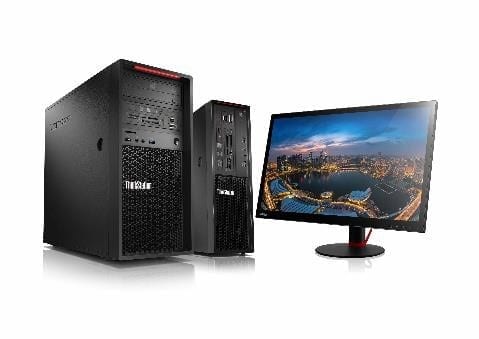 Along with the ThinkPad P40 Yoga, Lenovo also announced the ThinkPad P50s and ThinkStation P310. The ThinkPad P50s completes the ThinkPad P Series family, featuring a more affordable premium functionality and advanced performance in a thinner, lighter mobile workstation. Innovative features of the ThinkPad P50s include a 3K IPS display for crystal-clear images and Lenovo Power Bridge technology, which allows for up to 17 hours of battery life,
1
 enabling users to keep their work going at all times.
The newest addition to the Lenovo ThinkStation P Series, the ThinkStation P310, builds on the success of the Lenovo ThinkStation P300, offering an entry-level machine with the advanced technology of a high-end workstation. Featuring the new Intel® Xeon® E3-1200v5 and the latest NVIDIA GPU technology, the system also doubles the memory capacity of previous entry-level workstations, offering up to 64 GB of DDR4 RAM and support for FLEX drives with Samsung M.2 NVMe SSDs.
Value-added Options
The Lenovo ThinkPad P40 Yoga can be purchased with the optional battery-powered ThinkPad Pen Pro Lenovo's advanced stylus that uses industry-leading Wacom® technology for enhanced precision and comfort. Additionally, the ThinkPad P40 Yoga supports Lenovo OneLink+, the next generation cable docking solution enabling all docking functions and power delivery in a single connection, making it the ideal solution for users leveraging multiple devices to save time and do more. The Lenovo ThinkPad P50s can be purchased with the optional ThinkPad Ultra Dock, a new dock featuring more horsepower to drive mobile workstations and more versatile docking connectors.
Availability and Pricing
The new ThinkPad P40 Yoga, ThinkPad P50s and ThinkStation P310 will be available starting in Q1 2016 through Lenovo business partners and on www.lenovo.com. Pricing for the ThinkPad P40 Yoga begins at $1399, while the ThinkPad P50s begins at $1299. The Lenovo ThinkStation P310 begins at $729. More information about the ThinkPad P Series, including an interactive tour of the ThinkPad P40 Yoga, can be found at www.thinkworkstations.com. For the latest Lenovo news, subscribe to Lenovo RSS feeds or follow Lenovo on Twitter and Facebook.
Lenovo Services 
Businesses can opt for a variety of service and support solutions to fit their needs. With a committed focus on customer, quality and responsiveness, Lenovo Services offers innovative and integrated solutions to ensure maximum productivity. Warranty Extensions, Upgrades, Accidental Damage Protection, Keep Your Drive, Priority Technical Support and a complete set of factory and automated deployment services help organizations effectively bridge the gap between consumer and business.
Quotes 
"Intel's 6th generation Core i7 microprocessor powers some of the most innovative mobile computers on the market, and we are excited to see that power harnessed in Lenovo's 2 in 1 mobile workstation," said Navin Shenoy, Corporate Vice President and General Manager, Mobility Client Platforms Group, Intel. "The Lenovo ThinkPad P40 Yoga showcases amazing innovation and the power of Intel technology for creative professionals."
"To bring their creations to life, media and entertainment, design, and engineering professionals require the most advanced graphics technology," said Greg Estes, vice president of Enterprise Marketing, NVIDIA. Our new high-performance Quadro M500M GPU provides the horsepower to run demanding pro applications, yet it's very power efficient – perfect for the ThinkPad P40 Yoga."
"Sketching is essential to the creative process, and our Wacom® stylus technology has led the way in enabling digital sketching on mobile devices," said Masahiko Yamada, president and CEO of Wacom. "The functionality built into the Lenovo ThinkPad P40 Yoga, including our Wacom Active ES pen technology, enables artists and other creative professionals to use this system to its full potential, with display and touch capabilities that are unmatched in the marketplace."
"Autodesk delivers advanced 3D tools that allow creative professionals to bring the most realistic characters to life and visualize amazing worlds for film, TV and games," said Marc Hamaker, Media & Entertainment Marketing, Autodesk. "An artist's creative potential is unleashed and limitless when coupled with the right software and hardware, like Autodesk 3ds Max, Autodesk Maya, Autodesk Mudbox, and Lenovo workstations."
"Designers know that mobility is critical," said Tim Geurtjens, Co-Founder, MX3D. "Previously, this meant that we needed to use a tablet for sketching and a mobile workstation to render our designs. With the Lenovo ThinkPad P40 Yoga, Lenovo has changed the game for professionals in our industry, offering us everything we need in a single device."
About Lenovo
Lenovo (HKSE: 992) (ADR: LNVGY) is a $46 billion global Fortune 500 company and a leader in providing innovative consumer, commercial and enterprise technology. Our portfolio of high-quality, secure products and services covers PCs (including the legendary Think and multimode Yoga brands), workstations, servers, storage, smart TVs and a family of mobile products like smartphones (including the Motorola brand), tablets and apps. Join us on LinkedIn, follow us on Facebook or Twitter (@Lenovo) or visit us at www.lenovo.com.
Autodesk, 3ds Max, Maya, Mudbox, and the Autodesk Logo are trademarks or registered trademarks of Autodesk, Inc., and/or its subsidiaries and/or affiliates, in the USA and/or other countries. All other brands names, product names, or trademarks belong to their respective holders.
1 Based on MobileMark 2014 3-cell + 6-cell battery