Form meets function with avant-garde fashion collection that physically merges Lenovo tablets into outerwear to inspire 'me time'
November 2, 2023 – Today, Lenovo unveiled a unique collaboration with fashion designers, RANRA, Kit Wan Studios and Maium, to create the proof-of-concept Lenovo Tab Wear Collection. The innovative, functional, and fashion-forward collection incorporates a Lenovo tablet device into the garment design and is built for 'me time.'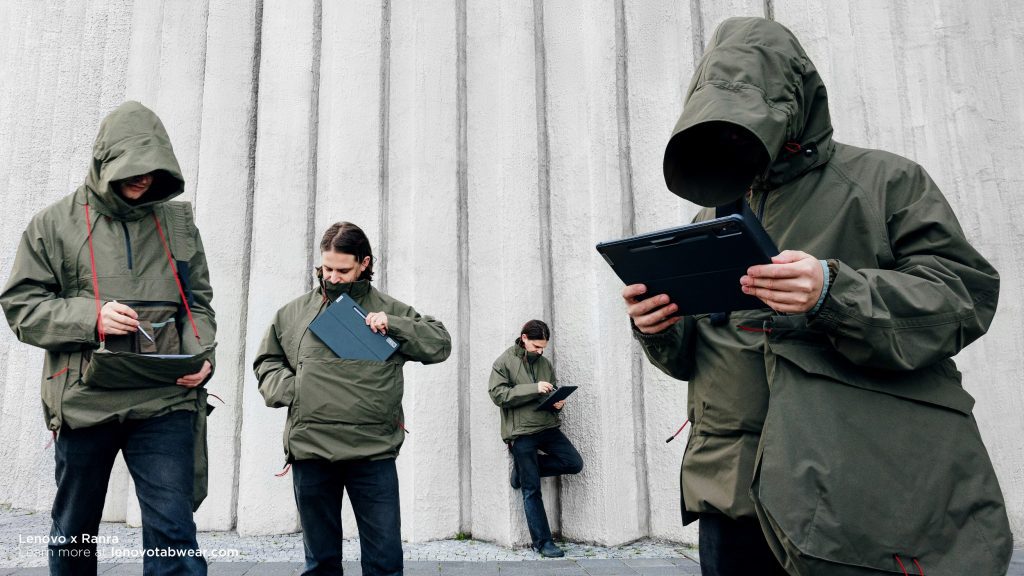 According to Pew Research1, it is clear that people crave 'me time,' but have trouble making it a priority. 'Me time' is dedicated personal time for individuals, allowing them to prioritize their wellbeing while doing what they want, whenever and wherever they choose.
Lenovo's vision for the future is that garments like this concept collection can enable users to take time for themselves and enjoy a respite from daily stressors. By integrating a Lenovo tablet into the concepts, users can escape into their favorite leisure activities both indoors or outdoors, whether immersing themselves in a show, browsing social media or even pursuing creative projects. As wellness and self-care continue to be a priority for many, the Lenovo Tab Wear Collection can expand "me time" beyond the home.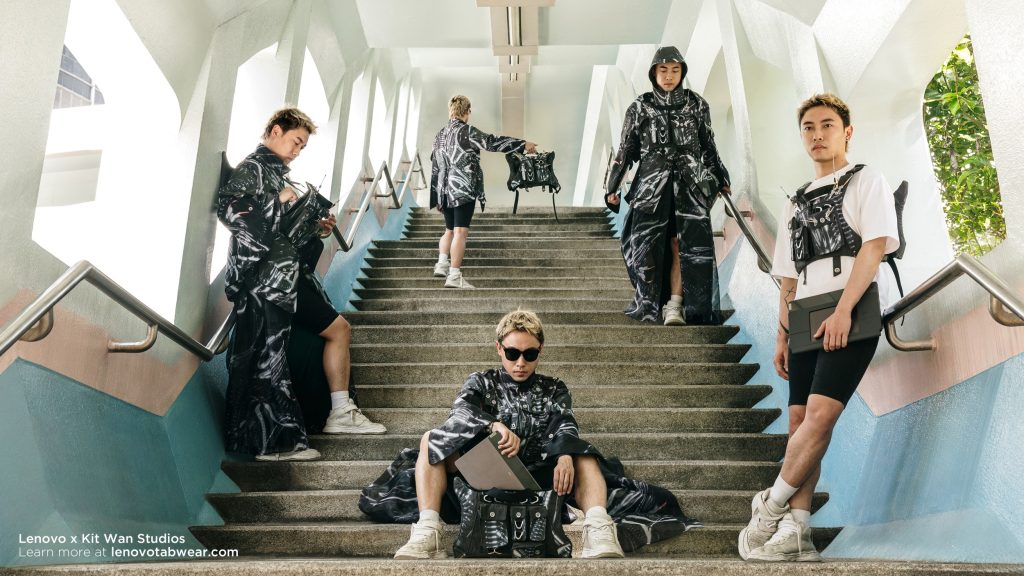 "Tech and fashion are both constantly evolving, innovating and adapting to our changing society," said Emily Ketchen, VP and CMO of Intelligent Devices Group and International Markets, Lenovo. "As technology becomes even more woven into the fabric of our daily lives, we must embrace its benefits to address people's evolving needs. The Lenovo Tab Wear Collection is a creative example of seamlessly integrating technology into multipurpose outerwear for 'me time.'"
For the Lenovo Tab Wear Collection, each designer brought their creativity and individual style to the table, creating a one-of-a-kind garment. Inspired by their unique backgrounds and visions, the designs demonstrate the convergence of style and technology.
London and Reykjavík-based outerwear designer team, RANRA created a noise and light canceling anorak with an isolation hood and packable tablet harness for immersive focus on any flight, bus, or train.
Hong Kong-based independent menswear designer, Kit Wan Studios, created a modular techno-armor exo-skeleton to integrate tech into streetwear.
Amsterdam-based Maium who focuses on fashionable, functional and weather-ready pieces designed a jacket that transforms into an inflatable hammock, ideal for the great outdoors.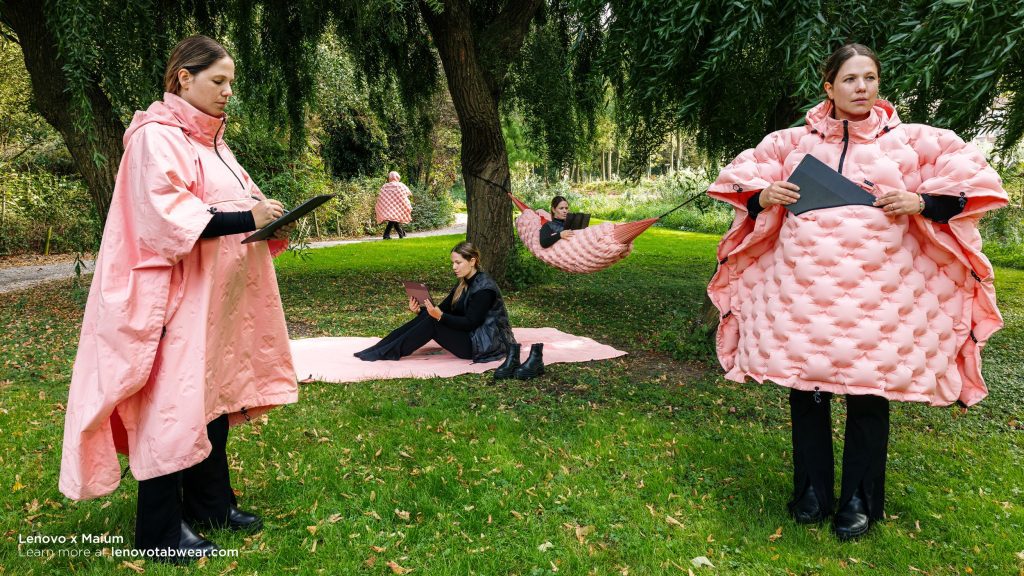 "The Lenovo Tab Wear Collection proves that fashion and technology can complement each other to create better everyday experiences," added Ketchen. "The innovative designs show that 'me time' can be mobile, portable, and personal. They are more than just custom modern garments with a Lenovo tablet, they are reimagined possibilities for today's world."
Each designer fused their own interpretation of 'me time' into original masterpieces while simultaneously incorporated mindful designs in the process. RANRA's waterproof design took end-of-life materials into consideration by selecting recycled textiles and trims2; Kit Wan Studios emphasized the importance of partnering with local trade, sourcing materials from small-batch collaborators in Hong Kong; and Maium's design is built from recycled polyester with a bionic finish eco layer that is handmade in the sample rooms of GRS3 and Oeko Tex-1004 certified manufacturers. The result is an experimental concept collection that enhances entertainment and transportability, with incredible style and mindfulness.
Learn more about each design at www.lenovotabwear.com.
About Lenovo
Lenovo (HKSE: 992) (ADR: LNVGY) is a US$62 billion revenue global technology powerhouse, ranked #217 in the Fortune Global 500, employing 77,000 people around the world, and serving millions of customers every day in 180 markets. Focused on a bold vision to deliver smarter technology for all, Lenovo has built on its success as the world's largest PC company by further expanding into growth areas that fuel the advancement of 'New IT' technologies (client, edge, cloud, network, and intelligence) including server, storage, mobile, software, solutions, and services. This transformation together with Lenovo's world-changing innovation is building a more inclusive, trustworthy, and smarter future for everyone, everywhere. To find out more visit https://lenovo.com and read about the latest news via our StoryHub.
About RANRA
Specializing in transitional outerwear pieces designed for both nature and the urban environment, rising star RANRA creates technical pieces fit to last a lifetime and never go out of style. The studio – based between London and Reykjavik – is built around collaborative working practices and a commitment to thinking through an expanded definition of design. With the brand designing its outerwear with longevity in mind, with many of their garments being adaptable and versatile. Seasonless layering staples, technical outerwear, luxurious sportswear, and insulating knitwear are all part of the brand's DNA – ensuring high performance pieces perfect for the great outdoors – whether you're exploring nature or trekking through an urban jungle.
About Kit Wan Studios
Hong Kong-based, Kit Wan's cult-like body of work navigates the contemporary world through diverse art forms and clothing designs. Exploring tech, texture, sci-fi, and mechanical constructivism, Wan's distinctive style branches into concepts between uniform and craft. Kit Wan's distinctive work and vision gained momentum, stretching from Hong Kong to Oslo. With his cross-cultural background, he creates a visual language that bridges his world to contemporary culture. Marrying cutting-edge design with ethical craftsmanship, the brand sources its materials locally and produces its works in-house whenever possible, minimizing waste and its carbon footprint.
About Maium
Taking its name from the old Amsterdam language, Bargoens, the Maium brand is a literal product of its environment. With at least 130 days of rain in the Netherlands every year, and more than one third of the country below sea level, conditions call for imaginative ways of staying dry. Founded by an Amsterdam-based duo of friends, Maium's fashionable yet functional pieces are designed to protect you from the elements, through innovation in design, function, and materials. Rooted in sustainability, the brand incorporates ethical and conscious design practices in an attempt to restore the link to nature, proving that fashion and technology doesn't have to cost the earth.
LENOVO is a trademark of Lenovo. All other trademarks are the property of their respective owners. ©2023, Lenovo Group Limited.
1 Husbands and Wives Earn Similar Wages in a Growing Share of Marriages | Pew Research Center
2 The shell material is a recycled 3L from Sympatex. This features a recycled synthetic outer layer and recycled waterproof, windproof and breathable membrane.
3 The Global Recycled Standard (GRS) is a voluntary product standard for tracking and verifying the content of recycled materails in the final product.
4 OEKO-TEX® STANDARD 100 is one of the world's best-known labels for textiles tested for harmful substances. It stands for customer confidence and high product safety.