LAS VEGAS – January 7, 2019 – Since the launch of the ThinkPad X1 line in 2011, it has always embodied our thinnest, lightest no-compromise flagship product for our commercial portfolio. For 2019, we have focused on refining them with improvements that most discerning users will appreciate. What's more, we have listened to our customers and evolved the laptops' look and feel to represent the demands of a contemporary and dynamic workforce.
Today, we announce our latest ThinkPad X1 products: ThinkPad X1 Carbon 7th Gen and ThinkPad X1 Yoga 4th Gen. Highlights of the portfolio include:
X1 Carbon 7th Gen and X1 Yoga 4th Gen are both thinner and lighter than ever
X1 Yoga 4th Gen now available in an all-aluminium chassis
New display options, including a low power 400 nit FHD display with ThinkPad PrivacyGuard
New Dolby Atmos™ Speaker System with four speakers and four far-field mics
Latest 8th Gen Intel® Core™ processors
New Cat16 LTE-A option and enhanced WLAN and WWAN antenna design
ThinkShutter now available on both HD and IR cameras
"One of our core strategies is to use our extensive customer insight to develop new designs and offer a wider choice, as seen in our X1 line.For years, our customers have been asking for an all-aluminum ThinkPad and we've been studying metal materials to determine the right timing and the right process to deliver the quality that ThinkPad customers expect." Said Christian Teismann, senior vice president and general manager, Lenovo Commercial Business Segment.
Additionally, the Lenovo portfolio expands today with a host of new visual and peripheral solutions and accessories, including a new ThinkVision 43.3-inch P44w that provides ultra-wide dual-display capability without bezels.


Design of Choice
One aspect that will certainly be noticed are new design languages on both laptops.
Unmistakeably a ThinkPad, the 7th generation X1 Carbon will be available with a visible carbon fiber weave top cover. For years, we've named our flagship Windows 10 notebook with the very pragmatic name, X1 Carbon, to call attention to the product's material. Many of our customers have suggested that in order to appreciate the strength of the material, it should be visible, as seen in the automotive and motorsport industries. On the premium X1 Carbon model with a 4K Dolby Vision™ display, we have developed a top cover where the weave is evident to further highlight the use of carbon fiber in the construction of the world's lightest commercial 14" notebook1.
The 2019 ThinkPad X1 Yoga is an all-new full precision-machined aluminum chassis in a beautiful iron grey color.
While aluminium laptops are not new, our ThinkPad durability and reliability tests are so stringent that it's unlikely most laptops in this class would pass those tests. Aluminum is just as strong as carbon fiber, but needs extra thickness for strength and rigidity, thus making it heavier. Making it thinner to meet our own weight requirements presents design challenges, in particular on corners and edges. We tackled these head-on with our engineering team who created a thinner, lighter, and smaller design than the previous generation ThinkPad X1 Yoga, while maintaining the rugged quality that allows this to be a do anything, anywhere design users expect from ThinkPads.
"Creating the 2019 ThinkPad X1 Yoga required us to completely go back to the drawing board and develop all new approaches," said Jerry Paradise, vice president, Commercial Product Portfolio.  "The challenge of reimagining our engineering, design and materials while achieving the reliability, quality, and usability required of a ThinkPad was massive, but the end result will provide a delightful customer experience."
Best in class audio and imaging technology developed by Dolby
We've also collaborated with Dolby to bring best in class audio and imaging technology to our latest line-up of X1 laptops. In addition to a Dolby Vision™ option, which transforms your viewing experience with ultra-vivid picture quality, the new X1 Carbon and X1 Yoga also feature Dolby Atmos™ Speaker System. Dolby Atmos Speaker System creates an immersive audio experience over four Dolby custom-designed and tuned PC speakers, and over any pair of headphones. It delivers breath-taking, moving audio that flows around you, making you feel like you're inside the action as sound comes alive with richness, depth, and precision.
Together, the fusion of Dolby Vision™ and Dolby Atmos™ Speaker System transforms your ThinkPad X1 into a multimedia powerhouse.
Security should be on every user's mind
High profile breaches have become commonplace. In 2018, more than 1.4 billion passwords were hacked, most of which were sold in the DarkNet. By 2021, the cost of cybercrime is estimated at 6 Trillion dollars3. That is equivalent to the GDP of Japan, or the UK and France combined. And these cases are becoming more and more high-profile, with Fortune 500 companies falling victim, resulting in damaged reputations, fallen market caps, and in many cases, job loss. Security should be the number one consideration when purchasing a new PC.
Lenovo recently announced its ThinkShield security solutions designed to protect your device, your identity, your data, and your online connectivity. With all ThinkPad laptops featuring a number of these security solutions built-in, the critical issues of security are being faced head-on.
Both ThinkPad X1 laptops include a new 400 nit FHD display option that contains ThinkPad PrivacyGuard which protects the end users screen from prying eyes. ThinkPad Privacy Alert is a unique software feature that warns users if anyone is looking at their screen, and if so, it will automatically turn on Privacy Guard. ThinkShutter is now available on both IR and HD webcam models, and we have improved the speed and security of the Match-on-Chip fingerprint reader, which now includes Microsoft SecureBio support.
X1 Carbon:
ThinkPad X1 was born on May 17, 2011. With a 13.3-inch display and 3.7 pounds, the first X1 set a new benchmark for ultraportable computing that would continually be improved upon throughout the generations. Just over a year later, the first-generation ThinkPad X1 Carbon was born, to celebrate 20 years of the brand.

Step forward to 2019 and the 7th generation ThinkPad X1 Carbon refines the user experience even more:
Now just 14.95mm thin and starting at 2.4 pounds (1.08kg), it is significantly thinner and lighter than the very first X1 and features a larger 14-in display.
A Dolby Atmos™ Speaker System featuring two top-firing tweeters and two down-firing woofers deliver a more realistic and immersive sound worthy of a premium laptop.
Four far-field microphones enhance conferencing collaboration experiences and with the system being digital assistant ready, your voice commands will be easily understood whether you are using Cortana in Windows 10 or Amazon Alexa for PCs

2

.
If you need to travel, you can continue to be productive for up to 15-hours and when you need access to large amounts of remote data, LTE-A Wireless WAN will power through the biggest of file transfers. CAT 16 LTE is now available offering gigabit speeds where supported.
A selection of display options is available, including the stunning 500 nit, 10 bit, 4K Dolby Vision™ panel, or a new brighter 400 nit FHD display.
X1 Yoga: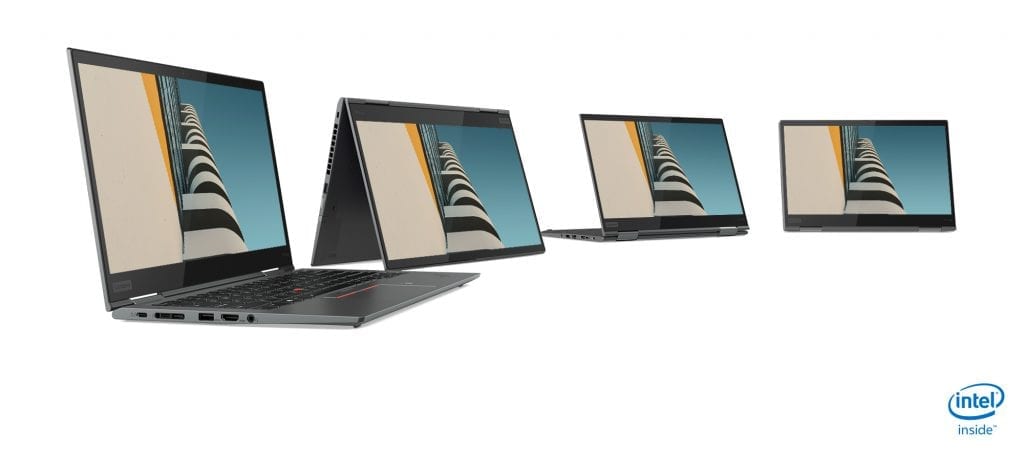 The first-generation ThinkPad X1 Yoga came later at CES 2016. Three years later and the new X1 Yoga shares more innovation with its X1 Carbon brother than ever. The 4th generation multi-mode laptop is thinner and lighter with a smaller footprint thanks to narrower bezels and is constructed in a precision-machined aluminum chassis.
The premium keyboard, display options, Dolby Atmos™ Speaker System, far-field mics, and the all-important battery life, and global LTE-A capability also come together in the X1 Yoga. The differences in this fourth-generation laptop go even further:
Weighing less than 2.99 pounds (1.35kg), the X1 Yoga is 11% thinner than previous generation at 15.2mm
Narrower bezels all around result in an overall 17% footprint reduction
Reinforced precision machined aluminium chassis in "Iron Grey" color
X1 Yoga now supports all docking solutions, including ThinkPad Mechanical Dock.
Proven integrated ThinkPad Pen Pro continues to offer multi-mode pen input
Accessory Ecosystem:
ThinkVision P44w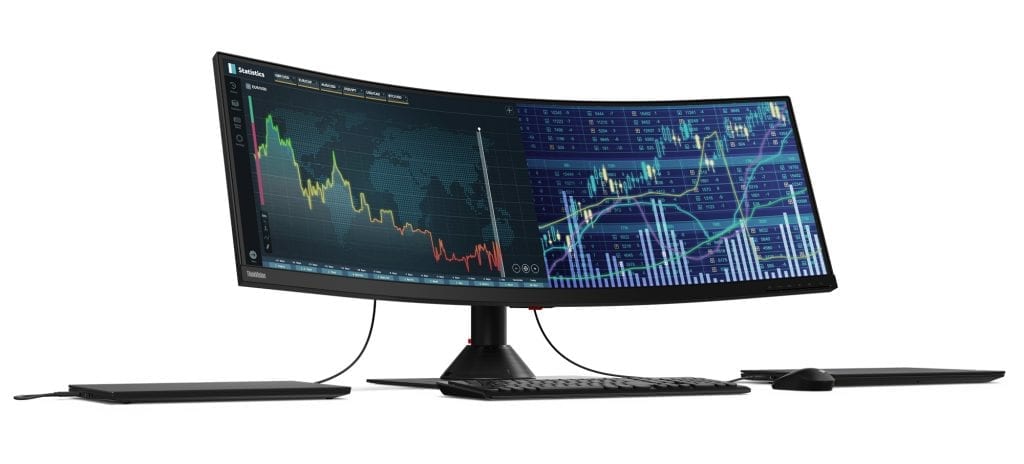 If you are a multi display user, you will recognise the challenges and pitfalls of bezels and managing several displays and associated cables. The new ThinkVision P44w eliminates those frustrations. The 43.4-inch display offers an ultra-wide 32:10 aspect ratio with a resolution of 3840×1200, giving a screen real-estate equivalent to two 24-inch 16:10 displays. Dual integrated USB-C ports allow two video inputs that can simultaneously transfer data, video and audio signals as well as provide up to 90W charging power.
Other highlights include:
Picture-by-picture (PBP) with one-key enable and switch for dual sources offers new levels of multi-tasking capability
Smart desktop management software allows for multiple monitor configurations and display regions to be created
Equipped with two USB 3.1 Type-C ports and advanced connectivity (2x HDMI 2.0 and 1 x DP 1.4) for those who like to do more
VESA Certified DisplayHDR™ 400 with 450nit peak brightness delivers a vivid and realistic display experience through better contrast and color accuracy
Other accessories are often overlooked but can offer real benefits to improve and enhance user productivity, whether at a desk or outside locations:
For example, the new ThinkPad Thunderbolt

TM

 3 Dock Gen 2 can create an easy to manage desk space in the office or at home. With dual UHD display capability and multiple high-performance ports, the Thunderbolt 3 dock will also provide charging power for selected ThinkPad laptops up to 65W. It also delivers Ethernet network passthrough and manageability supporting Wake-on-LAN and PXE Boot so that IT administrators can push through system updates or even full remote system recovery.
The Lenovo Pro Stereo USB Headset, with noise cancelling microphone, turns any space into your personal conference room.
If you are working at home in a more private environment or have access to a huddle or small meeting room, you may want the Lenovo VOIP 360 Camera speaker. Designed for mobility, the speaker offers acoustic echo cancellation and background noise suppression, and 360-degree video capability with four different display options can enable split-view multi-user video meetings at the touch of a button. It is compatible with Skype, Jabber, Cisco Webex, Google Hangouts, and Tencent QQ. We are working closely with Amazon on future certifications for Alexa and Chime.
Entertainment and conferencing on the go is made possible by the Lenovo 700 Ultraportable Bluetooth Speaker. The world's thinnest Bluetooth speaker at just 11mm (0.43") delivers crisp audio through four speakers for up to 8 hours. With quick charging (2 hours charge time) and simple touch controls for audio playback and VOIP, the ultraportable speaker also features USB-C connectivity and IPX2 splash-proof water resistance.
Finally, two accessories designed with the small business traveller in mind, although consumers would also reap the benefits. The Lenovo Powered USB-C Hub will take advantage of newer laptops' USB-C ports to deliver power and multiple ports for external device expansion. Integrated cable management provides a neat, highly transportable solution. When commuting or travelling further afield, you will need a bag to carry your latest ThinkPad and accessories. The Lenovo Commuter Backpack weighs less than two pounds and with a large 25 litre capacity, it has more than enough space for laptops up to 15.6-inch, cables, and accessories. With a durable water-repellent finish, it features a security pocket to protect high-value items and a clever high visibility panel that charges in sunlight and glows in the dark to better night-time travel security.
Availability and Pricing details:
ThinkPad X1 Carbon will be available from June 2019, with an expected starting price of $17094.
ThinkPad X1 Yoga will be available from June 2019, with an expected starting price of $19294.
ThinkVision P44w will be available from April 2019, with an expected starting price of $12994
ThinkPad Thunderbolt 3 Dock Gen 2 is available now at $319.994.
Lenovo Pro Stereo USB Headset will be available in June from $149.994.
Lenovo VOIP 360 Camera Speaker will be available in March from $249.994.
Lenovo 700 Ultraportable Bluetooth Speaker will be available in April from $149.994
Lenovo Powered USB-C Hub will be available in January from $79.994.
Lenovo Commuter Backpack will be available in January, check www.lenovo.com for pricing.
1 Based on 14-inch business-class laptops from vendors shipping more than 1 million units annually, as of 01/07/19
2 Amazon Alexa for PCs is currently available in the US, UK and Germany. For more details, go to https://www.amazon.com/alexaforpc
3 Source: Cybersecurity Ventures Annual Cybercrime Report 2019
4 Pricing and availability may be subject to change and local country configuration
About Lenovo
Lenovo (HKSE: 992) (ADR: LNVGY) is a US$45 billion Fortune Global 500 company and a global technology leader in driving Intelligent Transformation through smart devices and infrastructure that create the best user experience. Lenovo manufactures one of the world's widest portfolios of connected products, including smartphones (Motorola), tablets, PCs (ThinkPad, Yoga, Lenovo Legion) and workstations as well as AR/VR devices and smart home/office solutions. Lenovo's data center solutions (ThinkSystem, ThinkAgile) are creating the capacity and computing power for the connections that are changing business and society. Lenovo works to inspire the difference in everyone and build a smarter future where everyone thrives.  Follow us on LinkedIn, Facebook, Twitter, Instagram, Weibo, read about the latest news via our StoryHub, or visit our website at http://www. lenovo.com.
AMAZON and ALEXA are trademarks of Amazon Technologies, Inc. WINDOWS and CORTANA are trademarks of Microsoft Corporation. DOLBY, DOLBY ATMOS and DOLBY VISION are registered trademarks of Dolby Laboratories, Inc. All other trademarks are the property of their respective owners.  ©2019, Lenovo Group Limited.