Created by Lenovo in partnership with the DuSable Museum of African American History
RESEARCH TRIANGLE PARK, N.C., February 8, 2021 – Today, Lenovo announced a new way to learn about and experience one of the most pivotal moments of the Civil Rights movement: Martin Luther King Jr.'s "I Have a Dream" speech. In partnership with the DuSable Museum of African American History in Chicago, every street in the United States named after Martin Luther King Jr. is turning into an interactive augmented reality (AR) experience called "MLK on MLK".
"Dr. King's message of hope and unity remains as important today as it did in 1963, especially at a time when many in our country may be separated by physical distance or differences in beliefs," said Calvin Crosslin, Lenovo Chief Diversity Officer and President of the Lenovo Foundation. "By leveraging technology to connect people with opportunities to learn more about Martin Luther King Jr.'s vision during and beyond Black History Month, we are better able to understand our shared history, which may help us progress toward a better future for all."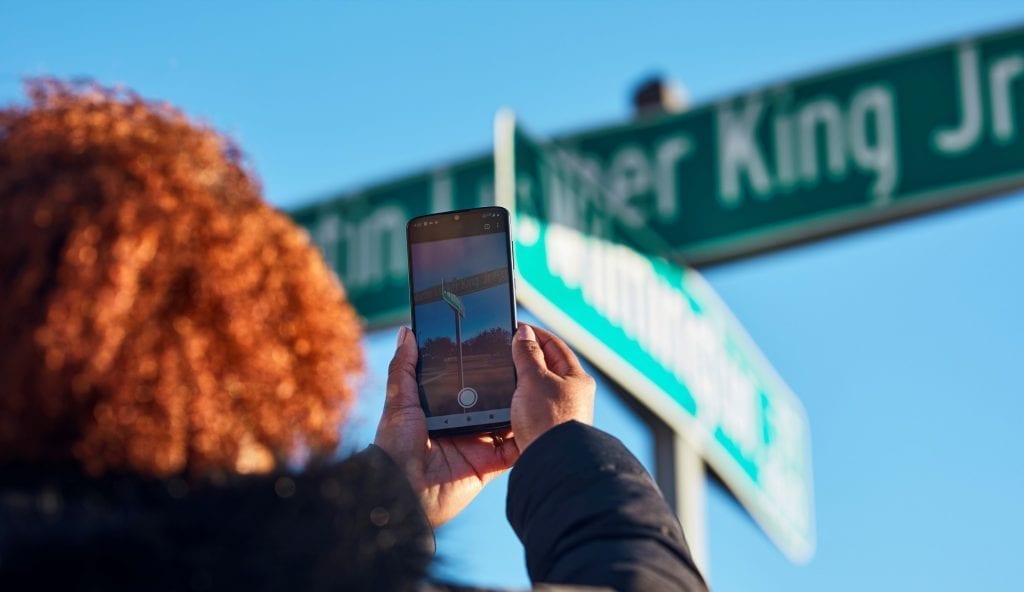 To participate, point your smartphone at any MLK street sign in the U.S. to unlock an opportunity to watch Martin Luther King Jr. deliver his groundbreaking speech and an immersive experience where you can walk up to 3D sculptures inspired by those who may have been present during that pivotal moment in history.
"Museums have played a vital role in allowing people to engage with the history and legacies of Black leaders who have paved the way for a more equal and just America," said Perri Irmer, President and CEO of The DuSable Museum of African American History. "Amidst a pandemic, when the opportunities for us to connect in-person are limited, we are proud to work with Lenovo to highlight this important moment in history and share educational resources that encourage continued learning."
Following the AR experience, find additional information about Martin Luther King Jr.'s vision and legacy through resources provided by the DuSable Museum of African American History and the King Center on MLKonMLK.com.
Video Resources:
Calvin Crosslin, Lenovo's Chief Diversity Officer, speaking on the MLK AR experience
B-Roll of the MLK AR experience in action
About Lenovo
Lenovo (HKSE: 992) (ADR: LNVGY) is a US$50 billion Fortune Global 500 company, with 63,000 employees and operating in 180 markets around the world.  Focused on a bold vision to deliver smarter technology for all, we are developing world-changing technologies that create a more inclusive, trustworthy and sustainable digital society. By designing, engineering and building the world's most complete portfolio of smart devices and infrastructure, we are also leading an Intelligent Transformation – to create better experiences and opportunities for millions of customers around the world. To find out more visit https://www.lenovo.com, follow us on LinkedIn, Facebook, Twitter, YouTube, Instagram, Weibo and read about the latest news via our StoryHub.
About The DuSable Museum of African American History
The DuSable Museum of African American History is the oldest independent black history museum in the nation. Our mission is to promote understanding and inspire appreciation of the achievements, contributions and experiences of African Americans through exhibits, programs and activities that illustrate African and African American history, culture and art. The DuSable Museum is a Smithsonian Institution Affiliate and for more information on the Museum and its programs, please call 773-947-0600 or visit us at www.dusablemuseum.org. The DuSable Museum of African American History gratefully acknowledges the Chicago Park District's partnership.