To celebrate these dual-personas, Lenovo has partnered with renowned Marvel comic artist and game designer, Salva Espín, to design five Lenovo Legion 'Second Skin' stickers that capture this duality – and you can design the final sticker
January 12, 2023 – New research¹ has today revealed that over half (52%) of gamers identify with their online alter-ego more than their real-life identity. Inspired by this dual-persona, Lenovo has teamed up with comic artist and game designer Salva Espín, to create a collection of limited-edition stickers that combine the on and offline world.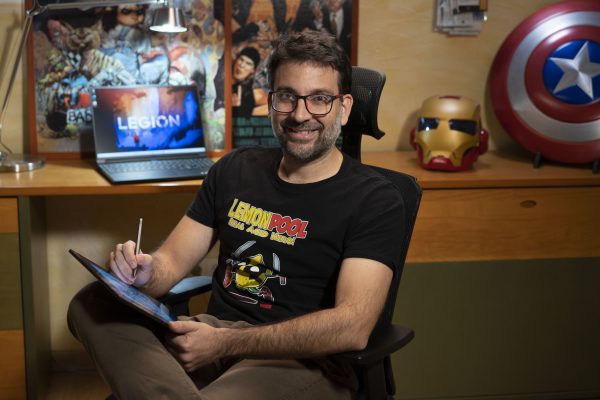 The digital world truly is a matrix of the real world, as research conducted by Lenovo found gamers feel their most authentic self when gaming at home (58%), followed by socialising with friends and family (52%) and participating in other personal hobbies and interests (46%).
With nearly 60% of gamers choosing to keep their gaming life until after work, findings revealed that certain professions feel their most authentic when playing specific genres of games. According to Lenovo's research study, clerical workers (44%), medical & healthcare workers (42%), financial workers (38%) and science workers (40%) for example, feel their most authentic self when playing strategic games. Whereas those working in the computer sector feel most authentic playing RPGs (45%) with creatives (40%) opting for role playing games.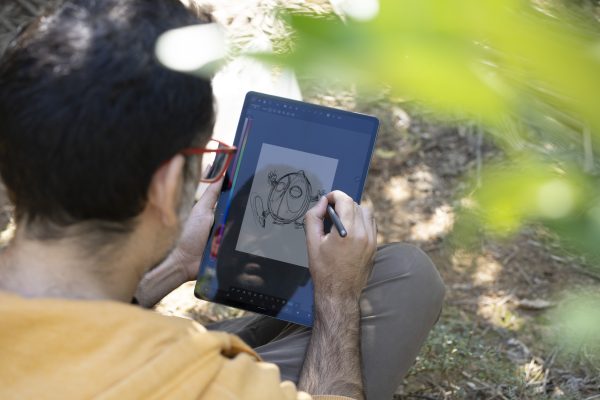 Lenovo Legion laptops serve as an epic conduit, bridging the worlds that gamers often straddle. Complete with AMD Ryzen™ processors and AMD Radeon™ graphics, the Lenovo Legion 7 and the Lenovo Legion Slim 7 offer greater freedom to roam, while still retaining the power and performance to support so its users can continue to be irrepressibly stylish on the outside, and indomitably savage on the inside.
Many gamers live dual lives, yet rarely is this duality celebrated. Tapping into this mentality of multiple 'skins', Lenovo Legion has teamed up with Salva Espín, comic artist and game designer, known for his work with Marvel on characters like Deadpool, She-Hulk, X-Men, and Wolverine, to create a series of 'Second Skin' stickers
Salva Espín has commented, "It has been amazing to be part of this project, which has allowed me to indulge in all my passions design, gaming, and technology. I thoroughly enjoyed the whole creative process, working closely with the Lenovo team to shape the five designs that best illustrate the survey results. I've already customized my Lenovo Legion 7 with the sticker that represents the duality between my professional self and my gaming alter ego, and I can't wait to see how these designs will become part of thousands of people's laptops!"
The stickers are a juxtaposition of what life would look like if we were to embrace our online authentic selves all the time. From a Mage on a coffee run to a knight checking their medical inventory, these stickers are designed to encourage gamers to embrace their alter egos, no matter what their skin.
Alberto Spinelli, Chief Marketing Officer, Lenovo EMEA, comments: "We've had a lot of fun working with Salva on the Second Skin campaign. As a brand that's always been passionate about supporting gamers to do incredible things – when gaming and in life – it's our ambition that the Second Skin stickers encourage our community to be their authentic self, whether at work or mid-battle royal. Laptop stickers are an expression of our personality and in these designs, Salva has managed to capture the collision of both worlds brilliantly. We hope they spread as much joy as they've brought us."
Christian Dotzauer, EMEA Marketing Lead, AMD, comments: "This research points to an important truth about the role of gaming experiences in many peoples' lives as a source of fun, rich social connection, and true self-expression. The communities that form around games and gaming experiences are unlike any other, and we're delighted to collaborate with Lenovo to celebrate gamers bringing their true selves to other aspects of their lives through Savage Stickers."
The final sticker will be left to the Lenovo Legion Gaming Community to create. Anyone can submit their own dual persona sketch, simply by replying to the Community thread and uploading their artwork. The deadline for submissions will be 26th January 2023, at which point, Salva will personally select his favourite before working with the winner to turn the concept into the final Second Skin design.
Visit the Legion Gaming Community to find out more information and be sure to follow @salva_espin_art to stay up to date with the latest news.
About Lenovo
Lenovo (HKSE: 992) (ADR: LNVGY) is a US$70 billion revenue global technology powerhouse, ranked #171 in the Fortune Global 500, employing 82,000 people around the world, and serving millions of customers every day in 180 markets. Focused on a bold vision to deliver smarter technology for all, Lenovo has built on its success as the world's largest PC company by further expanding into key growth areas including server, storage, mobile, solutions and services. This transformation together with Lenovo's world-changing innovation is building a more inclusive, trustworthy, and sustainable digital society for everyone, everywhere. To find out more visit https://www.lenovo.com,and read about the latest news via our StoryHub.
About AMD
For more than 50 years AMD has driven innovation in high-performance computing, graphics and visualization technologies. Billions of people, leading Fortune 500 businesses and cutting-edge scientific research institutions around the world rely on AMD technology daily to improve how they live, work and play. AMD employees are focused on building leadership high-performance and adaptive products that push the boundaries of what is possible. For more information about how AMD is enabling today and inspiring tomorrow, visit the AMD (NASDAQ: AMD) website, blog, LinkedIn and Twitter pages.
LENOVO and LEGION are trademarks of Lenovo. Marvel, Deadpool, She-Hulk, X-Men, and Wolverine are trademarks of Marvel Characters, Inc. AMD, RYZEN and Radeon are trademarks of Advanced Micro Devices. All other trademarks are the property of their respective owners. ©2022 Lenovo Group Limited. All rights reserved.
¹ Research conducted by Censuswide with a total of 7,010 respondents across UK, France, Germany, Spain, Italy, Poland, Netherlands and Sweden in September 2022.