by Lenovo
With the growing awareness on global climate change, the tech industry at large has been searching for ways to reduce their overall environmental impact. By implementing new, sustainable practices into our production and packaging methods, Lenovo is working to solve for the challenges that come with the use of plastics in consumer electronics.
It's not easy being green – developing and refining processes to help reduce our environmental impact, while also meeting product quality standards, takes a lot of research and brainpower.
That's where our experts come in.
Royal Bai, Lenovo Corporate Packaging engineer, specializes in innovative product packaging development, material research, and corporate packaging programs. He works alongside colleagues like Qiu Gao, one of our environmental engineers. She works to revolutionize Lenovo's material and recycling processes. We sat down with them to talk about Lenovo's sustainability solutions and why they matter.
How we're making a difference
Lenovo is the leading PC manufacturer in total recycled content plastic – using roughly 92 million pounds of net recycled plastic in products and packaging manufacturing from 2006-2016. Our conservation efforts have earned us recognition as one of the 2018 Global 100 Most Sustainable Corporations in the World. For two years, Qiu and her colleagues have been working with suppliers to develop a material referred to as Closed-Loop Post-Consumer Recycled plastic – or CL-PCR, for short – as a more sustainable, alternative resource.
Q. What is CL-PCR?
A. Qiu: Closed-loop PCR is recycled plastic sourced specifically from electronic devices; in order for the process to be 'closed-loop', a product has to be recycled back into a similar product. Think about it this way – we manufacture electronics, so in order to create a closed loop, the process has to start with materials from electronic devices and be recycled into materials we can use in new electronic devices. Non-CL PCR can be derived from any consumer material, such as plastic bottles, and be recycled into a different product, like plastic fibers for clothing materials. Historically, we've used non-CL PCR in our products with great success, but we wanted to challenge ourselves to source more material from our own waste stream to drive a more sustainable solution.
Q. How did Lenovo start implementing this process?
A. Qiu: We surveyed our supply chain to measure readiness to support this initiative and worked with potential suppliers on the technical requirements of introducing CL-PCR material into Lenovo products. The Lenovo R&D team provided support on material and product performance testing. CL-PCR plastic must meet the same stringent performance standards that applies to other plastics used in our products to meet our durability and quality standards.
In March of 2017, the Lenovo Desktop development team identified an opportunity to use an ABS material made with CL- PCR in one of their products, and launched the V410Z All-in-One desktop in July, containing 12% net (by weight) CL-PCR plastic. In October of the same year, we launched the ThinkVision T22v-10 monitor comprised of 45% net (by weight) CL-PCR materials.
Q: How can our customers help complete this end of life cycle for their Lenovo products when they're done using them?
A. Qiu: Lenovo sponsors a 'take-back' program for consumers & business customers in most of our major markets where we conduct business. For example, Lenovo U.S. has partnered with Reverse Logistics Group Americas (RLGA) to offer a free recycling solution that includes shipping. Customers can visit our website for further information on how to best recycle Lenovo products in their area.
For our business partners, Lenovo offers the Asset Recovery Service (ARS) to help manage end-of-life technology equipment by providing PC take-back, data destruction, refurbishment & recycling services. This service gives business customers an end-to-end solution from Lenovo.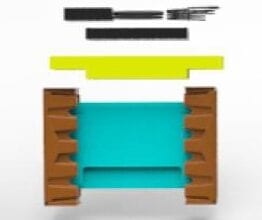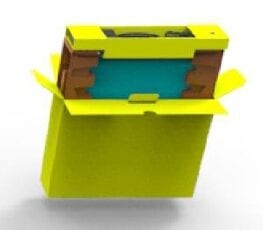 Q. Let's talk about packaging – why do sustainable solutions matter here?
A. Royal: Packaging requires material use, and its weight impacts shipping – this has implications both for the environment and Lenovo's business. Packaging materials have the potential to end up in landfills, and the weight of packaging impacts both carbon emissions and shipping costs. Through design improvements, Lenovo eliminated over 2,500 tons of packaging between 2008 and 2016.
Q. What are some examples of the design improvements we've made?
A. Royal: Our earlier packaging standards have included 100% recycled packaging on various products and recycled molded fiber (paper pulp) for various monitor packaging. Our latest renewable efforts are centered around using bamboo & sugarcane for memory component packaging – the new design has reduced the weight per box, resulting in a 6.7% efficiency improvement on transportation CO2 emissions.
Bamboo is an excellent renewable resource – it's the fastest growing woody plant in the world, growing up to 30 inches in a single day. It reaches harvestable maturity in 1-5 years and, if harvested properly, doesn't require replanting. Additionally, bamboo doesn't require the use of harsh pesticides or herbicides, and it absorbs 5x more CO2 and produces 35% more oxygen than alternative trees used for similar purposes.
Walking the Talk
Lenovo's sustainability efforts stretch beyond the production line – it's woven into the fabric of our culture. In the week leading up to Earth Day 2018, employees at the North America headquarters in Morrisville, North Carolina have played host to several events on campus to promote green habits, including a Farm to Table event, tree sapling giveaway, and electronics recycling drive.
Sustainability is becoming an increasingly important focus for businesses around the world – as a global company, it's our social responsibility to the worldwide community to implement sustainable practices that are better for the environment.