Barcelona, Spain – February 25, 2019 – Lenovo announced today on the eve of MWC Barcelona 2019 the latest additions to the ThinkPad portfolio: the T490s, T490, T590, X390 and X390 Yoga. Lenovo also introduced the Lenovo 14w with Windows 10 Pro and Lenovo 14e Chromebook laptops intended to increase firstline worker productivity, and an all-new ThinkVision M14 mobile display and X1 ANC Headphones to maximize the flexibility of remote teamwork.
Designed and engineered on core foundational principles, the latest line of premium ThinkPad T and X laptops continue our strong heritage of driving innovation that matters to end users. As workspaces evolve, users want truly connected devices that provide features and benefits core to what makes a laptop central to their digital wardrobe. The latest ThinkPad laptops help users stay in touch with omnipresent connectivity via LTE-A Wireless WAN, have peace of mind through industry-leading security with ThinkShield and relish a world-class laptop usability experience that excites through vivid high-definition displays, immersive Dolby AudioTM Premium and the renowned ThinkPad keyboard.

Completely new designs, the latest ThinkPad T and X series laptops include many features designed to fulfil end-user desires for the best secure mobile computing experience. Highlights include:
ThinkShield features such as ThinkPad PrivacyGuard1 with PrivacyAlert and ThinkShutter physical webcam security2 are available on most models
New modern ThinkPad BIOS with new features including self-healing capability
High speed WWAN for best connectivity with up to Gigabit speeds, using Fibocom L860-GL CAT16 LTE on the T490
T490s, X390 and X390 Yoga feature the latest Intel® Wi-Fi 6 Gig+
Dual microphones with four meter far-field performance and true 360o capability
HDR display with Dolby Vision™ support available on all T series
New low power 400 nit FHD display available on T490s and T490
Latest 8th Gen Intel® Core™ processors
With more than 140 million units sold to date, the fundamentals of ThinkPad have always focused on design and engineering, creating end-user trust through first-class security and durability and ensuring a premium mobile experience. For 2019, we have embraced Intelligent Connectivity principles through a foundational engineering philosophy. By analyzing all aspects of the user experience, we have focused on innovations that add value.
Universal Connectivity That Keeps You in Touch
A new generation of tech-savvy users are entering the workplace and want technology to work in tandem with their lifestyle. Whether it is working on business-critical workflows or interacting on social media, users want and need access wherever and whenever they want. All ThinkPad models include high-performance Wi-Fi and optional LTE-A global WWAN capability. The ThinkPad T490 takes roaming connectivity to the next level with CAT16 LTE-A support with the 4×4 UltraConnect antenna configuration for up to Gigabit speeds and maximum signal strength. The ThinkPad T490s, X390 and X390 Yoga also feature new Intel® Wi-Fi 6 Gig+ technology with Bluetooth 5.1 for premium Gigabit wireless connectivity. With higher throughput and improved performance in dense environments, users will enhance their mobile productivity with ThinkPad laptops featuring Intel® Wi-Fi 6 Gig+.
Stay Safe, Wherever You Are
The online world is full of hazards and threats. We frequently hear of data breaches and stolen identities. Users want their personal information, identity and data to be secure out of the box. In any typical day, a user will most certainly login to their laptop, likely participate in a video conference and perhaps review confidential information. To stay protected, wherever you are, Lenovo has ThinkShield.
For example, the Match-on-Chip fingerprint reader enhances the privacy of fingerprint information by ensuring the biometric image never leaves the chip, thus delivering a more secure identification for login and online transactions.
ThinkShutter is a physical camera cover, available on both RGB and IR webcams, protecting users from malicious webcam hackers
ThinkPad PrivacyGuard activates screen privacy at the touch of a button. PrivacyAlert can even warn you if someone is snooping over your shoulder.

We have also made significant improvements to the ThinkPad BIOS. Most noticeable will be a new modern Graphical User Interface making the BIOS much easier to navigate. We also developed a range of new UEFI-based BIOS security and manageability enhancements, providing users and IT administrators with higher levels of security and management capabilities.
Administrators can set remote supervisor or privileged access passwords for better BIOS-level security.
They can restrict port access, reliably delete all data from the hard drive using Secure Wipe or remotely manage system deployment with WiFi PXE Boot or HTTPs Boot.
Most impressive may be the self-healing feature of the new BIOS that is able to revert to a known good backup copy in the event of BIOS corruption or a malicious attack. This new feature is designed to provide customers with a more resilient BIOS and to prevent hackers from infiltrating the lowest level firmware code.

ThinkPad BIOS Graphical User Interface – System information has been hidden to protect privacyStimulating the Senses Creates a Unique Usability Experience
The premium user experience is a result of visual and aural senses. Our world-class engineers have obsessed in delivering thin and light no-compromise laptops with the best displays, great voice and audio capability, and the legendary ThinkPad keyboard in a class of its own.
The 500 nit HDR display with Dolby VisionTM support brings extraordinary color, contrast and brightness for a vivid viewing experience. We've also developed a new low-power 400 nit FHD display using LTPS (Low Temperature Polycrystalline Silicon) technology to boost brightness with improved battery life.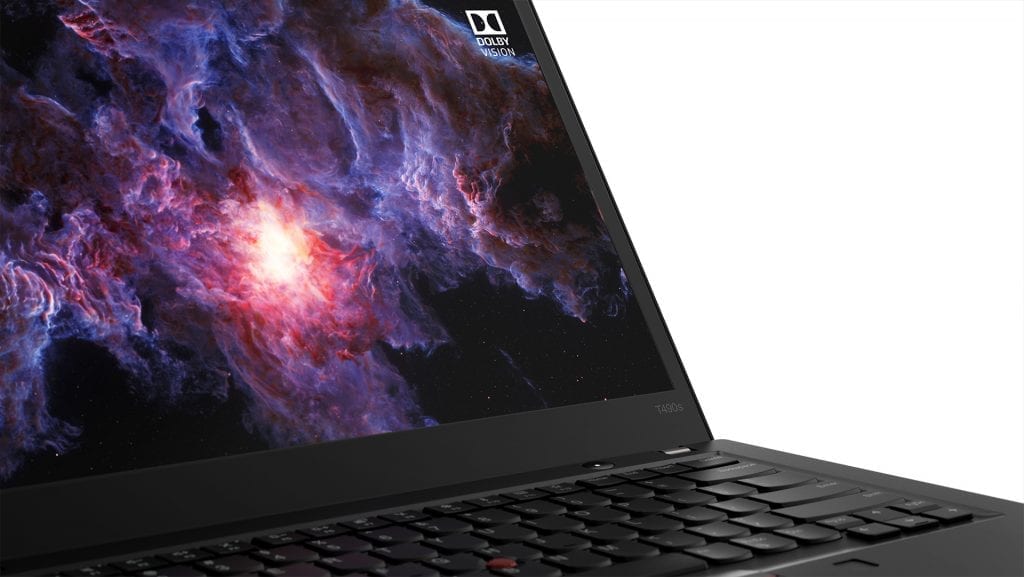 The VOIP conferencing experience can often be laden with issues such as poor audio, garbled voices and distracting background noise. For the first time in ThinkPad T and X series, we've introduced dual far-field microphones that significantly enhance VOIP conferencing performance, especially for multiple participants and in noisy environments, and Dolby AudioTM Premium greatly improves sound.
"Progressive designs of ThinkPad laptops begin with valuable dialogue with our customers," said Jerry Paradise, vice president, Lenovo Commercial Product Portfolio. "Once our engineers engage, we are committed to delivering an intelligent computing experience built on years of know-how, with the single goal to delight end users."
Unlocking Firstline Worker Talent
Firstline workers are key contributors within large enterprise segments, such as retail, hospitality, travel and manufacturing but they are often overlooked when it comes to corporate PC allocation. By providing firstline workers with PC devices, such as the Lenovo 14w and 14e Chromebook, companies can unlock their true value and improve their collaboration and contribution. Designed with this specific segment of the workforce in mind, the Lenovo 14w and 14e Chromebook, powered by AMD, are built with features to handle the wear and tear of a day on the shop or factory floor. Bringing technology into the hands of everyone in the workplace has never been simpler or more cost-effective.
Lenovo 14w with Windows 10 Pro
Built-in security, management and productivity features with Windows 10 Pro
AMD A6-9220c performance
Thin and light, 17.7mm and 3.39 pounds, with an Aluminum top cover
14-inch FHD with IPS touch display
Spill proof and backlit keyboard
57 Whr battery built to last a full day
Access to Microsoft 365 services for firstline workers3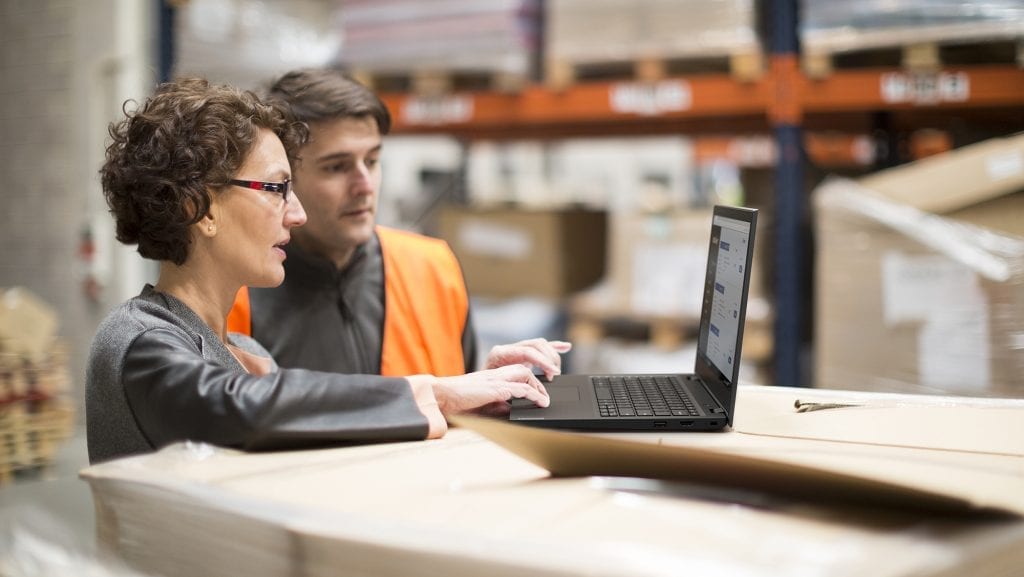 Lenovo 14e Chromebook
AMD A4-9120c performance
Thin and light, 17.7mm and 3.27 pounds, with an Aluminum top cover
14-inch FHD with IPS touch display
Spill proof and backlit keyboard
57 Whr battery built to last a full day
Google Admin console and G Suite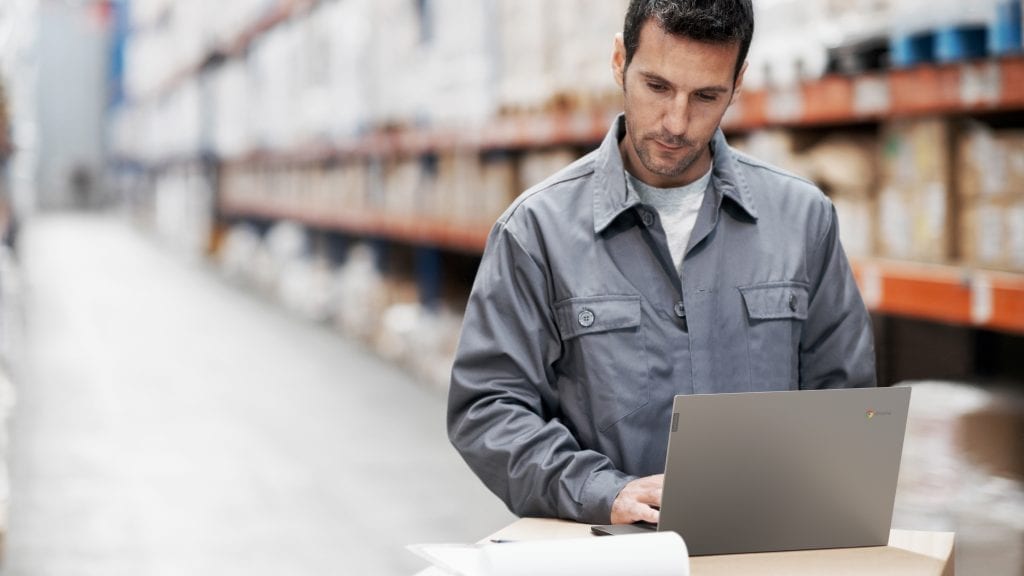 Cool Accessories for the Mobile Worker
The new ThinkVision M14 monitor offers a simple mobile display solution for increased screen real-estate while on the move allowing users to share content with colleagues and customers. Both USB-C ports can be used as a pass-through when connected to AC power and charge your laptop or simply connect and use as a second screen. The 14-inch FHD ultra-slim display (4.6mm) provides vivid images with 300 nit brightness and includes a height adjustable foot for viewing comfort. At just 1.3 pounds (595g), the ThinkVision M14 is the perfect lightweight travelers' companion.
The X1 ANC Headphone, professionally tuned by Dolby for Lenovo systems, offers enhanced audio capability and noise-cancelling features. We partnered with Synaptics AudioSmart to create a boom-less six mic array Hybrid ANC and ENC headphones. Active Noise Cancellation (ANC) reduces distracting background noises, while Electronic Noise Cancelling (ENC) filters out those same background noises, allowing users to clearly and professionally collaborate through unified communications platforms or utilise digital assistant voice commands either in the office or on-the-go. The headphones can be used wireless through Bluetooth 5.0, or connected and charged by USB-C. The collapsible design means easy storage and transport.
Pricing and Availability:
ThinkPad T490s will be available from May 2019, with an expected starting price of $12794.
ThinkPad T490 will be available from May 2019, with an expected starting price of $9994.
ThinkPad T590 will be available from May 2019, with an expected starting price of $10294.
ThinkPad X390 will be available from May 2019, with an expected starting price of $10994.
ThinkPad X390 Yoga will be available from May 2019, with an expected starting price of $13594.
ThinkVision M14 will be available from May 2019, with an expected price of $2494.
ThinkPad X1 ANC Headset will be available from June 2019, with an expected price of $1494
Lenovo 14w with Windows 10 will be available from March 2019, with an expected starting price of $2994.
Lenovo 14e Chromebook will be available from March 2019, with an expected starting price of $2794.
Full datasheets are available on request.
About Lenovo
Lenovo (HKSE: 992) (ADR: LNVGY) is a US$45 billion Fortune Global 500 company and a global technology leader in driving Intelligent Transformation through smart devices and infrastructure that create the best user experience. Lenovo manufactures one of the world's widest portfolios of connected products, including smartphones (Motorola), tablets, PCs (ThinkPad, Yoga, Lenovo Legion) and workstations as well as AR/VR devices and smart home/office solutions. Lenovo's data center solutions (ThinkSystem, ThinkAgile) are creating the capacity and computing power for the connections that are changing business and society. Lenovo works to inspire the difference in everyone and build a smarter future where everyone thrives.  Follow us on LinkedIn, Facebook, Twitter, Instagram, Weibo, read about the latest news via our StoryHub, or visit our website at http://www. lenovo.com.
ThinkPad PrivacyGuard is available on the new T490s, T490 and X390, as well as the recently announced ThinkPad X1 Carbon and X1 Yoga
ThinkShutter physical webcam security is available on all ThinkPad models including both RGB and IR webcam options
Microsoft 365 services may be subject to subscription fees
Pricing and availability may be subject to change and local country configuration