HALF-DAY PROGRAM BRINGS TOGETHER 500+ LENOVO EMPLOYEE VOLUNTEERS AND NEARLY 200 HIGH SCHOOL STUDENTS FOR MENTORING AND MOCK INTERVIEWS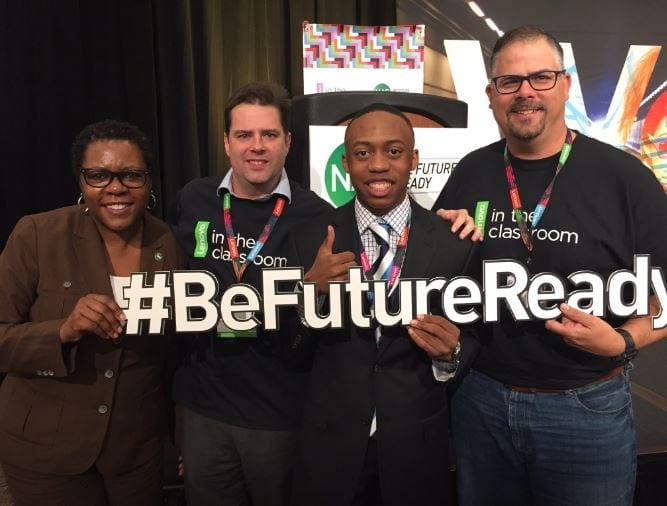 Close to 200 North Carolina high school students received mentoring in STEM fields from Lenovo employee volunteers
The event builds on Lenovo's STEM education commitment
Event continues Lenovo's partnership with NAF which began with the Lenovo Scholar Network in 2014
DURHAM, NC – October 12, 2016: Lenovo announced today, that more than 500 Lenovo employees participated in the largest company-sponsored STEM (science, technology, engineering and mathematics) volunteer event in conjunction with NAF, a partner in the Lenovo Scholar Network.   Lenovo brought together almost 200 high school juniors and seniors from 12 NAF Academies in North Carolina high schools to learn more about STEM careers and meet with Lenovo employees to practice interview skills.
The event was held at the Sheraton Imperial Hotel & Convention Center in Durham, North Carolina, where students heard from several distinguished speakers, including North Carolina State University Chancellor Dr. Randy Woodson, as well as NAF and Lenovo leaders about the importance of STEM skills and education, and being college and career ready. NAF alum Marquis Cabrera highlighted outcomes of the NAF work-based learning model and the importance of being a lifelong learner and giving back to the community.
"Today's STEM volunteer event hosted by Lenovo is a shining example of the unstoppable movement that the education and business communities can create when it comes to preparing our students for their most successful futures," said JD Hoye, President of NAF. "We'd like to extend our deepest gratitude to our partner, Lenovo, and their network of incredible volunteers, who have given selflessly of their time and expertise today, and whose impact will no doubt be felt for a lifetime. Together we can stand proud in creating tomorrow's workforce, today."
As part of the half-day event, students met with company employees from across the United States to engage in mock interview exercises. The exercises are based on the real-world interview process for a high school internship.  During this session, students heard personal stories about how these employees started their careers and pursued their aspirations in the spirit of the theme of the program, "Dream Big."  Over the course of the day, the students were not only exposed to new career opportunities and STEM learning outcomes but also learned how important interpersonal skills are in today's workforce.
"Last year, more than 50 employees visited classrooms across the U.S .over two separate work days as part of our inaugural Lenovo in the Classroom Day events, but this year we knew we could do more – so we enlisted more than 500 employees to participate," said Rob Cato, executive director, Public Sector and Healthcare vertical sales at Lenovo. "The event provided interactive opportunities to facilitate ample engagement to connect with our employee volunteers and ask questions throughout the day on many topics of interest and relevant to each respective student."
In addition to Lenovo in the Classroom Day, hosted at NAF academies in October 2015 and April 2016, Lenovo's partnership with NAF brings a robust mobile app development curriculum and delivery program to NAF academies through the Lenovo Scholar Network. Lenovo's programs  give students personal access to those already in STEM careers to learn how they can harness the skills they are learning in the program and transfer those skills into their own careers and outcomes. This becomes increasingly important as STEM career opportunities are projected to grow to more than nine million between 2012 and 2022[1].
Now in its third year, Lenovo Scholar Network includes 50 NAF academies and nearly 2,000 students. As part of the Lenovo Scholar Network, students work with the Massachusetts Institute of Technology (MIT) Media Lab's App Inventor development tool, a web-based tool for creating Android apps, to build and test their apps on Lenovo devices. NAF and MIT work together to provide technical assistance to Teachers in the Lenovo Scholar Network, and to develop support materials for teachers using MIT App Inventor.
About Lenovo
Lenovo (SEHK:0992) (Pink Sheets:LNVGY) is a $45 billion global Fortune 500 company and a leader in providing innovative consumer, commercial, and enterprise technology. Our portfolio of high-quality, secure products and services covers PCs (including the legendary Think and multimode Yoga brands), workstations, servers, storage, smart TVs and a family of mobile products like smartphones (including the Moto brand), tablets and apps. Join us on LinkedIn, follow us on Facebook or Twitter (@Lenovo) or visit us at www.lenovo.com.
About NAF
NAF is a national network of education, business, and community leaders who work together to ensure high school students are college, career, and future ready. NAF's educational design ignites students' passion for learning and gives businesses the opportunity to shape America's future workforce by transforming the learning environment to include STEM infused industry-specific curricula and work-based learning experiences, including internships. Since 1982, NAF has been partnering with existing high schools in high-needs communities to enhance school systems at a low cost by implementing NAF academies – small learning communities within traditional high schools. NAF has grown from one NAF Academy of Finance in New York City to hundreds of academies across the country focusing on growing industries including: finance, hospitality and tourism, information technology, engineering, and health sciences. During the 2015-16 school year nearly 89,000 students attended 716 NAF academies across 36 states, including D.C. and the U.S. Virgin Islands. In 2015, NAF academies reported 98% of seniors graduated with 92% of graduates with post-secondary intentions. For more information, please visit: http://naf.org/.