New Lenovo system to provide 26.7 petaflops of computing power to Germany's largest supercomputer, Leibniz Supercomputing Center, to solve critical environmental, astrophysical and biomedical challenges
Lenovo delivers 20 millionth server as part of the nearly 6,500 node installation
System is enabled by Lenovo's direct water-cooling technology, delivering 45 percent greater energy savings
RESEARCH TRIANGLE PARK – December 14, 2017 –Lenovo (HKSE: 992) (ADR: LNVGY) Data Center Group and Intel will deliver a next-generation supercomputer to Leibniz Supercomputing Centre (LRZ) of the Bavarian Academy of Sciences in Munich, Germany. One of the foremost European computing centers for professionals in the scientific, research and academic communities, LRZ is tasked with managing not only exponential amounts of big data, but processing and analyzing that data quickly to accelerate research initiatives around the world. For example, the LRZ recently completed the world's largest simulation of earthquakes and resulting tsunami's, such as the Sumatra-Andaman Earthquake. This research enables real-time scenarios planning that can help predict aftershocks and other seismic hazards.
Upon its completion in late 2018, the new supercomputer (called SuperMUC-NG) will support LRZ in its groundbreaking research across a variety of complex scientific disciplines, such as astrophysics, fluid dynamics and life sciences, by offering highly available, secure and energy-efficient high-performance computing (HPC) services that leverage industry-leading technology optimized to address the a broad range of scientific computing applications. The LRZ installation will also feature the 20-millionth server shipped by Lenovo, a significant milestone in the company's data center history.
"Lenovo is committed to providing research institutions like LRZ with not only sheer computing power, but a true, end-to-end solution that can help effectively and efficiently solve critical humanitarian challenges. We're pleased to be working on this next-generation project in partnership with Intel," said Scott Tease, Executive Director, HPC and AI, Lenovo Data Center Group. "The new SuperMUC-NG installation will provide LRZ with greater compute power in a smaller data center footprint with drastically reduced energy usage through innovative water-cooling technology, offering researchers a comprehensive supercomputing solution that packs more performance than ever to accelerate critical research projects."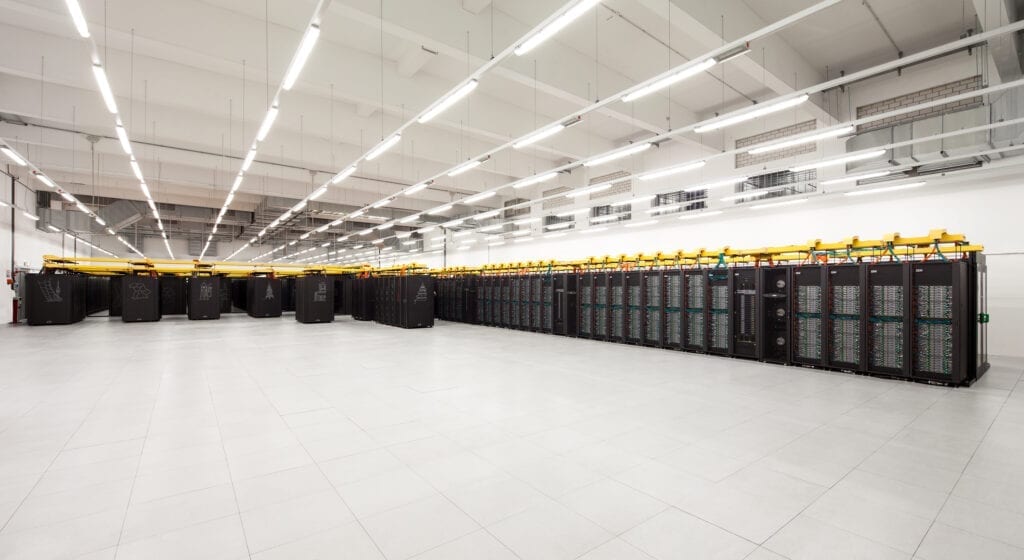 The SuperMUC-NG will deliver a staggering 26.7 petaflop compute capacity powered by nearly 6,500 nodes of Lenovo's recently-announced, next-generation ThinkSystem SD650 servers, featuring Intel® Xeon® Platinum processors with Intel Advanced Vector Extensions (Intel AVX 512), and interconnected with Intel® Omni-Path Architecture. The new system will also include the integration of Lenovo Intelligent Computing Orchestrator (LiCO), a powerful management suite with an intuitive GUI that helps accelerate development of HPC and AI applications, as well as cloud-based components to empower LRZ researchers with the freedom to virtualize, process the vast amount of data sets and expediently share results with colleagues.
To address the often-astronomical operational expenses generated by high-performance computing (HPC) infrastructure, the new SuperMUC-NG supercomputer will benefit from Intel technical optimizations and also feature cutting-edge water cooling technology from Lenovo. In combination with Lenovo Energy Aware Run-Time (EAR) software, a technology that dynamically controls system infrastructure power while applications are still running, Lenovo's comprehensive water-cooling technology delivers 45 percent greater electricity savings to LRZ as compared to a similar, standard air-cooled system. Together, these energy efficiency innovations will help further reduce the research center's carbon footprint and total cost of ownership.
"Global research leaders like LRZ are driving insights that address not only some of the most complex problems we face, but that also make meaningful improvements in all of our lives," said Trish Damkroger, Vice President of Technical Computing at Intel. "Intel offers the technical foundation that, when combined with the solution expertise of Lenovo, delivers the efficient performance and ease of programing to help LRZ's researchers drive more discoveries with deeper analytics than have ever been possible before."
Once operational, the LRZ SuperMUC-NG system is expected to place on the industry-wide TOP500 list.
About Lenovo
Lenovo (HKSE: 992) (ADR: LNVGY) is a US$43 billion global Fortune 500 company and a leader in providing innovative consumer, commercial, and data center technology. Our portfolio of high-quality, secure products and services covers PCs (including the legendary Think and multimode Yoga brands), workstations, servers, storage, networking, software (including ThinkSystem and ThinkAgile solutions), smart TVs and a family of mobile products like smartphones (including the Motorola brand), tablets and apps. Join us on LinkedIn, follow us on Facebook or Twitter (@Lenovo) or visit us at http://www.lenovo.com/.
Intel and Xeon are registered trademarks of Intel Corporation in the United States and other countries.