RALEIGH, NC – October 27, 2015: Lenovo (HKSE: 992) (ADR: LNVGY) today announced an extended strategic collaboration with Red Hat to deliver powerful IT infrastructure, automation and management capabilities including Red Hat Enterprise Linux ® Openstack Platform and CloudForms. Building on an open and flexible ecosystem to integrate easily with existing infrastructures, Lenovo servers, storage and networking combined with Red Hat software deliver a competitive and efficient cloud platform. Engaging with two of the industry's most trusted providers will help customers increase agility and efficiency in responding to new business opportunities and transform their cloud framework into a growth engine.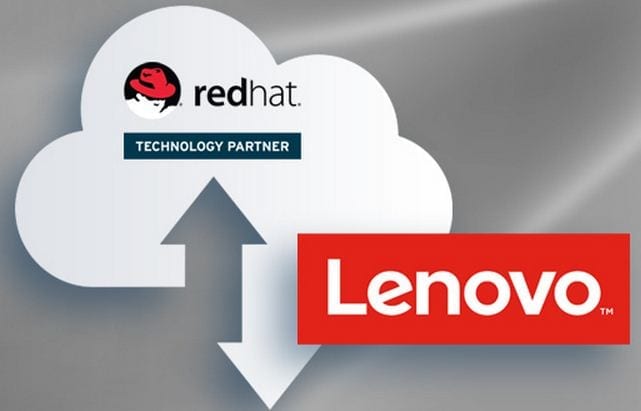 Making Joint Customers More Productive
The strategic collaboration extends to a joint commitment for innovative cooperation on a number of long-term initiatives in cloud infrastructure technologies and professional services. Focusing on open standards, Lenovo and Red Hat will help customers change the economics of private and hybrid cloud computing and depend on a tailored and responsive engagement to overcome the complexities of deploying and managing cloud environments.
.
Lenovo Servers and Red Hat CloudForms
Deploying Red Hat CloudForms on Lenovo ThinkServer or System x rack servers provides a highly reliable and secure platform for unified cloud management, transforming existing virtual infrastructures into highly scalable, private clouds that also can take advantage of public clouds. As needs change, Lenovo server flexibility and scalability along with Red Hat Cloudforms can evolve by providing a continuum of capabilities progressing towards Infrastructure-as-a-Service (IaaS) models.
 
Red Hat Enterprise Linux ® Openstack Cloud Platform
The Lenovo Cloud Reference Architecture for Red Hat Enterprise Linux OpenStack Platform enables customers to set up and roll out a virtualized infrastructure with optimized configurations for hardware, software and cloud. Being able to quickly deploy and scale a cloud solution is becoming increasing important with today's large scale data demands. Red Hat® Enterprise Linux ® OpenStack Platform paired with Lenovo servers can stand up to the stresses of a production-scale environment and meets performance, scalability, and security standards required to gain competitive advantages.
 
Red Hat Enterprise Linux ® and Virtualization
Red Hat and Lenovo engineers have worked together for several years to ensure that Red Hat Enterprise Linux ® and Red Hat Enterprise Virtualization maximizes the newest hardware innovations in the Lenovo server family.  Red Hat Enterprise software offerings help organizations to harness performance, reliability and security for business-critical workloads.
 
Quotes:
"Lenovo and Red Hat together deliver a powerful combination leveraging a tried and tested open standard ecosystem. Customers can depend on years of experience delivering innovation that makes a difference. Focused on competitive value and ease of doing business, our combined hardware and software enables easy deployment and management of physical, virtual and hybrid cloud environments while driving down the cost curve." Brian Connors, vice president, Strategic Alliances and Business Development, Enterprise Business Group, Lenovo
 
"Red Hat sees the open hybrid cloud as critical to the next generation of enterprise IT, and open source technologies serve as fundamental building blocks for innovation across the realm of enterprise computing. In this vein, we are pleased to expand our relationship with Lenovo to provide our leading open source solutions like Red Hat Enterprise Linux and Red Hat Enterprise Linux OpenStack Platform on top of Lenovo hardware to bring a more secure, reliable and flexible platforms to enterprise IT, be it on bare metal, via virtual machines or powering private and hybrid cloud deployments." Jim Totton, vice president and general manager, Platforms Business Unit, Red Hat

For more information about this announcement, visit:
http://shop.lenovo.com/us/en/systems/?menu-id=servers,_storage_networking#tab-announcements
For the latest Lenovo server news:
www.lenovo.com/systems | Blogs | Twitter | LinkedIn Facebook l YouTube l Slideshare
For the latest Lenovo news, subscribe to Lenovo RSS feeds or follow Lenovo on Twitter and Facebook.
 
About Lenovo
Lenovo (HKSE: 992) (ADR: LNVGY) is a $46 billion global Fortune 500 company and a leader in providing innovative consumer, commercial, and enterprise technology. Our portfolio of high-quality, secure products and services covers PCs (including the legendary Think and multimode YOGA brands), workstations, servers, storage, smart TVs and a family of mobile products like smartphones (including the Motorola brand), tablets and apps. Join us on LinkedIn, follow us on Facebook or Twitter (@Lenovo) or visit us at www.lenovo.com.
 
Red Hat, Red Hat Enterprise Linux and CloudForms are trademarks of Red Hat, Inc., registered in the U.S. and other countries. Linux® is the registered trademark of Linus Torvalds in the U.S. and other countries. The OpenStack mark is either a registered trademark/service mark or trademark/service mark of the OpenStack Foundation, in the United States and other countries, and is used with the OpenStack Foundation's permission. Red Hat is not affiliated with, endorsed or sponsored by the OpenStack Foundation, or the OpenStack community.