BEIJING, November 14, 2019 – Lenovo Group (HKSE: 992) (ADR: LNVGY) Today at Lenovo Tech World, the company's annual innovation summit, Lenovo Chairman and CEO, Yuanqing Yang and Schneider Electric Chairman and CEO, Jean-Pascal Tricoire, announced a strategic partnership that will see the two companies working together on smart green manufacturing solutions for the flourishing Chinese manufacturing sector.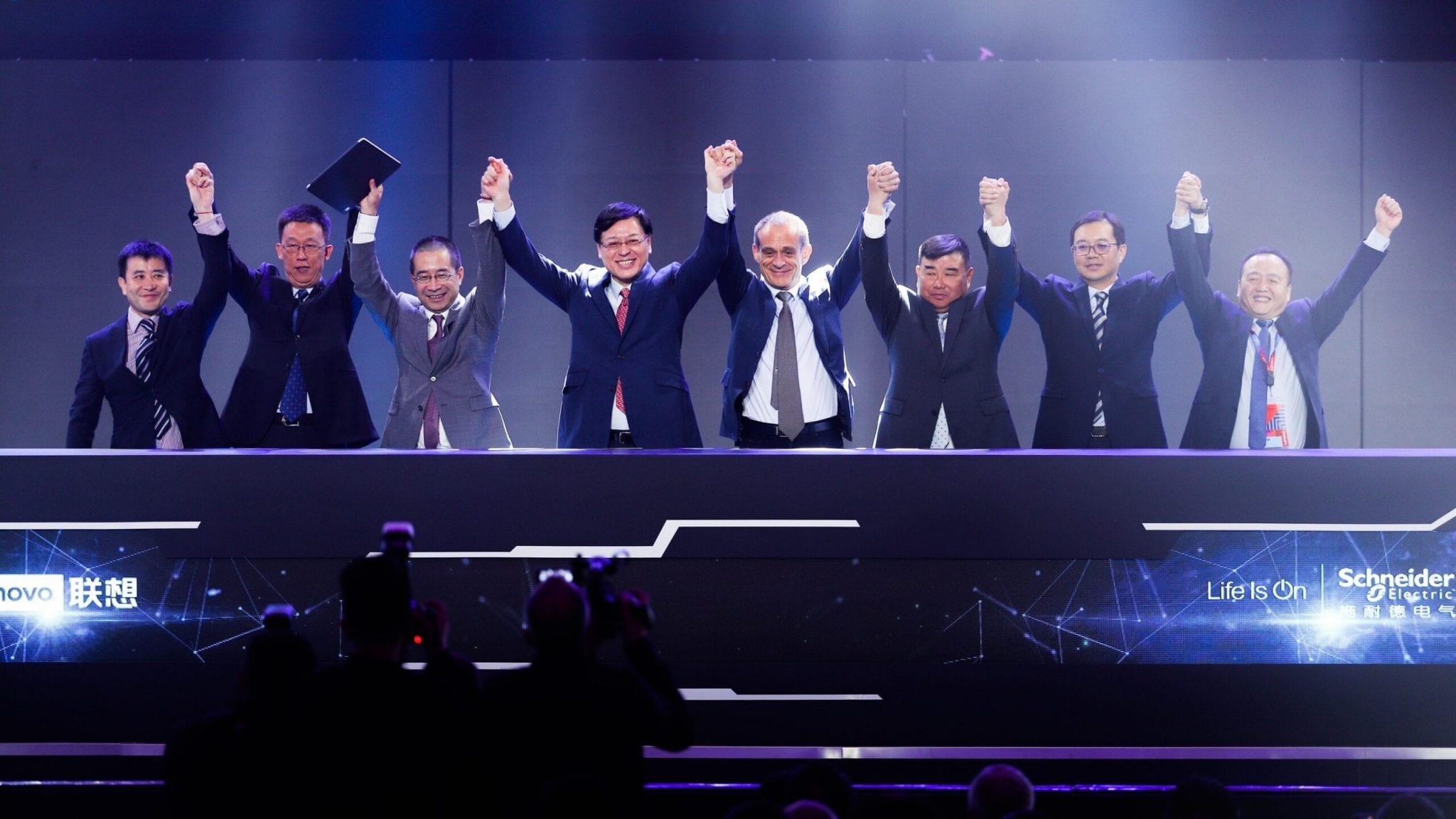 Leveraging the strengths of both companies, the strategic partnerships will create powerful synergies by combining Lenovo's Industrial Internet of Things (IIoT) LeapIOT solution with Schneider Electric's smart green manufacturing solution based on EcoStruxure. The combination will build a blueprint that can be provided as a best-in-class smart manufacturing solution to discrete and hybrid manufacturing operations, regardless of the vertical industry they operate in.
In particular, the focus will include AI algorithms and big data as it relates to all aspects of efficiency management, predictive maintenance, production quality and other industrial applications.
"This strategic partnership will catapult the Intelligent Transformation of the manufacturing industry and further enable breakthroughs in smart green manufacturing. Going forward, we will continue to form more partnerships of this nature to accelerate the transformation of various industries and embrace the age of intelligence," said Lenovo Chairman and CEO, Yang Yuanqing.
"Making the next shift towards green smart manufacturing is critical to nurture a more efficient, low-carbon, and sustainable future. Partnering with Lenovo is a great opportunity to further unleash the power of digital innovation in the physical world of manufacturing. A scale up of IoT and smart solutions is key for a greater efficiency and a more sustainable planet," said Schneider Electric Chairman and CEO, Jean-Pascal Tricoire.
About Lenovo
Lenovo (HKSE: 992) (ADR: LNVGY) is a US$50 billion Fortune Global 500 company, with 57,000 employees and operating in 180 markets around the world.  Focused on a bold vision to deliver smarter technology for all, we are developing world-changing technologies that create a more inclusive, trustworthy and sustainable digital society. By designing, engineering and building the world's most complete portfolio of smart devices and infrastructure, we are also leading an Intelligent Transformation – to create better experiences and opportunities for millions of customers around the world. To find out more visit https://www.lenovo.com, follow us on LinkedIn, Facebook, Twitter, YouTube, Instagram, Weibo and read about the latest news via our StoryHub.
About Schneider Electric
At Schneider, we believe access to energy and digital is a basic human right. We empower all to make the most of their energy and resources, ensuring Life Is On everywhere, for everyone, at every moment.
We provide energy and automation digital solutions for efficiency and sustainability. We combine world leading energy technologies, real time automation, software and services into integrated solutions for Homes, Buildings, Data Centers, Infrastructure and Industries.
We are committed to unleash the infinite possibilities of an open, global, innovative community that is passionate about our Meaningful Purpose, Inclusive and Empowered values.