RESEARCH TRIANGLE PARK, NC – JANUARY 24, 2012: Lenovo and the National Academy Foundation (NAF) today launched an innovative program to teach mobile app development to high school students across the United States. Five schools from NAF's network of career academies are piloting the program as part of Lenovo's initiative to encourage greater student interest in STEM (science, technology, engineering and mathematics) subjects and to strengthen 21st century skills. This innovative curriculum will also strengthen NAF's mission to prepare students for college and career success. N.C. Gov. Bev Perdue and members of Lenovo and NAF's executive leadership team made the announcement today at Apex High School's Academy of Information Technology in Apex, N.C., one of the participating schools.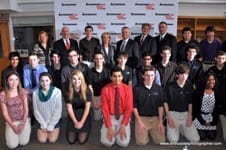 "High-tech skills are critical for North Carolina's pipeline of future workers," said Gov. Perdue. "Unique partnerships like this one not only give high school students real-world, real-time learning opportunities, but they align with the broader goals of business, education and government to create North Carolina's next generation of professional leaders."
To aid the students and teachers implement the curriculum, Lenovo provided a package of technology products to each school, including Android-based ThinkPad Tablets and large format ThinkCentre HD All-in-One desktops, among other items.
"To succeed in tomorrow's workforce, students need a solid foundation in science, technology, engineering and mathematics with fluency in the technologies that will power the global economy," said Michael Schmedlen, worldwide director of education, Lenovo. "This exciting program engages students via the technology and apps they use every day. By partnering with the National Academy Foundation, we're delivering a rigorous and relevant curriculum that will help create our next generation of developers and entrepreneurs."
The other schools that will offer the app development course are part of the National Academy Foundation's Academies of Information Technology: Grover Cleveland High School in New York City, Downtown Magnets High School in Los Angeles, Pathways to Technology Magnet School in Hartford, Conn., and A.J. Moore Academy of Information and Technology in Waco, Texas. The program aims to ultimately make the curriculum available to NAF's 100 Academies of Information Technology.
"Our schools are strong because we have great partnerships with business and industry," said Anthony J. Tata, superintendent of the Wake County Public School System. "This unique program gives our students practical experience with innovative technology at a time when they're making decisions about their future careers. We're creating the next generation of entrepreneurs."
The course is designed to be implemented as either a 12-week after-school or "out-of-school time" activity to supplement the NAF-developed IT courses students take during the school day or as part of the existing NAF daytime curriculum. Student teams will develop a working wireframe, business plan and implementation schedule for an Android-based mobile application.
"The partnership between NAF and Lenovo is a real example of how business and education can play a pivotal role in changing high school education to ensure college and career success. We are pleased to be working with such innovative thinkers to inspire and equip tomorrow's leaders," said JD Hoye, president of the National Academy Foundation.
New Research Shows Kids Want to Learn App Development but Lack Tech Confidence
New research from Lenovo also supports creation of the mobile app development curriculum. The research shows that while students have a strong interest in mobile apps – which many of them use on a daily basis – and see app development as a valuable skill, they don't have confidence that they will have the technology background needed for tomorrow's workforce. The Omnibus survey of American teenagers, conducted in December of 2011, found that:
80 percent of American teens would be interested in learning how to create their own mobile app.
Almost a quarter (22 percent) think that mobile app development will be the most important technology skill to have when entering the workforce in a few years.
63 percent are only somewhat confident, at best, that the technology know-how they have now is enough to secure a good job upon entering the workforce.
About Lenovo
Lenovo (HKSE: 992) (ADR: LNVGY) is a $US21 billion personal technology company serving customers in more than 160 countries, and the world's second-largest PC vendor. Dedicated to building exceptionally engineered PCs and mobile internet devices, Lenovo's business is built on product innovation, a highly-efficient global supply chain and strong strategic execution. Formed by Lenovo Group's acquisition of the former IBM Personal Computing Division, the company develops, manufactures and markets reliable, high-quality, secure and easy-to-use technology products and services. Its product lines include legendary Think-branded commercial PCs and Idea-branded consumer PCs, as well as servers, workstations, and a family of mobile internet devices, including tablets and smart phones. Lenovo has major research centers in Yamato, Japan; Beijing, Shanghai and Shenzhen, China; and Raleigh, North Carolina. For more information see 
www.lenovo.com
.
About NAF
The 
National Academy Foundation (NAF)
 is a leader in the movement to prepare young people for college and career success. For nearly 30 years, NAF has refined a proven educational model which includes industry-focused 
curricula
, work-based learning experiences, and 
business partner expertise
from five themes: Finance, Hospitality & Tourism, Information Technology, Engineering, and Health Sciences. Employees of more than 2,500 companies volunteer in classrooms, act as mentors, engage NAF students in paid internships and serve on local advisory boards. During the 2010-2011 school year, 60,000 students attended 500 NAF academies across 40 states, D.C. and the U.S. Virgin Islands. NAF's national graduation rate of 90 percent testifies to the effectiveness of this effort.