Accelerate deployment and maximize the performance of your on-premises cloud
by Radhika Krishnan
Radhika Krishnan, Vice President & General Manager, Software-Defined Infrastructure, Lenovo Data Center Group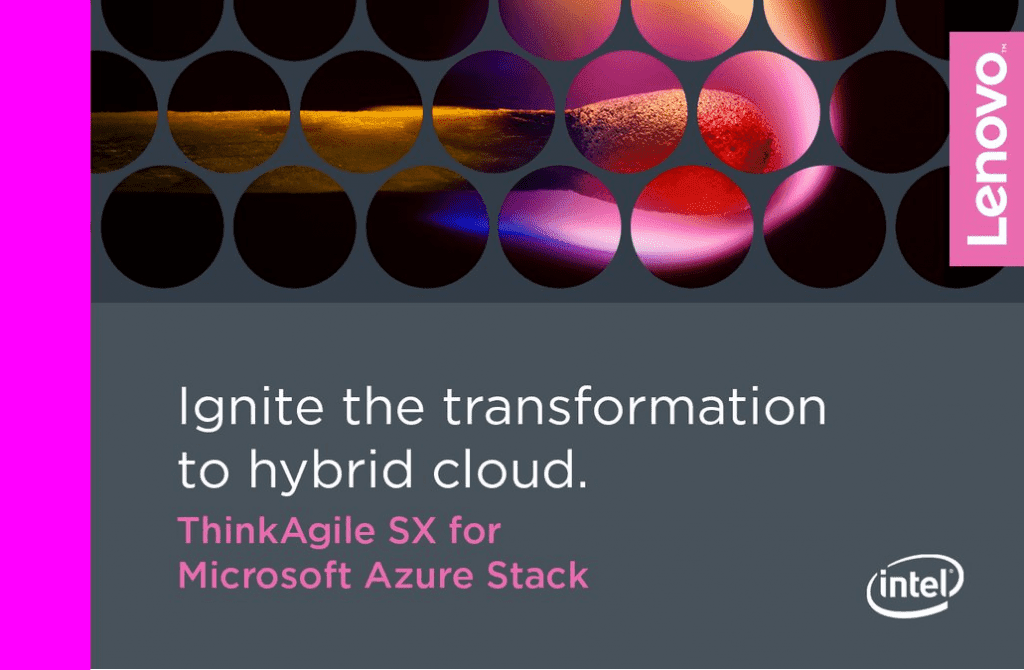 Data center digital transformation is an ongoing challenge. Many data center managers and administrators struggle with complex and inflexible environments that are limited in scalability, capacity, and performance. They are often left to fight issues that do not allow them to be strategic with time and resources to help support business transformation initiatives and new business opportunities. Customers often tell us that they're so focused on fixing infrastructure issues that there is no time to focus on building the business. Because of this, fast and easy deployment of new services and applications has become even more crucial to business success and growth.
Lenovo was the first OEM to demonstrate Microsoft Azure Stack at Microsoft Ignite in 2016. In June, Lenovo officially announced ThinkAgile SX for Microsoft Azure, accelerating time-to-value by enabling a turnkey, pre-integrated hybrid cloud solution that extends Azure public cloud service on premises. Lenovo was also the first OEM to deploy production-ready Azure Stack solutions this year, and we're seeing great responses from our customers including ITPS and Acuutech. These customers continue to express that they are experiencing unparalleled performance, enhanced security, and increased flexibility with our solution.
As a natural next step, Lenovo is pleased to share that ThinkAgile SX for Microsoft Azure Stack will support the new Intel Xeon Scalable processors, providing the latest in Intel performance later this year. An Intel Xeon processor not only boosts performance, but also increases memory bandwidth and enlarges virtual machine density. ThinkAgile SX for Microsoft Azure Stack is built on an industry-proven ThinkSystem infrastructure. Lenovo's ThinkSystem platforms are ranked #1 in reliability¹, #1 customer satisfaction2, and hold more than 40 record breaking performance benchmarks.
The Lenovo team is also honored to be recognized for ThinkAgile SX as the first and only Intel Select Solution for Microsoft Azure Stack offering Intel Select beginning early next year. Intel Select Solutions go the extra mile to ensure our joint solutions are verified, workload-optimized, and tuned at the system level –simplifying deployment, ensuring that extensive testing happens before the solution is deployed in the data center.
The Lenovo ThinkAgile SX for Microsoft Azure Stack is also supported by Lenovo ThinkAgile Advantage, a unique support service that offers ThinkAgile customers deployment, configuration and training assistance to dramatically increase time to value – from weeks, to just hours. Customers are also provided with a direct line of communication to ThinkAgile support technicians for streamlined hardware and software troubleshooting. Lenovo experts and technicians are available to partner with customers as a single-point-of contact throughout the entire support process.
With performance, reliability, system-level verification, and white glove service…customers can count on Lenovo to build a hybrid cloud infrastructure on a system they can trust.
"Delivering the Intel Select Solution for Microsoft Azure Stack will help organizations accelerate utilization of hybrid cloud infrastructure. We've worked closely with both Microsoft and Lenovo to deliver a solution that is tuned and ready for customer deployments and takes advantage of the full capabilities offered by all companies. We look forward to working with Lenovo as the first to deliver the value of this solution to the enterprise," said Lisa Davis, VP Data Center Group, GM IT Transformation, Intel Corporation.
For more information from Microsoft, please visit:
https://azure.microsoft.com/en-us/blog/updates-on-intel-xeon-scalable-processors-for-microsoft-azure-stack/
For more information from Intel, please visit: https://itpeernetwork.intel.com/xeon-scalable-microsoft-azure-stack/
For more details on the Lenovo ThinkAgile SX for Microsoft Azure Stack:  https://www3.lenovo.com/us/en/data-center/Lenovo-ThinkAgile-SX-for-Microsoft-Azure-Stack/p/WMD00000272
1 2016-2017 Global Hardware, Server OS Reliability Report, ITIC; October 2016.
2 1H2017 Corporate IT Buying Behavior and Customer Satisfaction Study, TBR; June 2017.