The analyst firm's annual Global Sustainable Ecosystems Leadership Matrix honors vendors for outstanding achievement in sustainability-focused partner programs and robust sustainability strategies at an organizational level
9 OCTOBER 2023 – Lenovo has been recognized as a "Champion" vendor in the 2023 Canalys Global Sustainable Ecosystems Leadership Matrix. The top distinction reflects the highest level of excellence in support for sustainability in the IT channel through a combination of positive sentiments from the channel, sustainability-focused partner programs, and robust sustainability strategies at an organizational level.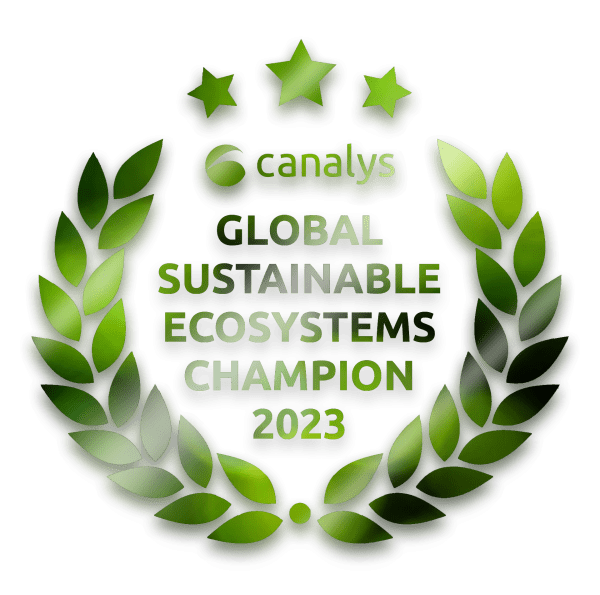 Lenovo is one of only three industry vendors evaluated to achieve the highest Champion status through strong portfolios of sustainability solutions and action toward decarbonization commitments.
Lenovo maintains a legacy of action in sustainability, from publishing its first sustainability report in 2008 to being in the first group of companies to receive validation for its net-zero targets from the Science Based Targets initiative. In addition to its own robust commitments, Lenovo has engaged its channel partners in credible action and best practice sharing through the Lenovo 360 Circle, a part of Lenovo's global channel framework where partners can come together to align on Environmental, Social, and Governance (ESG) objectives and leverage new market trends driven by sustainability, ultimately turning them into new business opportunities. Lenovo is continuing to grow this initiative by leading within the ecosystem on product sustainability attributes, partnerships with other vendors, and ultimately the development and implementation of new sustainability services.
"We are proud to be leading the way in our sector with the Lenovo 360 Circle, designed to encourage collaboration to tackle sustainability issues as a united front across our network of partners," said Virginie Le Barbu, Lenovo's Global Sustainability Director and Lenovo 360 Circle Program Lead, International Markets. "We believe the best way to drive scale and quickly achieve sustainable impacts is through collaboration – if we're all working toward the same goals, we can make progress more efficiently as a team."
"Sustainability is no longer the exception – it is the expectation," said Pascal Bourguet, Lenovo's Global Channel Chief. "Beyond the collaborative Lenovo 360 Circle community, our Lenovo 360 global partner framework prioritizes sustainability solutions as one of the key business outcomes that partners can provide for their customers."
In addition to recognition for its sustainability collaboration in the channel, Lenovo has continued to serve its customers by offering sustainability services like the recently announced Reduced Carbon Transport service. Read more about Lenovo's sustainability performance in Lenovo's most recent ESG Report.
About the Canalys Global Sustainable Ecosystems Leadership Matrix
The latest addition to a series of Leadership Matrix reports designed to highlight leading vendors in key areas of the channel ecosystem, the Canalys Global Sustainable Ecosystems Leadership Matrix considers 14 vendors to assess their commitment and progress to driving sustainability in the partner ecosystem over the past 12 months. It combines ecosystem feedback from analyst-led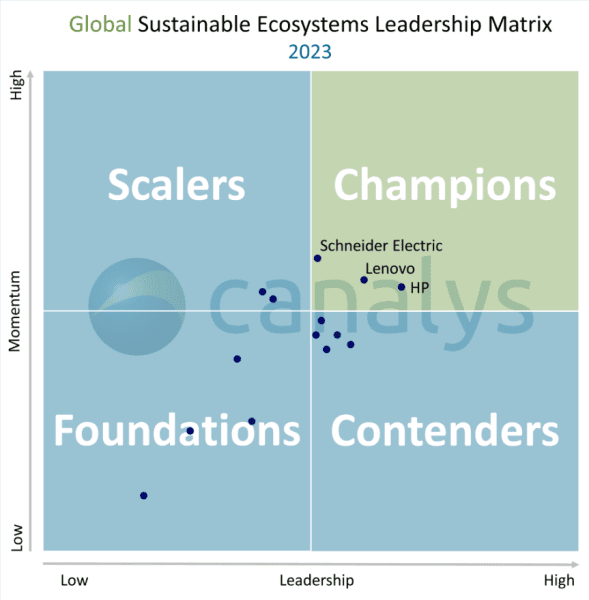 interviews, data from the Canalys 2023 Global Channel Sustainability Survey and insights from vendors' sustainability reports with an independent assessment by Canalys analysts of each vendor's strategy for driving sustainable transformations.
The Canalys Global Sustainable Ecosystems Leadership Matrix provides a graphical representation to assess the performance of each vendor over time, and positions them in one of four categories: Champions, Contenders, Scalers, and Foundations.
About Lenovo
Lenovo (HKSE: 992) (ADR: LNVGY) is a US$62 billion revenue global technology powerhouse, ranked #217 in the Fortune Global 500, employing 77,000 people around the world, and serving millions of customers every day in 180 markets. Focused on a bold vision to deliver smarter technology for all, Lenovo has built on its success as the world's largest PC company by further expanding into growth areas that fuel the advancement of 'New IT' technologies (client, edge, cloud, network, and intelligence) including server, storage, mobile, software, solutions, and services. This transformation together with Lenovo's world-changing innovation is building a more inclusive, trustworthy, and smarter future for everyone, everywhere. To find out more visit https://www.lenovo.com, and read about the latest news via our StoryHub.