Employee-Led School Supply Drive at Lenovo Helps Students Nationwide be Prepared for the New School Year
RESEARCH TRIANGLE PARK, NC – September 9, 2015: To help support families of children going back to school, Lenovo employees participated in Boys & Girls Clubs of America's (BGCA) school supply drive from August 5-21. Employees donated approximately 75,000 items, an increase from the record-breaking 50,000 items collected from the drive in 2014.
Lenovo aims to advance, enhance and extend education at all levels to enable the next generation of thinkers and leaders. Specifically, the company is committed to supporting educational programs that serve economically disadvantaged K-12 students. This supply drive helped to lessen families' financial burden at the beginning of the new school year so that students could start classes strong and prepared. In 2015, the annual Backpack Index from Huntington Bank reported that families with three children, including one in elementary, middle and high school, can expect to pay up to $3,000 for school supplies and extracurricular activities this school year. If this family were living at the poverty level line, this cost would consume as much as 10 percent of their annual income.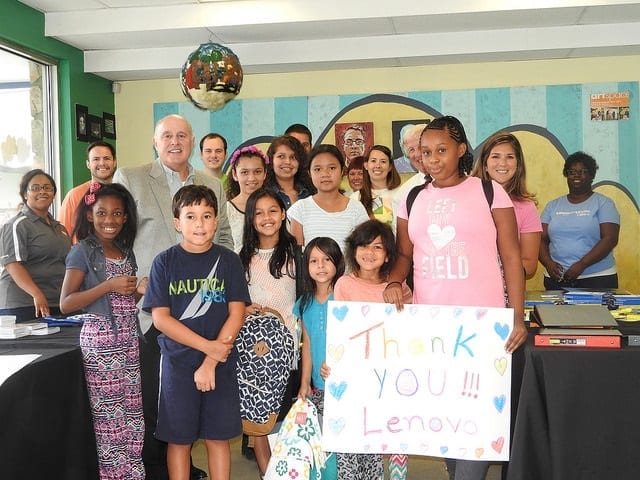 Seven Boys & Girls Clubs throughout the nation – including four in North Carolina, one in Camden, New Jersey, one at Fort Hamilton in New York and one at Fort Belvoir in Virginia – each received 10,000 items from the Lenovo supply caravan. Smaller giveaways were also hosted in Rochester, Minnesota; Kirkland, Washington; Santa Clara, California and Fort Wayne, Indiana. In addition to the school supplies, two Yoga laptops and 11 Chromebooks were donated to the Brentwood Club in Raleigh and the Fort Hamilton Club in New York to be used as student rewards for academic excellence throughout the school year.
For several years, Lenovo employees have come together to help Boys & Girls Clubs start the school year strong. Boys & Girls Clubs serve nearly four million kids and teens at more than 4,100 locations, and deliver critical resources for communities. They provide youth with the tools they need to be successful in the classroom and achieve great futures.
Employees from Lenovo's business partners, Intel and Microsoft, also donated items to help support the drive.
QUOTES:
"Lenovo was proud to participate in this year's school supply drive for Boys & Girls Clubs of America," said Scott Ottman, vice president of Lenovo North America Inside Sales. "It is important that we help children who need us most, both within our community and across the nation, with the tools necessary to have a bright and successful future."
"We are grateful Lenovo for their tremendous support, generating much-needed resources for Boys & Girls Clubs around the country during this back-to-school season," said Jim Clark, BGCA president and CEO. "It's critical that we provide kids and teens with tools to be successful and these contributions help equip our Clubs with resources that generate an enriching and fun learning environment."
ABOUT LENOVO:
Lenovo (HKSE: 992) (ADR: LNVGY) is a $46 billion global Fortune 500 company and a leader in providing innovative consumer, commercial, and enterprise technology. Our portfolio of high-quality, secure products and services covers PCs (including the legendary Think and multimode YOGA brands), workstations, servers, storage, smart TVs and a family of mobile products like smartphones (including the Motorola brand), tablets and apps. Join us on LinkedIn, follow us on Facebook or Twitter (@Lenovo) or visit us at www.lenovo.com.
ABOUT BOYS & GIRLS CLUBS OF AMERICA:
For more than 100 years, Boys & Girls Clubs of America (GreatFutures.org) has enabled young people most in need to achieve great futures as productive, caring, responsible citizens. Today, more than 4,100 Clubs serve nearly 4 million young people through Club membership and community outreach. Clubs are located in cities, towns, public housing and on Native lands throughout the country, and serve military families in BGCA-affiliated Youth Centers on U.S. military installations worldwide. They provide a safe place, caring adult mentors, fun and friendship, and high-impact youth development programs on a daily basis during critical non-school hours. Club programs promote academic success, good character and citizenship, and healthy lifestyles. In a Harris Survey of alumni, 57 percent said the Club saved their lives. National headquarters are located in Atlanta. Learn more at BGCA's Facebook and Twitter.