New ThinkBook laptops, powered by Intel® or AMD, offer broader choice for SMB customers with 13, 14- and 15-inch form factors including all-new 2-in-1 Yoga model
ThinkVision T27hv-20 monitor combines design, enhanced collaboration functionality and intuitive ThinkColor software solution for sleek home or work office
September 29, 2020 – Today, Lenovo unveiled its broadest ThinkBook portfolio to date, designed to empower the modern professional through transitional times. Spanning no less than six new models, the new generation of ThinkBook laptops blend a modern design philosophy with features built for a "work-from-anywhere" world. These laptops sport a distinctive new look with a stylish dual-tone top cover and ultra-narrow display bezels built for immersive viewing experiences. ThinkBook 15 Gen 2 i delivers outstanding speed and productivity with 11th Gen Intel® Core™ processors with Intel® Iris® Xe graphics1, Thunderbolt™ 4 and flexible storage options. In a first for laptops2, the ThinkBook 15 Gen 2 i is available with optional integrated wireless earbuds for instant collaboration. ThinkBook 13s Gen 2 i with optional WQXGA display delivers uncompromised mobile performance with Intel Evo™ platform3 in a lightweight package that can be carried from room to room, or office to office. ThinkBook 14s Yoga i, the first 2-in-1 ThinkBook makes it easy to transform any space to a work zone with its versatile form factor.
Lenovo is also announcing a new ThinkVision T27hv-20 USB-C® Hub monitor with the innovative Lenovo Display Control Center – ThinkColor. Designed to meet the collaboration requirements of a hybrid working model, the 27-inch display features a 1080p IR/RGB webcam, noise cancelling microphones and integrated speakers that help users conference with confidence. Confidentiality is enhanced with Smart Guard that blurs the screen the moment you look or move away or detects someone peeking over your shoulder. Smart Energy will turn off the screen when it senses that you have moved away from your desk, saving power and protecting data.
We design products to address the needs of different users, but we apply the same smarter approach for each. We enhance cutting-edge hardware with intuitive software solutions. These help our users to master the complex display settings, seamless multitasking through single and multi-display window control and offers easy remote asset management for IT managers. Within the Lenovo Display Control Center software platform, we've developed two versions to address different user needs: ThinkColor for business and Lenovo Artery for home use.
Small & medium businesses (SMBs) need to embrace work from anywhere future
As business models evolve and require greater remote working flexibility for employees, SMBs will need to adapt quickly to empower their workforce. A survey of small and medium business owners by Intermedia and Sapio Research suggests that over half of SMBs are likely to maintain increased remote working options in the long-term.  With expectations from work devices greater than ever, ThinkBook offers a portfolio of modern business laptops that are intuitive to use while delivering features that enable increased productivity and effective collaboration.
Here are some highlights from the expanded range:
ThinkBook 13s Gen 2 i: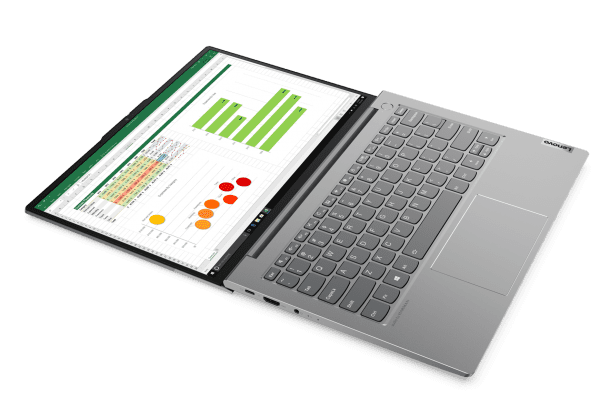 Co-engineered with Intel®, the ThinkBook 13s Gen 2 i with optional WQXGA display has been tested, tuned and verified to meet the requirements of the Intel® Evo™ platform across hardware specifications and key experience targets for device responsiveness, instant wake, battery life and fast charge3, making it an exceptional laptop for getting things done.
Thunderbolt™ 4, optional PCIe Gen 4 storage and long battery life4 keeps you productive throughout your work day
High resolution 13.3-inch display with new 16:10 aspect ratio offers 90% screen-to-body ratio with ultra-narrow bezels and is available with optional touch.
Virtual meetings are enhanced with smarter audio featuring microphones that can switch between three different audio modes: private, shared and environmental sound ensuring the best meeting experience, wherever you are.
ThinkBook 14s Yoga i: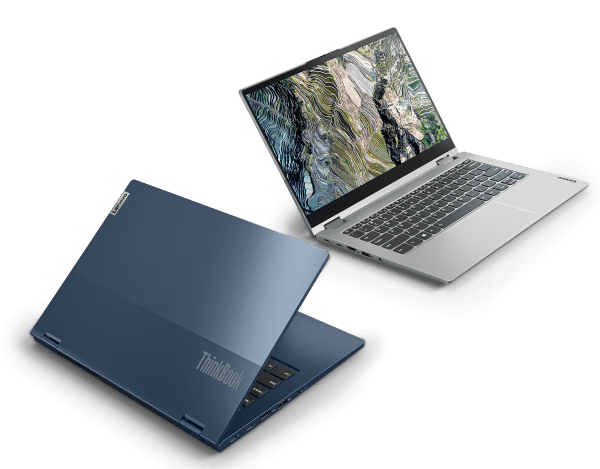 Smart Pen syncs with your device. Pull out the Pen in modern standby mode and the note-taking app opens automatically. When logged into Windows 10, Windows Ink shortcuts are ready the moment you pick up the Pen.
The power of 11th Gen Intel® Core™ processors and the flexibility of Yoga form factor allows seamless transition between modes for greater productivity. Thunderbolt™ 4 and USB-C ports facilitate connectivity between ultra-fast peripherals and monitors.
The 14s Yoga is available in classic ThinkBook mineral grey, but a limited-edition Abyss Blue version is available adding the right mix of flair and elegance.
ThinkBook 15 Gen 2 i: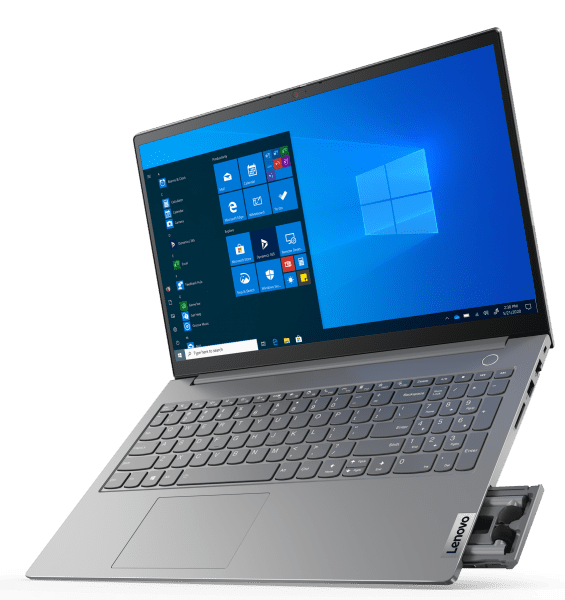 Integrated ThinkBook wireless earbuds, which can be stored within the laptop, deliver a completely new audio experience2. These earbuds charge automatically when stored & connect to the laptop audio instantly when taken out. Muting or unmuting yourself during calls is as easy as a double tap on the earbuds. Equipped with dual mics and environmental noise cancellation, these earbuds make online meetings more effective than ever before
Flexible storage options that include a combination of Hard disk drive (HDD) and Solid-state drive (SSD) or dual SSD
Modern Standby enables an always-on, always-connected experience that ensures that your PC is ready for you when you are and downloads emails even with the lid closed5
Working remotely and need support? The service hot key helps users reach Lenovo support at the press of a button, automatically including device details such as serial number for a fast track support experience.
Lenovo is also announcing today the broad ThinkBook portfolio powered by 11th Gen Intel® Core™ processors or AMD Ryzen 4000 series processors and updated ThinkPad E series designed for SMB, including:
ThinkBook 15p i: High performance laptop with NVIDIA® GTX 1650Ti graphics and X-Rite Pantone® certified display
ThinkBook 15 Gen 2 AMD: AMD Ryzen™ 4000 Series Mobile Processors powered laptop
ThinkBook 14 Gen 2: Intel® or AMD powered 14-inch laptop
ThinkBook 14s Gen 2: Intel® or AMD powered thin and light 14-inch laptop will be offered in selected markets
ThinkBook 13s Gen 2 AMD: Lightweight laptop powered by AMD Ryzen™ 4000 Series Mobile Processors
ThinkPad E14 and E15 Gen 2: 11th Gen Intel® Core™ processors with ThinkPad heritage features
Click the following links for datasheets and images.
Technology in an Era of Flexible Working
Individual and collaborative productivity are facing unprecedented challenges, but businesses can reap the rewards of greater agility by ensuring employees have access to the right technology to equip their workspace. Whether in an office or at home, clean desks improve productivity and generate a feeling of well-being and having a premium collaboration-optimized monitor will further enhance efficiency.
The new ThinkVision T27hv-20 is a 27-inch monitor specifically designed to offer the single-cable USB-C connectivity for clean desk while including features optimized for audio-visual conferencing. Mounted on an ergonomic lift, tilt, pivot and swivel stand, the display features a 1080p IRRGB camera with adjustable angle delivers crisp images and includes a shutter for protection. Two noise cancelling microphones included in the camera mechanism enable clear voice capability and integrated speakers provide immersive sound. If you need privacy, the monitor includes an audio port and practical headphone hook to further enhance that clean desk feeling.
ThinkVision T27hv-20 features include:
27-inch display with 2560 x 1440 resolution and 3-side near edgeless bezels
Integrated 1080p IRRGB webcam, microphones and speakers for easy video conferencing
USB-C Hub delivers single cable connectivity including data, video and Ethernet while able to power devices up to 90W. Hub also includes four USB 3.2 Gen1 ports for direct connection of compatible external devices
Smart Traffic Light warns colleagues or family members that you are live on a conference call by a red-light illumination on the webcam
TÜV Rheinland Eye Comfort and Eyesafe® certification helps protect eyes from strain without color distortion through Natural Low Blue Light technology
Lenovo Display Control Center – ThinkColor for end users to better master display settings, seamless multitasking and offers easy remote asset management for IT managers.
Click the following links for datasheets and images.
Quote:
"The modern workforce is tech-savvy and want to get more done and faster. SMBs need to empower employees through difficult times with smarter technology and features to help businesses grow, "said Eric Yu, senior vice president, Lenovo Global SMB. "ThinkBook and ThinkVision deliver a powerful combination of performance and style with collaboration, enhanced security and innovative features to keep users productive virtually anywhere."
Pricing and Availability6:
Intel Models:
ThinkBook 15 Gen 2 i is expected to be available from October 2020, starting at $569.
ThinkBook 13s Gen 2 i is expected to be available from October 2020, starting at $829.
ThinkBook 14s Yoga is expected to be available from November 2020, starting at $879.
ThinkBook 15p i is expected to be available from October 2020, starting at $939.
ThinkBook 14 Gen 2 i is expected to be available from October 2020, starting at $569.
ThinkPad E14 Gen 2 is expected to be available from November 2020, starting at $699.
ThinkPad E15 Gen 2 is expected to be available from November 2020, starting at $699.
AMD Models:
ThinkBook 15 Gen 2 AMD is expected to be available from October 2020, starting at $549.
ThinkBook 14 Gen 2 AMD is expected to be available from October 2020, starting at $549.
ThinkBook 13s Gen 2 AMD is expected to be available from October 2020, starting at $729.
ThinkVision:
ThinkVision T27hv-20 is expected to be available from December 2020, starting at $549.
Visit http://www.lenovo.com/think/ for more information.
About Lenovo
Lenovo (HKSE: 992) (ADR: LNVGY) is a $50 billion Fortune Global 500 company, with 63,000 employees and operating in 180 markets around the world. Focused on a bold vision to deliver smarter technology for all, we are developing world-changing technologies that create a more inclusive, trustworthy and sustainable digital society. By designing, engineering and building the world's most complete portfolio of smart devices and infrastructure, we are also leading an Intelligent Transformation – to create better experiences and opportunities for millions of customers around the world. To find out more, visit https://www.lenovo.com, follow us on LinkedIn, Facebook, Twitter, YouTube, Instagram, Weibo and read about the latest news via our StoryHub.
Source: Intel. Performance results are based on testing as of dates shown in configurations and may not reflect all publicly available updates. See intel.com/11thgenmobilefor configuration details.
Based on research conducted by Lenovo in June 2020 of PCs sold by major PC manufacturers shipping > 1 million units worldwide annually.
Source: Intel. As measured by industry benchmark and Representative Usage Guides testing and unique features of 11th Gen Intel® Core™ i7 processors that power designs, which are co-engineered as part of Intel's comprehensive laptop innovation program Project Athena then tested, measured, and verified against a premium specification and key experience indicators to ensure unparalleled user experiences. For more complete information about performance and benchmark results, visit intel.com/Evo.
Battery life will vary and depend on numerous factors including product configuration and usage, software, operating conditions, wireless functionality, power management settings, screen brightness and other factors.
Modern Standby only available on SSD models.
Prices do not include tax, shipping or options and are subject to change without notice; additional terms and conditions apply. Reseller prices may vary. On-shelf dates may vary by geography and products may only be available in select markets. All offers subject to availability. Lenovo reserves the right to alter product offerings, features and specifications at any time without notice.
LENOVO, YOGA, THINKBOOK, THINKVISION and THINKPAD are trademarks of Lenovo. Intel, Intel Core, Intel Evo, Intel Iris and Thunderbolt are trademarks of Intel Corporation or its subsidiaries in the U.S. and/or other countries. AMD and Ryzen are trademarks of Advanced Micro Devices, Inc. NVIDIA is a trademark of NVIDIA Corporation. TÜV is a registered trademark of the TÜV Rheinland Group. EYESAFE is the registered trademark of Healthe LLC. WINDOWS is a trademark of Microsoft Corporation. USB Type-C® and USB-C® are registered trademarks of USB Implementers Forum. All other trademarks are the property of their respective owners.  ©2020, Lenovo Group Limited.