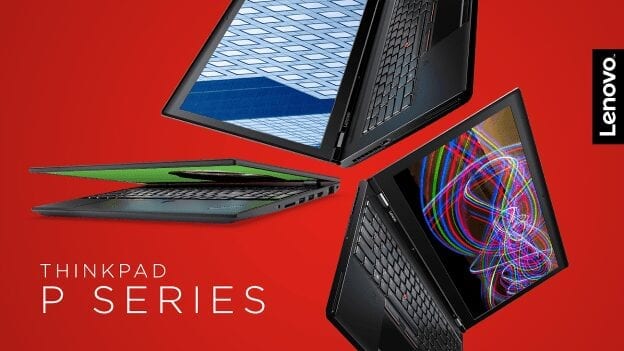 Today, Lenovo Workstations is excited to showcase three new mobile workstations at SOLIDWORKS World 2017. The launch of the Lenovo ThinkPad P51s and P51, as well as its VR-ready ThinkPad P71, give attendees the opportunity to check out these updated workstations in person and get a hands-on demo of all the power packed inside – including the latest NVIDIA® Quadro® graphics for mobiles, a VR-ready workhorse, and a thin and light road warrior.
Engineered to deliver breakthrough levels of performance, reliability and long battery life, the ThinkPad P51s features a new chassis, designed to meet customer demands for a powerful but portable machine. Developed with engineers and professional designers in mind, this mobile workstation features Intel's 7th generation Core i7 processors and the latest NVIDIA® Quadro® dedicated workstation graphics, as well as a 4K UHD IPS display with optional IR camera.
And even with all of its heavy-hitting features, the ThinkPad P51s still boasts a lightweight, Ultrabook build; shaving off over half a pound of weight from the previous generation. In fact, the P51s is the lightest and thinnest mobile workstation ever developed by ThinkPad. It also offers Intel Thunderbolt 3 technology with docking solution, giving users ultra-fast connectivity and the ability to move massive files in an instant. And it does all of this while delivering extreme battery life and freedom from the plug.
Lenovo will also unveil the new ThinkPad P51 – including 4K IPS display with 100% color gamut and X-Rite® Pantone® color calibrator – and the first ever VR-ready ThinkPad P71. These mobile workstations are MIL-SPEC tested and offer a dual-fan cooling system to allow customers to push their system harder for more reliable day-to-day use in the field. Better still, the new workstations feature new 2400MHz DDR4 memory – the fastest memory available in a mobile workstation – along with massive storage, with the ThinkPad P71 handling up to four storage devices. Featuring the latest Intel® Xeon® processors for mobile workstations, these ISV-certified ThinkPad P series systems bring the power and portability users demand to get the job done better and faster.
Lenovo is also bringing virtual reality to life with the new ThinkPad P71. One of the most talked about technologies today, VR has the ability to bring a new visual perspective and immersive experience to our customers' workflow. In our new P71, the NVIDIA® Pascal-based Quadro® GPUs offer a stunning level of performance never before seen in a mobile workstation, and it comes equipped with full Oculus and HTC certifications, along with NVIDIA's VR-ready certification.
"Content creators working with demanding VR workflows require the most robust and reliable performance possible," says Bob Pette, vice president, Professional Visualization, NVIDIA®. "Lenovo's VR-ready ThinkPad P71 with Quadro® Pascal-based GPUs for mobile workstations provides the performance, features and memory required for creating the most compelling VR experiences anywhere."
The ThinkPad P71 brings professionals across industries – ranging from media and entertainment to manufacturing – the most powerful system with a dedication to new and emerging technology to meet the needs of the most discerning users in the most demanding fields of work.
Take ThinkPad P71 user SuperSphere, a VR Creative Company working to push the boundaries of Virtual Reality. Whether it's building camera rigs, producing, directing or creating branded content, experiences for network television properties or traditional broadcast commercials in hybrid production models alongside high-end VR experiences online, SuperSphere requires high-performance workstations.
"To create high-quality work on the go, our company requires Lenovo's industry-leading mobile workstations that allow us to put the performance of a tower in our backpacks," says Jason Diamond, Partner and Director at SuperSphere. "Our company's focus on VR requires us to travel to a number of locations, and the ThinkPad P71 lets us achieve the same level of work on location as we can in the office, with the same functionality."
The Lenovo ThinkPad P51s will be available in March, starting at $1,049, while the ThinkPad P51 and P71 will be available in April, starting at $1,399 and $1,849, respectively. To learn more about these new products and the power of technology to transform the way you work, visit https://www.thinkworkstations.com/.
While at SOLIDWORKS World, Lenovo is also showcasing professional VR solutions and new technology with hands-on demonstrations from partners Virtalis and DotProduct. I invite anyone attending to come by booth #401 and see how Lenovo enables professional VR across engineering, manufacturing, architecture and beyond.  Enjoy SOLIDWORKS World!