BEIJING, CHINA – Jan 21, 2019 – Lenovo today officially launched Lenovo Consulting, its digital transformation consulting services. This move provides Lenovo opportunities to enable customers to immediately gain more value from their assets and find greater efficiency in their field service processes.  It is also an extension of Lenovo's larger Intelligent Transformation strategy, reflecting and reaffirming that Lenovo is the enabler and energizer of digital transformation.
Research suggests that digital transformation in manufacturing is critical for the integration of the digital economy and the real economy and is a powerhouse for the high-quality development of industry. With the upgrading of customer needs and the intensification of market competition, digital transformation has become an increasingly pressing task for enterprises. However, many struggle to find an effective path forward due to a number of issues such as unclear strategies, lack of practical experience, incomplete chain of value, scarcity in professional talents, and inadequate digital awareness.
As one of the global top 500 high-tech manufacturing companies rooted in China, Lenovo has rich experience in digital transformation. Lenovo developed the intelligent data-centered "START" methodology (see description below) through constant exploration and trials in practice. Using this approach, Lenovo Consulting will build on its own experience and large reserve of talents to contribute to the digital transformation of Chinese enterprises. Lenovo also plans to grow this new transformation consultancy globally.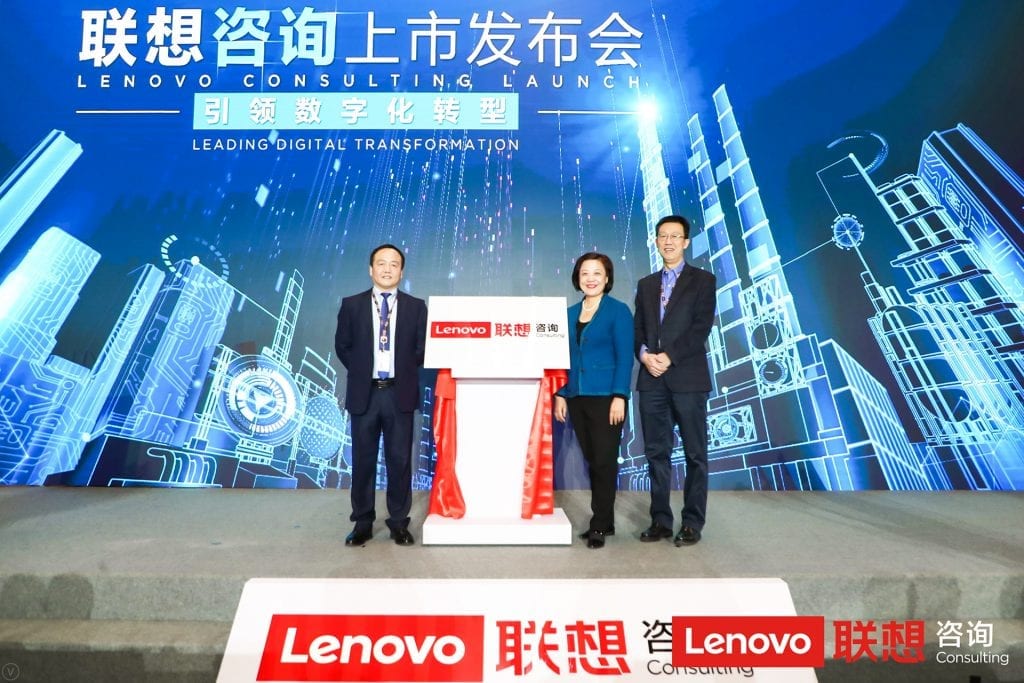 "The trends of digital transformation have provided the best opportunity not only for industry transformation and upgrading, but also for Lenovo itself," said Gina Qiao (Qiao Jian), Senior Vice President and Chief Strategic Marketing Officer at Lenovo Group. "It's a great time for Lenovo to unleash its strong potentials accumulated in the past. I hope that Lenovo consulting services will help Lenovo contribute to the digital transformation drive in China."
Lenovo Consulting will provide a digital transformation infrastructure system comprising one hybrid cloud, five intelligent technology platforms, 10 intelligent business platforms, and numerous intelligent applications. The business will leverage breakthroughs made in areas such as customer digital operation, intelligent manufacturing, and intelligent supply chain, which have facilitated the strategic transformation and rapid growth of Lenovo.
Lenovo empowers customer development with its comprehensive digital solutions. Lenovo Consulting is producing huge opportunities for companies in all industries, but especially in areas such as the automobile industry, oil and gas, finance, power, energy, and water. Take the example of Wuhan Branch, China Petroleum and Chemical Corporation. Lenovo first integrated various systems related to production and brought together large numbers of relevant data, including operational data, quality data, cost data, and energy data to form a production data lake. Then it used the opportunity to optimize customers' refining processes in the petro chemistry industry to build models including process analysis, abnormal indicator monitoring, indicator and parameter optimization, and early warning for key points. Compared with traditional methods of process management and control, the abnormal operation detection rate and key point detection rate increased by 26% and 33%, respectively.
He Zhiqiang, Senior Vice President of Lenovo Group and President of the Lenovo Capital and Incubator Group, said, " Lenovo has the responsibility to use its digital experience to serve more industries and help them build more competitive business models driven by intelligent data. Moreover, only witnesses like Lenovo can successfully build this completely new business model. This is just the core advantage of Lenovo."
About Lenovo Consulting 'START' Methodology
'S' – Strategy Approaches
Help enterprises work out a digital strategy and define a clear transformation path.
'T' – Technology Enabling Center
At the infrastructure level, the hybrid cloud model that centers on private clouds will be adopted; at the intelligent data level, a combination of digital technologies—including Data Lake, Internet of Things (IoT), artificial intelligence (AI), micro services, and data governance—will be used to enable technological innovation and empower business development.
'A' – Analytics & AI Empowering Business
Helps build the intelligent platform and applications geared for business domains, realize the intelligent transformation of enterprises across the value chain, and accelerate business transformation and upgrading.
'R' – Reinvention of Business Model
Aims to enable new value creation through optimization of business-driven models and innovation.
'T' – Transformation Guarantee
Helps build a corporate culture and management system. The system is conducive for digital transformation and ensures that digital construction efforts can achieve the intended results.