Lenovo™ furnishes Tom Clancy's Rainbow Six Siege Pro League esports LAN events with Lenovo Legion desktops, laptops and monitors in an exclusive global partnership with Ubisoft.
The partnership supports Tom Clancy's Rainbow Six Siege professional players and the game's enthusiast esports community at these events with Lenovo Legion's highly awarded performance.
Fans are invited to watch the streams and follow Ubisoft and Lenovo Legion on social media for the latest news, sweepstakes and competition highlights.
ATLANTIC CITY, NJ – May 17, 2018 – Today Lenovo (HKSE: 992) (ADR: LNVGY) and Ubisoft have announced Lenovo Legion as the official PC and monitor sponsor of Ubisoft's Tom Clancy's Rainbow Six Siege Pro League and Majors in an exclusive global partnership. The partnership will extend for the duration of the Rainbow Six Siege Pro League season, from spring 2018 through spring 2019 across North America, EMEA, Asia Pacific and Latin America.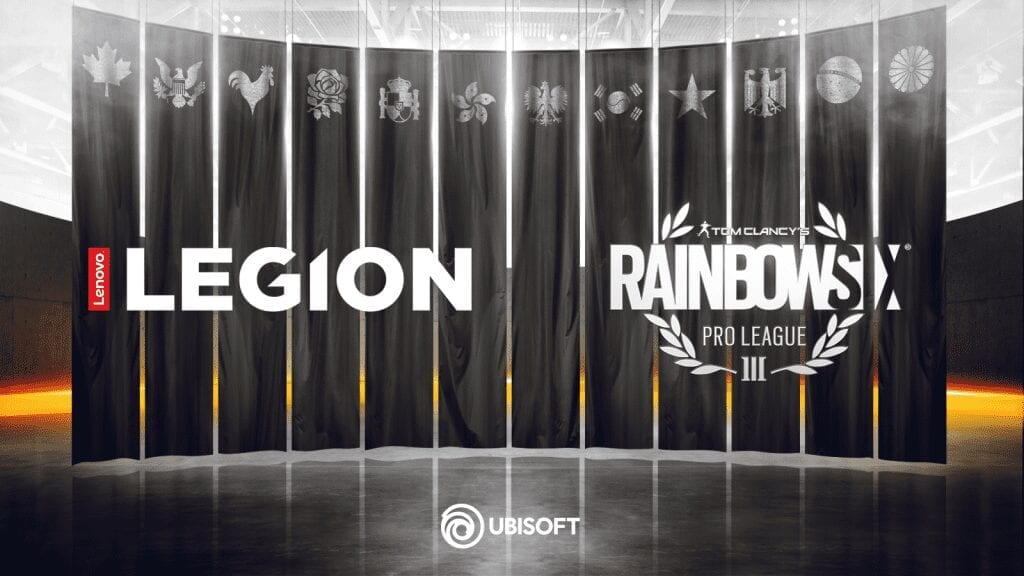 Lenovo is providing a range of high-performance gaming hardware that will be put into the hands of some of the world's most dedicated and skilled Tom Clancy's Rainbow Six Siege players to push their limits in competition. The partnership also includes co-branding and co-promotion, as well as an invitation for fans to join global giveaway contests and a unique in-game Lenovo Legion charm that can be unlocked through an in-game challenge.
Tom Clancy's Rainbow Six attracts and engages more than 30 million players, and its esports enthusiast fanbase is growing fast: the Six Invitational (SI) 2018 saw a 300 percent increase in viewership versus last year's SI, with a peak at 321,000 concurrent viewers during its Grand Finale.

Lenovo is equipping the Tom Clancy's Rainbow Six Pro teams with high-performance hardware for the speed and power that professional players demand. The sponsored devices include but are not limited to: the Lenovo Legion Y720 Tower, Lenovo Legion Y720 and Y520 Laptops, and the Lenovo Legion Y25f Gaming Monitor. The Lenovo Legion Y720 Tower, for example, packs enough power to enable high refresh rates for smooth frame rates and high-quality streams and videos for fans to enjoy. The Lenovo Legion Y25f Gaming Monitor completes the experience with 144 Hz refresh rates for sharp, high-quality images that bring out incredible in-game details during epic plays.
Lenovo Legion PCs and monitors will showcase next during Tom Clancy's Rainbow Six Pro League Season 7 Finals, taking place at Harrah's® Resort Atlantic City Hotel & Casino on May 19 to 20. These finals will include two teams from each of the four regions represented: Asia-Pacific, Europe, Latin America and North America.
For more information about Tom Clancy's Rainbow Six Pro League, please visit http://www.rainbow6.com/esports and follow us @R6ProLeague on Twitter®. Fans can also follow all the high-powered action via @LenovoLegion on Twitter, Facebook™, YouTube™, Instagram® and on Twitch™.
---
Quotes
"Forming partnerships is an important part of Lenovo's gaming strategy. With Ubisoft, we share a deep commitment in supporting the professional esports community and gaming fanbase," said Jeff Meredith, Senior Vice President and General Manager of Lenovo's Consumer PCs and Smart Devices. "Combining Lenovo's consumer technology expertise with Ubisoft's competitive and immersive content was a natural fit to offer gaming enthusiasts a best-in-class gaming and viewing experience."
"The signing of this key partnership with Lenovo Legion is a clear signal that the Tom Clancy's Rainbow Six Pro League is reaching maturity, now attracting major partners while continuously growing," said Geoffroy Sardin, Senior Vice President Sales and Marketing, Ubisoft EMEA. "We cannot wait to unfold the extent of this partnership during our key events throughout the year, for instance at the Six Major Paris this August."
---
About Lenovo
Lenovo (HKSE: 992) (ADR: LNVGY) is a US$43 billion global Fortune 500 company and a leader in providing innovative consumer, commercial, and data center technology. Our portfolio of high-quality, secure products and services covers PCs (including the legendary Think and Yoga brands), workstations, servers, storage, networking, software (including ThinkSystem and ThinkAgile solutions), smart TVs and a family of mobile products like smartphones (including the Motorola brand), tablets and apps. Join us on LinkedIn, follow us on Facebook or Twitter (@Lenovo) or visit us at http://www.lenovo.com/.
---
About Tom Clancy's Rainbow Six Siege and Ubisoft
Inspired by real-world counter-terrorist organizations, Tom Clancy's Rainbow Six Siege puts players in the middle of lethal close-quarter confrontations. For the first time in a Tom Clancy's Rainbow Six game, players will engage in sieges, a new style of assault where enemies have the means to transform their environments into modern strongholds while Rainbow Six teams lead the assault to breach the enemy's position. Tom Clancy's Rainbow Six Siege gives players unprecedented control over their ability to fortify their position by reinforcing walls and floors, using barbed wire and deployable shields, laying mines and more, or to breach the enemies' position using observation drones, setting charges, rappelling and more. The fast pace and uniqueness of each siege sets a new bar for intense firefights, strategic gameplay and competitive gaming.
Ubisoft is a leading creator, publisher and distributor of interactive entertainment and services, with a rich portfolio of world-renowned brands, including Assassin's Creed, Just Dance, Tom Clancy's video game series, Rayman, Far Cry and Watch Dogs. The teams throughout Ubisoft's worldwide network of studios and business offices are committed to delivering original and memorable gaming experiences across all popular platforms, including consoles, mobile phones, tablets and PCs. For the 2016–17 fiscal year Ubisoft generated sales of €1,460 million. To learn more, please visit www.ubisoftgroup.com.
©2017 Ubisoft Entertainment. All Rights Reserved. Tom Clancy's, Rainbow Six, The Soldier Icon, Ubisoft and the Ubisoft logo are trademarks of Ubisoft Entertainment in the U.S. and/or other countries.
LENOVO and LENOVO LEGION are trademarks of Lenovo. TWITCH is a trademark of Twitch Interactive, Inc. FACEBOOK is a trademark of Facebook, Inc. YOUTUBE is a trademark of Google, Inc. INSTAGRAM is a trademark of Instagram, Inc. TWITTER is a trademark of Twitter, Inc. HARRAH'S in a trademark of Caesars License Company, LLC. All other trademarks are the property of their respective owners. ©2018, Lenovo Group Limited.