Q&A with Rob Cato, Executive Director, Public Sector, Workstation & OEM, Lenovo
Following the recent announcement that the Lenovo Scholar Network (LSN) has added 68 new NAF academies to its STEM education and mobile app development program, we sat down with Rob Cato, who leads Lenovo's Public Sector and education business in the U.S.to discuss the NAF partnership.
Now entering in its fourth year, the Lenovo Scholar Network engages underserved students across the country in STEM (science, technology, engineering, and math) studies to help guide their futures in this critical field. Through a partnership with MIT, LSN students participate in a mobile app development program, creating their own mobile apps and competing in a nationwide competition with other LSN academies. Other LSN initiatives such as Lenovo in the Classroom Day allow students to engage with Lenovo employees. As the overseer of the program, Rob shared how NAF and the Lenovo Scholar Network provide opportunities not only for students, but also for companies to help develop the next generation of engineers, scientists, and mathematicians, ultimately making young people future-ready.
Lenovo: To get us started, can you talk a little bit about which specific LSN initiatives, events, or opportunities have you been particularly proud of over the last three years?
RC: We've done a lot over the last three years, and we're especially proud to be continually adding more academies to LSN, as it provides us with the ability to positively impact more students across the country each year. We're also proud of—and encouraged by—employee engagement. As a company, Lenovo encourages its people to give back. [Editor's note: Lenovo employees can take 8 hours every quarter to volunteer in the community.] The opportunity to help NAF grow and expand the LSN program while increasing engagement from Lenovo employees is something we're proud of and excited about continuing as we enter the fourth year.
Lenovo: You recently attended a meeting with NAF's board members. Can you share a few key takeaways from that meeting?
 RC: Yes, I had the opportunity to travel to New York for a NAF board meeting. The NAF team discussed their goals for growth over the next four to five years, including the number of students they want to reach, the number of internships they want to offer and more. NAF's intention to drive this significant growth particularly resonated. NAF partners like Lenovo have a critical role to support this endeavor and for existing business partners to bring on other companies as partners. Beyond providing critical learning opportunities for students, businesses can benefit in other ways from involvement with NAF. I believe companies want employees who can bring new and diverse perspectives and ideas to the workplace. Partnering with NAF is a great way to identify and nurture the next generation of leaders.
Lenovo: Can you share a bit about your experience at this year's NAFNext conference? Was there anything particularly inspiring about the student participation or event overall?
RC: NAFNext, where we helped announce the winner of the online public voting of the "Fan Favorite" mobile app, is really exciting! Every year we see more and more engagement from the students and NAF academies. It's great to see how the apps have developed over the past several years, and how the students use their connections to the community and problem-solving skills to create apps that can benefit their communities. They're finding new and different ways to help others, and it's inspiring to see that happen.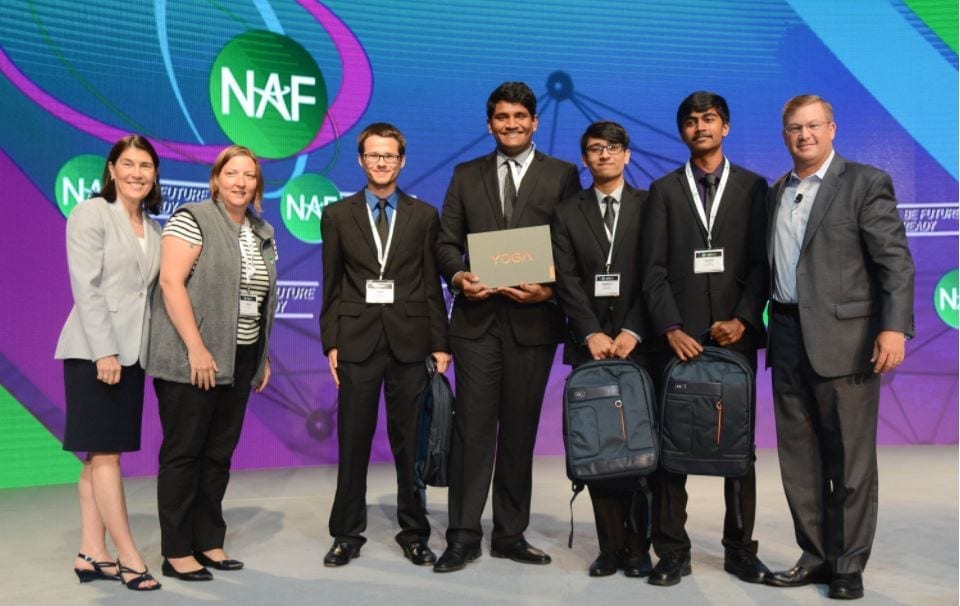 Lenovo: Can you share a bit about Lenovo's employee engagement with LSN?
RC: For Lenovo, it's about providing opportunities for the students to interact with our people, who truly enjoy engaging with young people. As we continue to build out our employee base and the next generation of talent, our partnership with NAF enables us to reach more people who we hope one day will want to work at Lenovo.
Last October we hosted an employee "mock interview" session in North Carolina, which many Lenovo participants told me was the best community service project they had been a part of; it energized them to see how motivated, hard-working, and forward-thinking the students were. Lenovo employee volunteers at NAFNext were also particularly impressed with the apps the students demonstrated, which raised their interest to get more involved with the LSN program. Employees enjoy participating in annual NAF work-based learning initiatives we've developed such as Lenovo in the Classroom Day and Twitter Chats, and we're excited to increase employee engagement this year and moving forward.
Lenovo: What are your goals or priority initiatives for LSN over the next few years?
RC: We launched our first Lenovo/NAF internship program this summer, where we had 26 students from participating NAF academies complete six-week paid internships at Lenovo. We hope to implement this program as an annual opportunity for NAF students, and grow the program in size and scope of work. We're also considering participating in NAF Future-Ready Lab Experiences, which give students real-world business challenges to address. It's an interesting chance for these students to consider the type of business problems that companies of all sizes – including global companies like Lenovo – face every day, and work together on innovative solutions.
To learn more about the Lenovo Scholar Network, and follow along with students as they develop mobile apps in preparation for the annual national competition, visit www.lenovoscholars.com or check out #LenovoScholars on social media.
Tags