Lenovo Device Intelligence offers enterprises advanced predictive insights to help pinpoint hardware and systemic issues before they occur
September 29, 2020 – With the introduction of its latest Software as a Service (SaaS) tool, Lenovo™ dives into the Digital Experience Monitoring space. Introducing Lenovo Device Intelligence, a cloud-based SaaS offering capable of assisting in not only diagnosing PC issues, but also in predicting potential system failures before they occur.
Developed for IT administrators that manage fleets of employee PCs, this latest tool monitors the health and performance of Lenovo Think branded laptops and third-party PCs alike.[i] Leveraging AI and machine learning for proactive device insights and predictive analytics, it also offers IT admins proven and prescriptive remediations at their fingertips to help swiftly resolve issues and keep their employees up-and-running, enhancing their digital experience.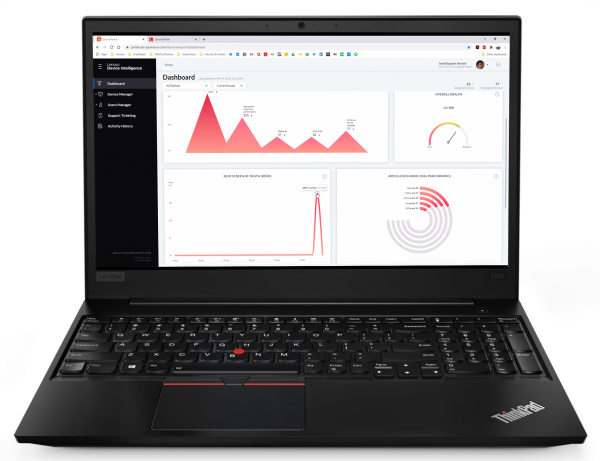 Addressing IT's Remote Management Challenge
Managing numerous PCs can be tricky, and that's when they are located on premise. Factor in the global scale of companies and the growing number of dispersed and remote workforces, IT teams are finding it even more challenging to stay on top of the health and maintenance of all the PCs within their company. This is especially so when it comes to actually diagnosing common and perhaps systemic PC health and performance issues and then addressing any problems. Scale and bandwidth become barriers to effective and efficient response and the employee experience suffers.
According to a study by global IT research firm Techaisle, 77% of IT staff time is dedicated to maintenance and support, and 50% of IT professionals report that their teams lack the resources to swiftly identify problems and deliver satisfactory solutions. Lenovo Device Intelligence's two-pronged predictive and proactive approach directly addresses this pain point. By reducing fleet complexity and categorizing data to help IT staff identify potential problems faster and address them before they become an issue, this tool aims to decrease downtime, increase employee productivity and optimize IT costs.
Behind the Screen
As an on-device agent, Lenovo Device Intelligence uses proprietary machine-learned models that run both locally on the PC and in the cloud to analyze telemetry data and pre-emptively identify key indicators, patterns, anomalies and root causes that could lead to a range of common problems. These include not only hardware failures – hard drive, solid state drive and battery – but more complex and systemic issues that cause performance degradation like system slowdown, crashes, and even the dreaded blue screen of death.
All this data is accessible via an easy-to-read dashboard that displays health scores for the overall fleet and for every individual PC. Lenovo Device Intelligence then assigns severity levels for each identified issue allowing IT admins to quickly see the fleet status at-a-glance and make more informed decisions on where to focus their attention first.
Adhering to strict data privacy regulations, all customer data is protected and stored in a secure cloud-based technology stack for enhanced security. Additionally, each company's PC health data is encrypted and stored in dedicated tenants with limited access to authorized users.
A Premium Experience for Both IT Admins and End Users
Traditionally, troubleshooting and performing root-cause analysis of this caliber has been a time-consuming and often manual task for IT admins, so the ability to streamline this process and make them aware of impending crashes can not only improve their productivity, but reduce or even avoid employee downtime altogether.
Another key benefit is its ability to predict more issues with greater accuracy by learning over time. This gives IT teams the tools to identify and resolve PC performance issues at scale and greater insight into the latest issue trends affecting PCs. The result is fewer calls to the IT helpdesk and less time spent on issue diagnosis, equating to reduced maintenance overhead and a better user experience.
Pricing & Availability
Lenovo Device Intelligence will be initially available starting October 2020 in the United States, Canada, Germany, France, Japan and Australia, with a phased expansion to other global markets through 2021.
Volume-tiered pricing is available for subscription licenses.[ii]  For more information, visit our website.
About Lenovo
Lenovo (HKSE: 992) (ADR: LNVGY) is a US $50 billion Fortune Global 500 company, with 63,000 employees and operating in 180 markets around the world.  Focused on a bold vision to deliver smarter technology for all, we are developing world-changing technologies that create a more inclusive, trustworthy and sustainable digital society. By designing, engineering and building the world's most complete portfolio of smart devices and infrastructure, we are also leading an Intelligent Transformation – to create better experiences and opportunities for millions of customers around the world. To find out more visit https://www.lenovo.com, follow us on LinkedIn, Facebook, Twitter, YouTube,
Instagram, Weibo and read about the latest news via our StoryHub.
LENOVO is a trademark of Lenovo. All other trademarks are the property of their respective owners. ©2020, Lenovo Group Limited.
###
[i] Currently applies only to commercial devices equipped with Win10 and Intel or AMD processors. Some exclusions may apply.
[ii] Additional terms and conditions apply.  Prices may vary in different countries. Availability dates may vary by geography and products may only be available in select markets. All offers subject to availability and capacity. Lenovo reserves the right to alter product offerings, features and specifications at any time without notice.