Expanded Mobile Workstation Portfolio Features
Best-in-Class Speed, Reliability and Display for the Most Demanding Professional Users
LOS ANGELES – August 10, 2015: Lenovo (HKSE: 992) (ADR: LNVGY) today unveiled the beginning of a new family of mobile workstation innovations, the ThinkPad P50 and P70, at the SIGGRAPH 2015 Conference and Exhibition. These new ThinkPad P Series systems are the best-performing and most reliable mobile workstations available and are designed to run the most demanding Independent Software Vendor (ISV) applications.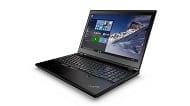 "We've built features into these machines that were previously unachievable in a notebook, making them the most versatile and highest-performing mobile workstations ever," said Victor Rios, vice president and general manager, Workstations, Lenovo. "We're focused on making sure users have the tools necessary to drive innovation. That is why we are expanding our portfolio and raising the standard of mobile workstation performance.  Introducing the ThinkPad P Series unites our mobile portfolio with our existing award-winning line of tower workstations, the ThinkStation P Series."
Meet the New ThinkPad P Series
ThinkPad P70: Designed for high-end professionals in industries ranging from media and entertainment to oil and gas, the Lenovo ThinkPad P70 introduces a 17-inch mobile workstation to the ThinkPad family. The new offering comes packed with the most memory and storage ever found in a mobile workstation. The ThinkPad P70 is loaded with up to 64GB of DDR4 ECC memory and the ability to handle up to four storage devices and up to a terabyte of SSD storage, utilizing the latest PCIe technology for speeds up to five times faster than current SATA technology. Additionally, the ThinkPad P70 comes with two Intel® ThunderboltTM 3 ports for ultra-fast connectivity and a 4K UHD display or optional FHD touch.
"Media and entertainment professionals invest in complex and incredibly resource-intensive applications to bring their creations to life. They are increasingly looking for the performance to run these applications in a mobile workstation," said visual effects industry pioneer Scott Ross. "The Lenovo ThinkPad P70 gives these users all the performance they need and more to continue to raise the bar for graphics innovation and move their industry forward. It's the best mobile workstation I've seen."
ThinkPad P50: Lenovo's thinnest and lightest full-function mobile workstation yet, the ThinkPad P50 features a beautiful 15.6-inch UHD 4K display and is certified to run users' most requested ISV applications. The ThinkPad P50 is a feature-rich, highly powerful mobile workstation for performance-seeking users. As the follow-on to the ThinkPad W541, the P50 builds on the innovation and purposeful design of Lenovo's industry-leading ThinkPad mobile workstations.
The Ultimate in Mobile Workstation Performance
The new ThinkPad P50 and P70 are mil-spec tested for maximum durability, and also come loaded with the most advanced components and features available in a mobile workstation. These machines are the first equipped with the new Intel®Xeon® Processor E3-1500M v5 product family, for lightning-fast performance and enhanced reliability for critical workstation applications. Both systems feature NVIDIA® Quadro® GPUs for unmatched graphics capability. The ThinkPad P Series also come with X-Rite® Pantone® color calibration, keeping colors accurate throughout the life of the product and protecting the customers' investment.
The ThinkPad P50 and P70 feature a brand new FLEX Performance Cooling system.  The dual-fan design allows for cooler, quieter and faster performance. This revolutionary design allows for both optimal uptime, as dictated by the needs of the application, giving the user the ability to push the system harder and for longer periods of time.
Pricing and Availability
The new Lenovo ThinkPad P Series mobile workstations will be available starting in Q4 2015 through Lenovo business partners and on www.lenovo.com. Pricing for the P50 begins at $1599, and the P70 begins at $1999. More information about the ThinkPad P Series, including an interactive tour, can be found at www.thinkworkstations.com. For the latest Lenovo news, subscribe to Lenovo RSS feeds or follow Lenovo on Twitter and Facebook.
Lenovo Services 
Businesses can opt for a variety of service and support solutions to fit their needs. With a committed focus on customer, quality and responsiveness, Lenovo Services offers innovative and integrated solutions to ensure maximum productivity. Warranty Extensions, Upgrades, Accidental Damage Protection, Keep Your Drive, Priority Technical Support and a complete set of factory and automated deployment services help organizations effectively bridge the gap between consumer and business.
Quotes: 
"We are excited to bring Intel Xeon's legacy of performance, manageability and reliability to mobile workstations," said Navin Shenoy, vice president and general manager, Mobility Client Platforms Group, Intel. "Now the power of Intel Xeon is in a notebook that can handle the unique compute and graphics intensive needs of engineers and designers."
"Workstation users need the best graphics performance possible to harness the full potential of their professional applications," said Greg Estes, vice president of Enterprise Marketing, NVIDIA. "By using NVIDIA Quadro mobile GPUs, the Lenovo ThinkPad P Series will provide customers with the most advanced graphics technology available to achieve the highest quality results, regardless of the task."
"Our customers are using SOLIDWORKS to make great designs happen. The Lenovo ThinkPad P Series is designed to offer the performance they need without having to sacrifice functionality or reliability," said Nicholas Iwaskow, SOLIDWORKS, Director Alliances and Partnerships, Dassault Systèmes. "We are excited to see how the ThinkPad P Series continues to evolve in the years to come."
"The Lenovo ThinkPad P Series products are powerful mobile workstations for professional users," said Susan Skidmore, Head of Partner Relations, Professional Video, at Adobe. "Creative professionals who use Adobe Creative Cloud and its powerful tools such as Adobe Premiere Pro CC and After Effects CC expect their systems to keep up with their demands. Lenovo has built these systems with the application needs of these users in mind, and we're confident that they will be more than up to the challenge regardless of the user's industry."
"Many product designers using PTC Creo® value system performance, functionality and portability," said Brian Thompson, Senior Vice President, CAD Product Management at PTC®.  "It's exciting to see that Lenovo has considered all of these factors in designing the ThinkPad P Series mobile workstations.  The innovations in these new mobile systems should be appealing to PTC Creo users working with resource-intensive models."[1]
"Designers rely on their screens to display colors accurately and consistently over the life of their machines," said Chris Winczewski, X-Rite's Vice President, Product Marketing. "Only the Lenovo ThinkPad P Series features an integrated X-Rite Pantone color calibrator, so users can properly calibrate their displays for the most demanding projects. With this X-Rite exclusive technology, users can be sure they're getting the highest color accuracy in a mobile workstation."
About Lenovo
Lenovo (HKSE: 992) (ADR: LNVGY) is a $46 billion global Fortune 500 company and a leader in providing innovative consumer, commercial and enterprise technology. Our portfolio of high-quality, secure products and services covers PCs (including the legendary Think and multimode YOGA brands), workstations, servers, storage, smart TVs and a family of mobile products like smartphones (including the Motorola brand), tablets and apps. Join us on LinkedIn, follow us on Facebook or Twitter (@Lenovo) or visit us at www.lenovo.com
---
[1]
 PTC and Creo are trademarks or registered trademarks of PTC Inc. or its subsidiaries in the United States and in other countries.