New AI-enabled Yoga PCs Arrive at CES
Technology from phones to smart homes has been getting safer, smarter, more personalized and immersive. Facial recognition and sensors for biometric authentication, cinema-quality entertainment on the go, and voice recognition to activate multiple virtual assistants that co-exist are now all possible. These advancements are driven by people's evolving needs, like wanting security and privacy without sacrificing convenience, or immersive entertainment without compromising on portability.
PCs have been quietly progressing in the same direction too. Artificial intelligence (AI) coupled with advanced audio and display technologies is making Lenovo's next-gen Yoga computers their smartest yet. Whether you're a digital nomad, business professional, digital content creator or designer, see how these technologies in the new Yoga S940, Yoga A940, Yoga C730 with AMOLED and Yoga Mouse with Laser Presenter can help you get things done faster and make life easier.
The Slim and Smarter Yoga S940


With the rise of work-life integration, remote work and the gig economy, video meetings and conference calls can happen anytime, anywhere – sometimes in environments that are less than ideal, from a noisy coffee shop to a crowded co-working space. But what if your laptop can help to solve that when you're on your next video call with the boss? The new Yoga S940 ultra-slim laptop can do just that and more. Its new optional AI features1 can automatically filter out most ambient noise and blur out distracting backgrounds during video calls, so that sounds like your dog's barking or the neighbor's car honking don't have to disrupt video calls with colleagues, friends or family again.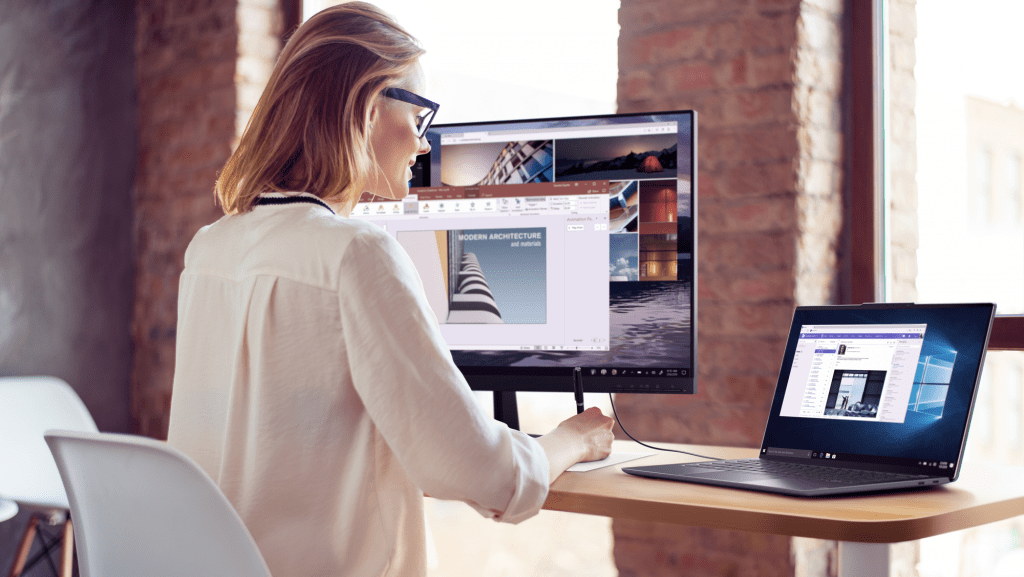 Camping out at a co-working space and need to step out for a coffee break? The minute you turn your head away from your laptop screen, the Yoga S940's AI-powered sensors1 can detect your absence and auto-lock the display to protect your data from unwanted eyes. It can also detect and alert you when a nosey neighbor is shoulder surfing from your screen. Beyond the added benefits of extra security and privacy, the Yoga S940 features Glance by Mirametrix® AI-powered attention-sensing software including face, eyes and gaze sensing that can help increase productivity too. Productivity experiences such as Snap Window allow you to look from your main laptop display to a second screen, shifting open windows and content contextually (based on your attention, intent and focus) to a connected external monitor for a seamless and intuitive user experience. All these are part of an entire suite of Lenovo Smart Assist AI-enabled features available on the new Yoga S940.1
Additionally, Lenovo Smart Assist includes hands-free PC log-in through its built-in infrared (IR) camera and Windows Hello™ for an added layer of security and convenience, and voice-matching personalization to respond to your voice when speaking to Amazon® Alexa® or Microsoft® Cortana® from as far as across the room.2 There's also a new simultaneous language transcription and translation feature, so that any words spoken in English or Mandarin Chinese can be automatically transcribed into writing and translated3. The Yoga S940 keeps getting smarter too, able to learn from your usage patterns and optimize its performance. It can learn to auto-adjust its power settings for longer-lasting power, for instance, so that you get every last squeeze out of the up to 15 hours of battery in FHD.4
And it doesn't stop there. At just 1.2kg (2.65lbs) light and 12.2mm (0.48in) thin,5 the ultra slim and portable Yoga S940 has Windows® 10, up to Intel® Core™, up to 16GB LPDDR3 memory and up to 1TB PCIe SSD storage6 for the powerful performance you'd expect to get things done.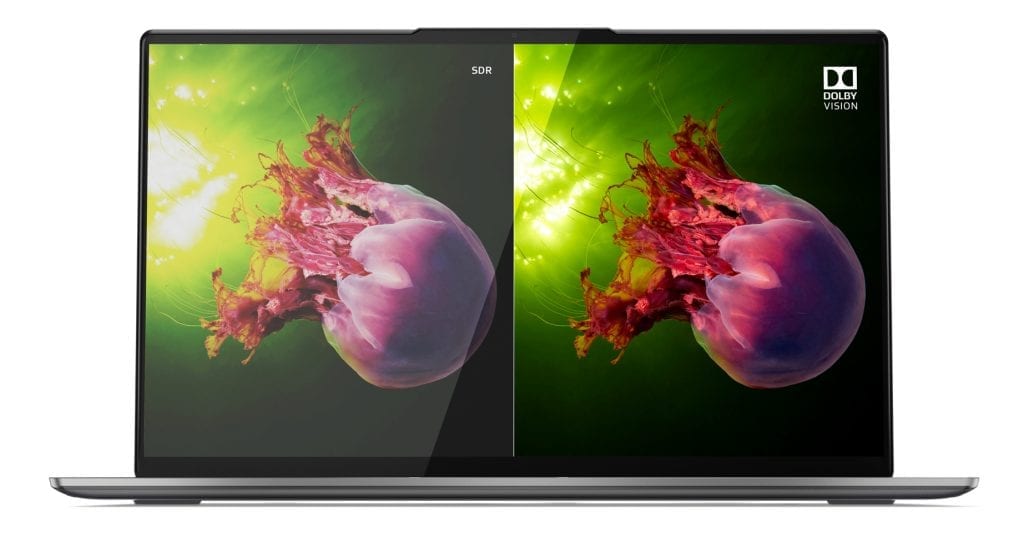 Or, binge-watch your favorite shows on its optional 4K HDR display with up to 500 nits peak brightness, Dolby Vision® and Dolby Atmos® Speaker System with smart audio amplifiers for a cinematic-like quality experience.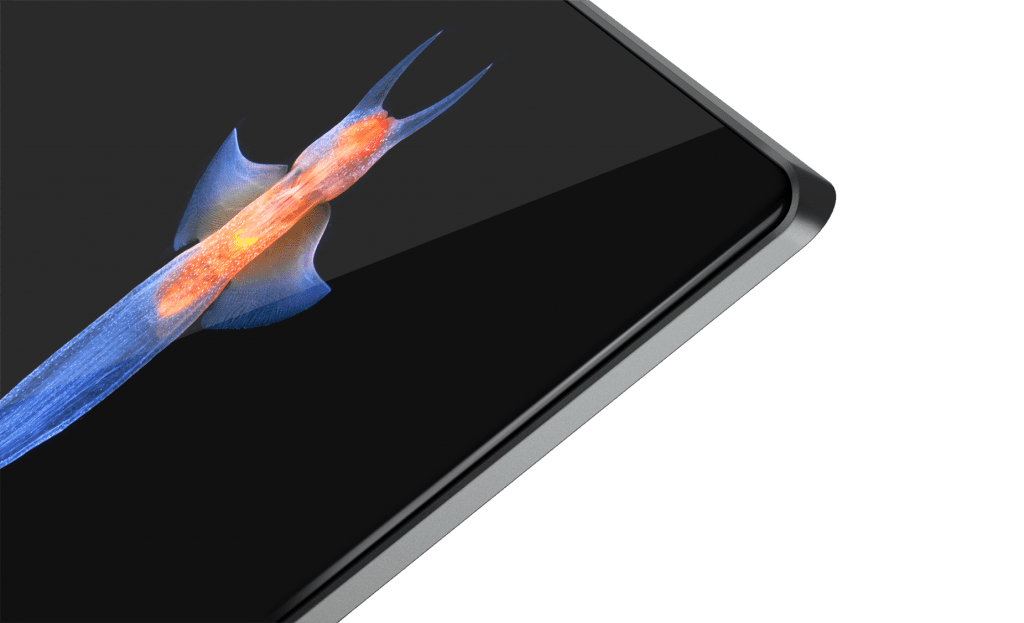 The Yoga S940 is the world's first laptop with Contour Glass that wraps around its bezels – reducing the look of its already razor-thin bezels for a streamlined design.7
Get Creative on the Powerful Yoga A940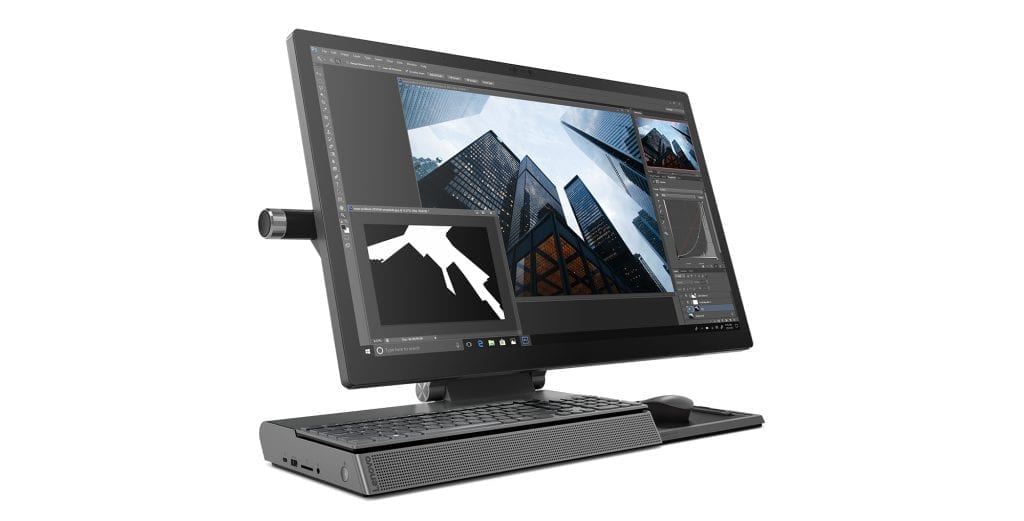 For artists and designers, nothing is better than sketching with a pencil on paper, right? The new Yoga A940 all-in-one desktop is here to challenge that notion. Built for digital content creators, the Windows 10 Yoga A940 is a powerful creative canvas with a large 27-inch optional 4K IPS touchscreen display with Dolby Vision, which brings entertainment to life through ultra-vivid picture quality. It features a rotating hinge that enables the display to tilt to a comfortable 25-degree drafting mode, for remarkable flexibility and stability when drawing, sketching or annotating with a digital pen.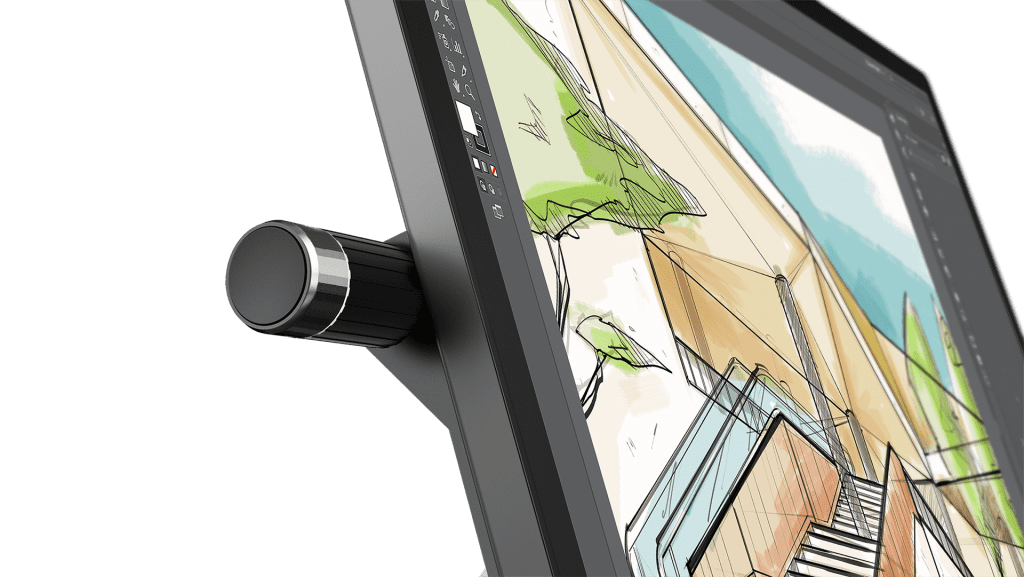 A mouse and digital pen are all convenient ways of inputting information on your computer with one hand. But wouldn't it be even faster and more productive to be able to multitask with both hands? Introducing the Lenovo Precision Dial, a controller that's tailor made for designers, photographers and videographers to make more precise selections and adjustments to their content. The dial can be placed on either the left or right side of the Yoga A940, depending on your preference.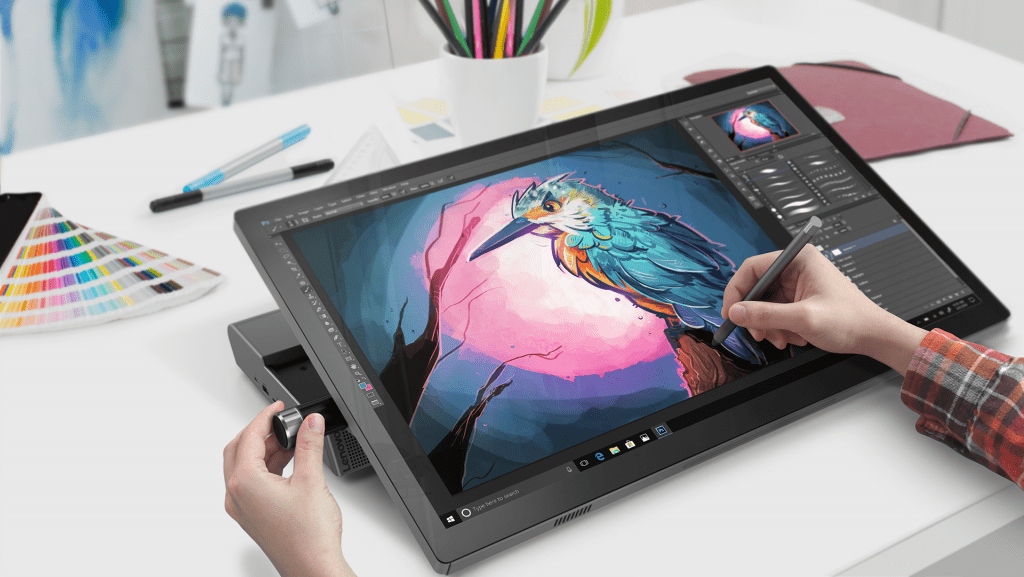 Simply scroll the Lenovo Precision Dial to seamlessly select or adjust features like brush stroke, tip size, opacity and flow rate on one hand, without having to put down your digital pen. The dial is currently optimized for Adobe® Illustrator®, Photoshop®, Lightroom®8 and Microsoft Word, Excel® and PowerPoint®.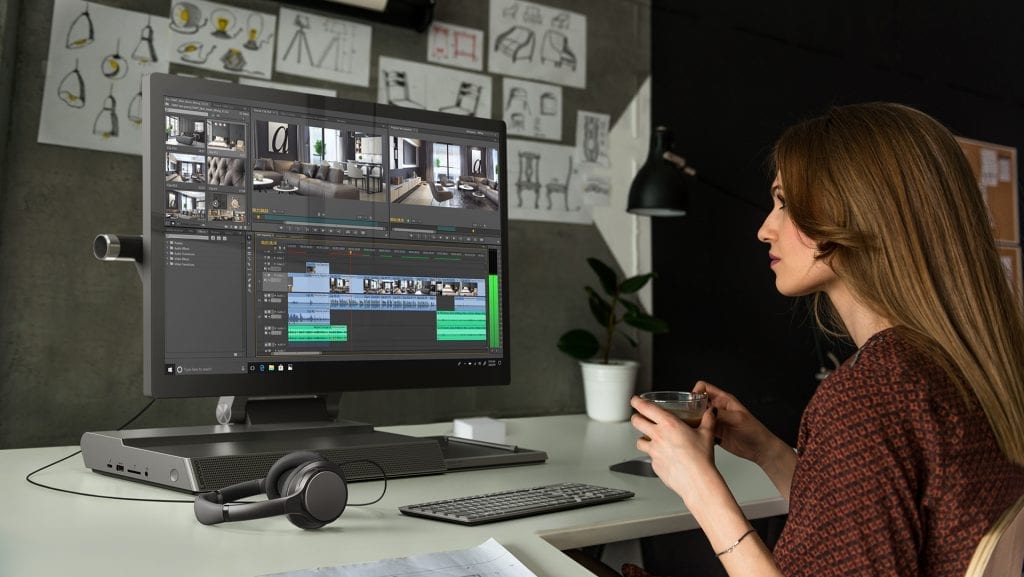 Time to watch that video project you've been working on? Experience it on the Yoga A940's Dolby Vision-enabled 4K wide-angle display with stunning brightness, contrast, color and detail, which are boosted by Dolby Atmos Speaker System for rich, moving audio through speakers custom designed and tuned by Dolby®. In addition to its built-in front-facing speakers, the Yoga A940 features a second set of speakers under the rotating display to ensure powerful sound even in drafting mode. The Yoga A940 also comes with a range of Lenovo Smart Assist1 AI-enabled features for greater productivity and privacy. With up to 8th Gen Intel Core i7 processors, AMD® Radeon™ RX 560 discrete graphics, up to 32GB DDR4 memory and up to 512GB PCIe SSD or up to 2TB SATA HDD storage,6 the Yoga A940 is the ideal centerpiece in any content creator's home or workspace.
See the Difference on the Yoga C730 with AMOLED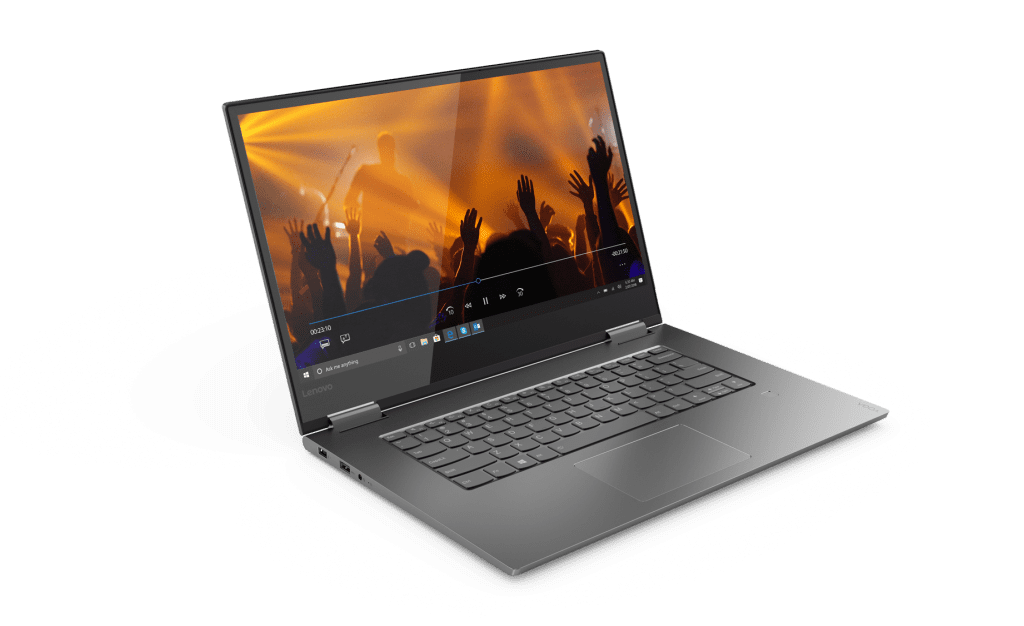 With the rise of the visual culture where videos, infographics and imagery dominate, it's no wonder that people prefer their entertainment to be visually immersive. Equipped with JBL® speakers and Dolby Atmos, which delivers immersive audio over any pair of compatible headphones, the 15-inch Yoga C730 2-in-1 convertible laptop gets an upgrade with up to a 4K AMOLED display. AMOLED brings a noticeably more vivid viewing experience with an incredible degree of color clarity and contrast for higher-quality resolution. It also emits less harmful blue light – making it easier on the eyes while providing amazing video picture quality. Portable and powerful, the Yoga C730 features 8th Gen Intel Core i7 processors, Windows Ink™ for digital pen input, Windows Hello for instant log-in, and the smart convenience of Cortana and Alexa.2
Just Twist and Point with the Yoga Mouse with Laser Presenter



Today's professionals have more than enough to carry with them when running from one meeting to the next – from their laptops to phones, chargers and more. With this user pain point in mind, we streamlined two accessories into one and designed the latest generation Yoga Mouse with Laser Presenter. With just one twist, it converts from an ergonomic mouse with up to 1,600 DPI for high-precision tracking on nearly any surface into a flat, fully functional laser presenter (and vice versa). No more fumbling with a handful of devices at your next presentation with the latest Yoga Mouse in hand.
Powered by AI, advanced audiovisual technologies and more, the next-gen Lenovo Yoga family is here to deliver a safer, smarter, and more personalized and immersive experience.
Discover more at www.lenovo.com/CES and www.lenovo.com/yoga.
CES 2019 press kit with images and full specs are available here.
Watch the product videos for more information:
U.S. Pricing and Availability9
The Lenovo Yoga S940 will start at $1,499.99 and is expected to be available on www.lenovo.com and Micro Center starting May 2019. 9
The Lenovo Yoga A940 will start at $2,349.99 and is expected to be available on www.lenovo.com and Best Buy starting April 2019. 9
The 15-inch Lenovo Yoga C730 with AMOLED is expected to be available in select markets starting March 2019. 9
The Lenovo Yoga Mouse with Laser Presenter will start at $69.99 and is expected to be available on www.lenovo.com starting June 2019. 9
1 Lenovo Smart Assist features are expected to be available starting May 2019. Users will be automatically prompted by Lenovo Vantage to access those features. Features will vary per product.
2 Cortana is accessible through the Windows 10 start menu, and Alexa for PC is accessible through Lenovo Vantage during the initial set-up. Both come with far-field voice recognition technology, with recommended use of up to 4 meters away on Cortana, and up to 2.74 meters on Alexa. Alexa is available on select Lenovo PCs in the US, UK and Germany
3 This feature is expected to be available starting May 2019. More languages will be added over time.
4 All battery life claims are approximate and based on test results using the MobileMark 2014 ver 1.5 battery life benchmark test. Actual results will vary, and depend on numerous factors including product configuration and usage, software, operating conditions, wireless functionality, power management settings, screen brightness and other factors. The maximum capacity of the battery will naturally decrease with time and usage. See https://bapco.com/products/mobilemark-2014/ for additional details.
5 At its thickest point
6 Actual available capacity is less and varies due to many factors, including formatting, partitioning and operating system, etc. which utilize part of this capacity. The available capacity may change with software updates.
7 Based on research conducted by Lenovo on December 1, 2018 of PCs sold by major PC manufacturers shipping > 1 million units worldwide annually.
8 A 30-day free trial of Adobe Photoshop and Lightroom is available on the Yoga A940. Availability of the free trial will vary per market and does not include China.
9 Prices do not include tax, shipping or options and are subject to change without notice; additional terms and conditions apply. Reseller prices may vary. On-shelf dates may vary by geography and products may only be available in select markets. All offers subject to availability. Lenovo reserves the right to alter product offerings, features and specifications at any time without notice.
LENOVO and YOGA are trademarks of Lenovo. CES is a trademark of the Consumer Technology Association. GLANCE BY MIRAMETRIX is a trademark of Mirametrix Inc. MICROSOFT, WINDOWS, WINDOWS HELLO, WINDOWS INK, CORTANA, EXCEL and POWERPOINT are trademarks of Microsoft Corporation. AMAZON and ALEXA are trademarks of Amazon Technologies, Inc. Intel and Intel Core are trademarks of Intel Corporation or its subsidiaries in the U.S. and/or other countries. DOLBY, DOLBY ATMOS and DOLBY VISION are registered trademarks of Dolby Laboratories, Inc. ADOBE, PHOTOSHOP, ILLUSTRATOR and LIGHTROOM are trademarks of Adobe Systems Incorporated. AMD and RADEON are trademarks of Advanced Micro Devices, Inc. JBL is a trademark of Harman International Industries, Inc. All other trademarks are the property of their respective owners. ©2019, Lenovo Group Limited.