RESEARCH TRIANGLE PARK, NC– May 1, 2014: Lenovo's (HKSE: 992) (ADR: LNVGY) Yoga Tablet received top honors last night at a ceremony in San Francisco with a gold Edison Award for most innovative computing solution.  In addition, Lenovo's IdeaCentre Horizon Multimode Table PC was recognized with a silver Edison Award in the computer and entertainment category.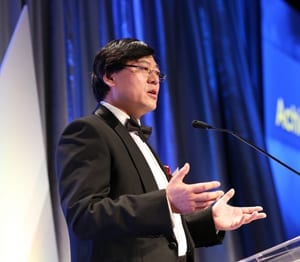 The Edison Awards were inspired by Thomas Edison, to recognize innovation, creativity and ingenuity in the global economy.
The Lenovo Yoga Tablet captivated the tablet market in 4Q 2013 with its three-mode kickstand, giving consumers a unique way to use a tablet.With hold, tilt and stand modes, the tablet adapts to the way people use it and is packed with an amazing 18 hours of battery life1 for ultra mobile lifestyles.
The 27-inch Horizon PC blew up CES 2013 as Lenovo's first "interpersonal" table PC; a multi-user, multi-touch and multi-mode device for the home with the capability to easily shift from personal to shared computing use. Paired with a special set of accessories including an e-dice, joysticks and strikers, the Horizon Table PC offers a complete digital gaming experience.
Edison Award nominees are judged by more than 3,000 senior business executives and academics from across the nation whose votes acknowledge the finalists' success in meeting the award's stringent criteria of quality. The voting panel includes members of the American Association of Advertising Agencies (4As), Chief Marketing Officer Council (CMO), and Design Management Institute (DMI), among others.
ABOUT LENOVO
Lenovo (HKSE: 992) (ADR: LNVGY) is a US$34 billion personal technology company – and the largest PC company in the world, serving customers in more than 160 countries. Dedicated to building exceptionally engineered PCs and mobile internet devices, Lenovo's business is built on product innovation, a highly-efficient global supply chain and strong strategic execution.  Formed by Lenovo Group's acquisition of the former IBM Personal Computing Division, the company develops, manufactures and markets reliable, high-quality, secure and easy-to-use technology products and services. Its product lines include legendary Think-branded commercial PCs and Idea-branded consumer PCs, as well as servers, workstations, and a family of mobile internet devices, including tablets and smart phones. Lenovo, a global Fortune 500 company, has major research centers in Yamato, Japan; Beijing, Shanghai and Shenzhen, China; and Raleigh, North Carolina.  For more information see www.lenovo.com.
The Edison Awards is a program conducted by Edison Universe, a 501(c)(3) charitable organization dedicated to fostering future innovators. The 2014 Edison Awards are sponsored by Ipsos. For more information about the Edison Awards, Edison Universe and a list of past winners, visit www.edisonawards.com.