Morrisville, NC – May 13, 2021 – Today Lenovo announced Lenovo Go, a new sub-brand uniting a range of purpose-built PC accessories that are made for better mobile productivity and designed for a hybrid workforce within an ecosystem that works better together. Introducing the first in a line of new accessories coming soon, the new Lenovo Go USB-C Laptop Power Bank (20,000 mAh) and Lenovo Go Wireless Multi-Device Mouse offer solutions to power anxiety and easy input method to multiple devices.
Lenovo's recent Future of Work and Digital Transformation study revealed that a vast majority of businesses surveyed (83 percent) expect to work remote at least half the time, and 60 percent of employees not only agree but are happy to do so. As more and more businesses adopt remote working policies, the attention turns to the technology that must enable effective collaboration, boost individual performance and productivity, and maximize engagement and motivation. Lenovo Go aims to deliver the complementary tools that efficiently bridge the gap between office, home and in between and transform a good experience to a great experience. Accessories need to live up to the expectation that they can and should be easy to use and enhance work-from-anywhere.
Delivering a collection of human-inspired products that are built upon user insights, Lenovo Go will focus on helping people work productively, anytime and anywhere. The sub-brand will offer a suite of accessories within specific categories that address the most common pain points of flexible working:
Power: Low battery anxiety or occupied power outlets in public locations are one of the biggest challenges highly mobile workers face. Lenovo GO's power solutions will give people back control of their uptime with a range of wired and wireless charging solutions coming soon. First to announce is the Lenovo Go USB-C Laptop Power Bank. Featuring a huge 20,000 mAh capacity with a 65-watt power output, it's designed to be enough to charge a laptop at least once and can charge up to three devices simultaneously enabling uninterrupted work.1
Input: Mice and keyboards in the Lenovo Go family will feature a number of innovations to suit dynamic work environments, allowing users to quickly shift between working modes and locations. Light and compact forms with ergonomic designs, wireless connection and charging capabilities are essential for a productive workspace. With more devices coming soon, today Lenovo is introducing the Lenovo Go Wireless Multi-Device Mouse. With many remote workers having more than one device and enjoying the flexibility they give; the multi-device mouse allows pairing of up to three devices with easy cycling between them at the touch of a button. What's more, the utility button can be programmed for rapid meeting shortcuts, and not only is the mouse wirelessly connected, it can also be wirelessly charged through a compatible Qi charging solution or via USB-Type C.
Audio: As a crucial element in the collaboration experience, audio quality is often taken for granted and therefore overlooked leading to frustration and poor meeting experiences. The audio devices from Lenovo Go are engineering from the ground up to solve ambient noise, sound quality and ease of use challenges. Lenovo Go audio solutions will be announced later in 2021.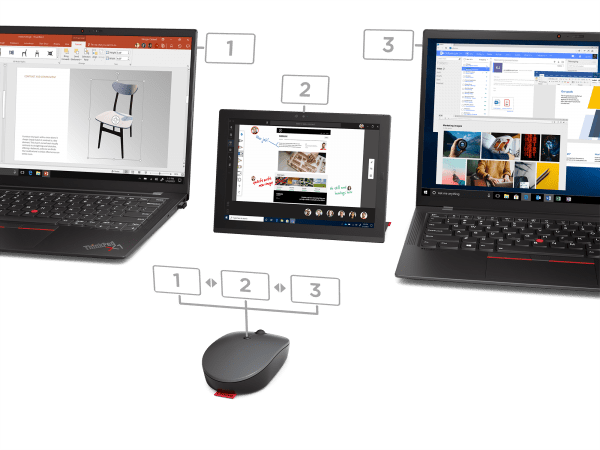 "Research shows that 20 percent of small business employees surveyed lack the tech tools to successfully work remotely.2 We know from further insights that having the right technology is critical to improving knowledge workers' productivity and collaboration with data security and privacy, especially in today's remote and hybrid work environment," said Eric Yu, senior vice president of Lenovo's global SMB, Visuals and Accessories, Intelligent Devices Group. "These user insights are what inspired our vision for the new Lenovo Go line of accessories – to empower the employee experience through smarter accessories that enable people to thrive in a work-from-anywhere world."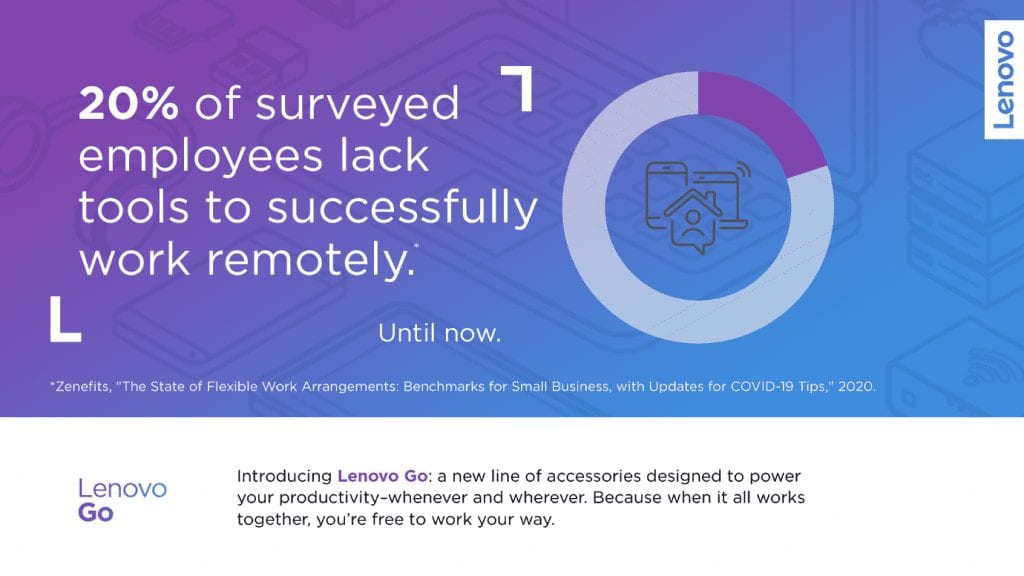 Click the following links for images and full specs and click Lenovo Go for more information on learning solutions.
U.S. Pricing and Availability3:
| | | |
| --- | --- | --- |
| | Available starting | Price from |
| Lenovo Go USB-C Laptop Power Bank (20,000 mAh) | June 2021 | $89.99 |
| Lenovo Go Wireless Multi-Device Mouse | June 2021 | $59.99 |
 About Lenovo
Lenovo (HKSE: 992) (ADR: LNVGY) is a $50 billion Fortune Global 500 company, with 63,000 employees and operating in 180 markets around the world. Focused on a bold vision to deliver smarter technology for all, we are developing world-changing technologies that create a more inclusive, trustworthy and sustainable digital society. By designing, engineering and building the world's most complete portfolio of smart devices and infrastructure, we are also leading an Intelligent Transformation – to create better experiences and opportunities for millions of customers around the world. To find out more, visit https://www.lenovo.com, follow us on LinkedIn, Facebook, Twitter, YouTube, Instagram, Weibo and read about the latest news via our StoryHub.
1 Actual battery charging performance will vary and depend on numerous factors including product configuration and usage, software, operating conditions, wireless functionality, power management settings, screen brightness and other factors. The maximum capacity of the power bank will naturally decrease with time and usage.
2 Based on Zenefits, "The State of Flexible Work Arrangements: Benchmarks for Small Business, with Updates for COVID-19 Tips," 2020
3 Prices may not include tax and do not include shipping or options and are subject to change without notice; additional terms and conditions apply. Reseller prices may vary. On-shelf dates and color options may vary by geography and products may only be available in selected markets. All offers subject to availability. Lenovo reserves the right to alter product offerings, features and specifications at any time without notice.