Y and Z Series Laptops and C560 AIO Built for Consumers' Lifestyle
Y Series offers extreme performance with eye-popping graphics and brilliant display
Z Series laptops fuse mobility and entertainment with fun color choices
C560 AIO a great all round, compact performer for the entire family
Introduces trio of monitors with new 4k monitor for mind-blowing visuals
LAS VEGAS – January 6, 2014: Lenovo(HKSE: 992) (ADR: LNVGY) today announced three new additions to its consumer line of laptops and desktopsthat elevate the computing experience. The new clamshell Y40, Y50, Z40 and Z50 laptops and the C560 all-in-one (AIO) desktop provide advanced performance and entertainment features in portable and space-saving designs. The Y Series laptops give users the technologies needed to enjoy a full multimedia experience with the latest graphics options and rich audio while the Z Series offers a selection of color choices, VeriFace facial recognition and motion/voice control. The C560 AIO provides families a large screen multitouch home PC that doubles down on work and play. The Lenovo LI2821 Wide monitor overwhelms the visual senses with its mind-blowing 4k resolution display, complemented by the two new consumer-friendly monitors: The Lenovo LI2223s and LI2323s.
Y Series Built for Performance, Z Series Optimizes Multimedia Entertainment
The new 14-in Y40 and 15.6-in Y50 laptops offer a powerful mobile Windows 8.1 PC experience. Encased in a black shell the laptops offer a selection of technologies including an optional backlit keyboard on the Y50. The Y50 also offers choices of an up to Ultra HD 3840×2160 display or Full HD 1920×1080 display with optional touch while the Y40 features a Full HD display.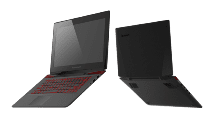 The laptops showcase graphics at their best – optional AMD Radeon™ on the Y40 and NVIDIA® GeForce® on the Y50.  Powered by an up to 4th generation Intel® Core™ i7 processor, Windows 8.1 and HDD or SSD drive, users can easily multitask among activities such as watching videos, opening apps, posting to social media and browsing photos. Movies and videos sound rich and resonant with the Y40 and Y50's pairing of JBL® speakers and Dolby® Home Theater® v4.
Besides offering a lightweight design, the 14-in Z40 and 15.6-in Z50 laptops raise the bar for mobile productivity. These highly portable laptops are equipped for the performance to enjoy the latest in entertainment with an optional Full HD 1920×1080 screen, up to 4th generation Intel® Core™ i7 processor, optional NVIDIA® GeForce® graphics, Windows 8.1 and Dolby Home Theatre v4. They also come with large storage up to 1 TB either HDD or hybrid SSHD. The Z40 and Z50 laptops are available in choices of black, silver or white.
Users can play movies wirelessly on each laptop's from their TV using the WiDi technology1 or by using the HDMI-out connection to transmit high definition content via a cable. The laptops also feature the latest and fastest WiFi standard, 802.11ac and high definition webcams. They come equipped with features that make the computing experience fun, easy and responsive: Lenovo's VeriFace Pro facial recognition lets users quickly log-in with their face. Motion control allows for scrolling through photos and video with just a wave of the hand, and voice control uses a few simple voice commands to move through multimedia.
Lenovo C560 AIO Touchscreen for the Family
The affordable C560 AIO makes an ideal all round Windows 8.1 AIO for the family. Its 23-in full HD 1920×1080 optional multitouch display makes work or personal content come to life. This AIO gives users uncompromising performance: up to 4th generation Intel® Core i7™ processor and NVIDIA® GeForce® graphics make content snappy and responsive. Audiophile and movie buffs will enjoy its Dolby® Advanced Audio™ and convenient DVD burner for listening to music and watching movies along with up to 2 TB HD for plenty of storage for those files. The C560 AIO offers WiFi and an optional TV tuner for using it around the house as a large screen tablet or TV. It also comes with HDMI out support to connect via cable and stream high definition content to a TV or bigger screen. The C560 AIO also makes it easy for users to upgrade the memory and hard drive since it requires no tools to do so. It comes in choices of white or jet black.
Lenovo Monitor Showcases 4K Resolution
The new 28-in Lenovo LI2821 Wide monitor offers a sensory experience like no other with its UHD 3840×2160 screen that displays content in 4k resolution. The monitor caters to consumers who want to experience the highest resolution content available. The LI2821 Wide offers DisplayPort and choices of HDMI, MHL and VGA, has JBL® speakers for rich audio, a 1080p webcam, super fast response time and a 10 million to 1 dynamic contrast ratio. The monitor also offers up to four split screens for picture-in- picture viewing. Designed for a great VOIP experience, it includes a webcam with privacy cover, a dual array noise cancellation mic for clear video and audio, one button call answering via Skype or Lync and easy to adjust volume and mute buttons.
Meanwhile, the borderless 21.5-in Lenovo LI2223s and 23-in LI2323s IPS FHD monitors offer consumers a sleek design with their steady aluminum stands and convenient features like an easy-remove stand for VESA mount applications.
For all the new products, Lenovo offers a portfolio of integrated services solutions including warranty extensions, warranty upgrades, premium technical support and also accident damage protection for the laptops.
Pricing and Availability2
Models of the Lenovo Y40 and Y50 laptops start at $999 and will be available beginning in May 2014 via major retailers and www.lenovo.com.
Models of the Lenovo Z40 and Z50 laptops start at $599 and will be available beginning in March 2014 via major retailers and www.lenovo.com.
Models of the touchscreen C560 AIO start at $659 and are available beginning in February via major retailers and www.lenovo.com.
The Lenovo LI2223s, LI2323s and LI2821 wide monitors start at $179.99, $219.99 and $799, respectively and will be available beginning in June via major retailers and www.lenovo.com.
For the latest Lenovo news, subscribe to Lenovo RSS feedsor follow Lenovo on Twitterand Facebook. The press kit is available at: https://news.lenovo.com/CES2014.
About Lenovo
Lenovo (HKSE: 992) (ADR: LNVGY) is a US$34 billion personal technology company – the largest PC maker worldwide and an emerging PC Plus leader – serving customers in more than 160 countries. Dedicated to exceptionally engineered PCs and mobile internet devices, Lenovo's business is built on product innovation, a highly-efficient global supply chain and strong strategic execution.  Formed by Lenovo Group's acquisition of the former IBM Personal Computing Division, the Company develops, manufactures and markets reliable, high-quality, secure and easy-to-use technology products and services. Its product lines include legendary Think-branded commercial PCs and Idea-branded consumer PCs, as well as servers, workstations, and a family of mobile internet devices, including tablets and smart phones. Lenovo, a global Fortune 500 company, has major research centers in Yamato, Japan; Beijing, Shanghai and Shenzhen, China; and Raleigh, North Carolina.  For more information see www.lenovo.com.
1Requires dedicated WiDi transmitter box, purchased separately.
2Prices do not include tax or shipping and are subject to change without notice. Reseller prices may vary. Price does not include all advertised features. All offers subject to availability. Lenovo reserves the right to alter product offerings and specifications at any time without notice.