Multimode Lenovo YOGA 900 convertible laptop and YOGA Home 900 portable All-in-One push the boundaries of adaptable portability
Lenovo YOGA 900 marks world's thinnest Intel® Core™ i convertible laptop1 and features an enhanced watchband hinge
Lenovo YOGA Home 900 portable All-in-One desktop brings entertainment and productivity to nearly every corner of the home with improved AURA 3.0 interface and hundreds of new apps
San Francisco, October 19, 2015 – Lenovo (HKSE: 992) (ADR: LNVGY) today announced the Lenovo YOGA 900 and the YOGA Home 900, two new Windows 10 PCs for mobile work and play. Four years ago, Lenovo started to change the way people could use a PC by blending innovative design and functionality to create the world's first convertible laptop with the original YOGA. Today, the new YOGA 900 is the world's thinnest Intel Core i convertible laptop,1 balancing performance and mobility with the YOGA's signature watchband hinge. The YOGA 900 convertible laptop is thin, light and more powerful than ever, while the YOGA Home 900 portable All-in-One desktop gets even more versatile with hundreds of new education, entertainment and productivity apps and an improved AURA 3.0 interface. With a 27-inch touchscreen, integrated battery and thin and light design, the YOGA Home 900 takes the performance and functionality of a desktop and reinvents it as a mobile device that can be shared and used throughout the home.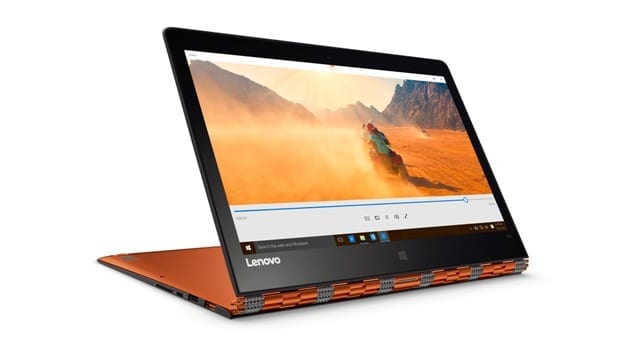 Lenovo YOGA 900 Convertible Laptop
As the world's thinnest Intel Core i convertible laptop1 with up to Intel's latest 6th gen Core i7 processor, the new Lenovo YOGA 900 is beautifully slim and feather light (14.9 mm and 1.29 kg), yet amazingly powerful. The YOGA 900 provides flexibility with four usage modes (laptop, stand, tent, tablet), letting users work, watch or play in a variety of scenarios. Lenovo crafted the laptop with its recognizably different watchband hinge made of more than 800 intricately woven, individual pieces. The improved watchband hinge provides a noticeably smoother rotation – allowing users to flip and fold their YOGA 900 easily into different modes. The convertible laptop also takes full use of Windows 10 Continuum, allowing users to seamlessly move between laptop and tablet modes on their YOGA 900. It has 50 percent greater battery density (compared to the previous generation), allowing it to achieve up to nine hours2 of local video playback. From working through a long-haul flight in laptop mode to enjoying a movie marathon in stand mode to reading while commuting in tablet mode, the super-light YOGA 900 can flex into nearly any position to fit into users' lives.
The 13.3-inch QHD+ (3200×1800) IPS Display has a wide viewing angle that takes full advantage of the new Windows 10 and brings digital content to life in vibrant colors. Entertainment experiences become more immersive with the device's JBL® stereo speakers and Dolby Audio® Premium for powerful sound that's crisp and clear. Users can escape into a home-theater quality experience virtually anywhere—with audio that dynamically adjusts to deliver a virtual surround sound experience over the YOGA 900's speakers and through headphones. The new YOGA 900 is designed with a Samsung3 Solid State Drive and greater memory capacity (offering up to 16 GB) for higher reliability and a faster experience with minimal noise. Remarkably, even with its razor-thin design, Lenovo improved the cooling system by 30 percent. Thanks to its distinct thermal solution and uniquely designed vent structure, it not only cools better but also stays quieter and cleaner.
Lenovo YOGA Home 900 Portable All-in-One Desktop 
Providing the full desktop computing experience – and more – the new Lenovo YOGA Home 900 challenges the notion of a typical desktop PC. Designed for portability, it breaks away from the constraints of cords and desks, reaching nearly any corner of the home. With up to an Intel 5th Gen Core i7 processor, optional NVIDIA® GeForce® 940A graphics, Windows 10 and up to three hours4 of battery life, the YOGA Home 900 delivers desktop-level performance and productivity anywhere, while providing a new degree of immersive entertainment.
The improved AURA 3.0 interface comes with enhanced photo facial recognition and editing features. Users can lay the YOGA Home 900 flat and launch AURA 3.0 to easily access photos, videos and hundreds of new entertainment, productivity and education apps through the new AURA Store, now linked to the Windows Store. A curated set of apps from the Windows Store work best with the touch capabilities of the YOGA Home 900's large 27-inch screen. The YOGA Home 900 explores new ways to bring modern families and friends closer together, from flipping through a digital photo album, getting artistic with creative painting and photo editing apps, hosting game night playing Air Hockey, to turning a video chat session into a family reunion.
"From introducing the convertible laptop category three years ago with YOGA, we know people love the flexibility and portability of our multimode design," said Dilip Bhatia, vice president, Worldwide Marketing and User Experience, PC & Enterprise Business Group, Lenovo. "The new YOGA 900 and YOGA Home 900 are not your traditional PC. We studied real user needs to make them as thin and light as possible for the portability that they need, while upping the PCs' performance and refining the YOGA's signature watchband hinge for an even smoother rotation to switch between modes."
"Windows 10 was designed to help people do great things, and Lenovo's new YOGA PCs were built to maximize the operating system's incredible features, such as Cortana, a personal assistant that goes with you from device to device, and our fantastic new browser, Microsoft Edge," said Joe Belfiore, corporate vice president, Operating Systems Group, Microsoft Corp. "We worked closely behind the scenes with Lenovo to ensure its new PCs really brought to life the best of Windows 10, and we're excited to see customers' reactions to their new YOGA 900 and YOGA Home 900."
Pricing and Availability
Lenovo YOGA 900: Starts at U.S. $1,199.99, and comes in a variety of colors:  clementine orange, platinum silver and champagne gold.  It will be available on www.lenovo.com starting October.
Lenovo YOGA Home 900: Starts at U.S. $1,549, available starting October on www.lenovo.com.
*Prices do not include tax or shipping or options and are subject to change without notice; additional terms and conditions apply. Reseller prices may vary. On-shelf dates may vary by geography and products or options may only be available in selected markets. All offers subject to availability. Lenovo reserves the right to alter product offerings, features and specifications at any time without notice.
About Lenovo
Lenovo (HKSE: 992) (ADR: LNVGY) is a $46 billion global Fortune 500 company and a leader in providing innovative consumer, commercial, and enterprise technology. Our portfolio of high-quality, secure products and services covers PCs (including the legendary Think and multimode YOGA brands), workstations, servers, storage, smart TVs and a family of mobile products like smartphones (including the Motorola brand), tablets and apps. Join us on LinkedIn, follow us on Facebook or Twitter (@Lenovo) or visit us at www.lenovo.com.
LENOVO and YOGA are trademarks of Lenovo. Intel and Core are trademarks of Intel. NVIDIA and GeForce are trademarks of Nvidia. Microsoft and Windows are trademarks of Microsoft. Dolby Audio is a trademark of Dolby. JBL is a trademark of Harman International. SAMSUNG is a trademark of Samsung. All other trademarks are the property of their respective owners. ©2015, Lenovo Group Limited.
1 Based on a review of the major PC manufacturer websites on October 9, 2015.
2 Requires BIOS to be updated to V32 available October 26, 2015. Testing is based on display brightness set at 200 nits and WiFi off. Battery life (and recharge times) are approximate and will vary based on various factors including system settings, features selected and usage. The maximum capacity of the battery will naturally decrease with time and usage
3 SSD may vary based on geography and availability.
4 Battery life (and recharge times) are approximate and will vary based on various factors including system settings, features selected and usage. The maximum capacity of the battery will naturally decrease with time and usage.