By Brian Leonard, Vice President of Design, Lenovo Intelligent Devices Group's PCs and Smart Devices Business
What can you do when you start with a clean sheet of paper?
Our design team embraced this opportunity when we embarked on the journey to create the new Lenovo Yoga C930.
Six years ago, Lenovo invented the 360-degree 2-in-1 convertible form factor to enable multiple usage modes (laptop, tent, tablet and stand) for greater flexibility. Since then, the convertible form factor has inspired many adaptations in the industry, but none that have expanded innovation beyond the hinge design to bring greater value to users. Our goal was to place in the hands of our customers a beautiful device that served as both a really great laptop and a really great tablet.
"I challenged the team to bring more value and purpose to the product and separate ourselves from the existing 'sea of sameness."

A broken laptop or beautiful convertible?
If we think about convertible cars for a moment, they look beautiful with the top down – putting the top up is only for necessity – and it looks that way.
If we relate this to a 2-in-1 convertible device, they look like great laptops, but in tablet mode they often look like broken notebooks. Our challenge was to consider both modes equally and balance the design in form and function.  The Yoga C930 was designed to look great in both modes, top up and top down.
Designing for people
Our guiding light was the end user, with whom we spent countless hours observing, interviewing, and brainstorming how and why people use their existing convertibles. First, we had to understand users' needs, pain points and desires.
We determined that end users were buying convertibles because of the novelty of the function, but the primary usage was still as a traditional laptop. How could we bring more value to the multi-mode capability and be the driving reason people would choose the Yoga over any other device?
"As designers, we are inquisitive and question everything. Nothing is sacred, especially when we have a clean sheet of paper."
We focused on maximizing the experience in every usage mode, whether someone was streaming a movie, listening to music, creating content, browsing or communicating. We carefully considered each feature and technology but curated only what had the most potential to elevate expectations and drive desire.

Natural user input
Voice is the simplest and most natural input that scales across every mode. The Yoga C930 has built in far-range mics to enable Cortana and Alexa to recognize voice commands from up to four meters away.1 For physical inputs, we always deliver a great keyboard and touchpad experience, but we wanted to focus on elevating interaction in tablet mode as well.
Through user research and feedback, it became clear that to bring more value to the multi-touch experience – we had to consider pen usage. The natural user interaction of the pen enables a higher level of precision and accuracy necessary for things like photo editing, sketching or taking quick notes. For more convenient pen usage, we integrated a Garaged Pen with charging capability directly into the Yoga C930's chassis.
"An often-overlooked element of this experience is actually having the pen when you need it, instead of having to go find or even remembering to bring it."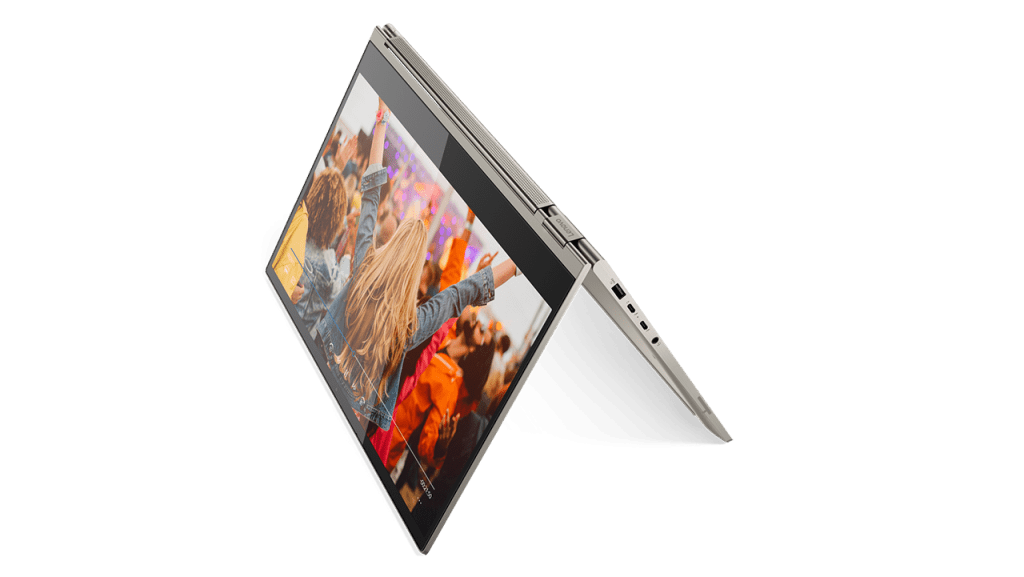 The heart of the Yoga C930
The focal point in every mode is the display. To deliver the user's content with brilliance and clarity, the Yoga C930 has up to a 4K wide-angle 13.9-inch display with Dolby Vision. We identified an inherent relationship between the display and the hinge orientation, that both were always user facing. This seemed like the perfect opportunity to marry sight and sound. We chose to elevate the audio experience by using the hinge as a dynamic audio device that is directed towards the user. It's at the heart of this new design, creating an immersive experience that's tuned to perform in every mode.
There were many challenges and necessary innovations from a mechanical, audio and manufacturing perspective that had to be balanced within the overall aesthetic and desired form factor. The solution was an extruded aluminum hinge bar with laser drilled holes placed delicately across the polished surfaces. The Rotating Sound Bar experience was carefully crafted in close collaboration with the team at Dolby to incorporate custom designed tweeters to maximize the sound quality.They are balanced with woofers in the base which utilize surface reflections to help provide a wider sound stage and complete the Dolby Atmos Speaker System. The onboard software optimizes the tuning as the user changes the Yoga C930's orientations to ensure a superior audio experience in every usage mode.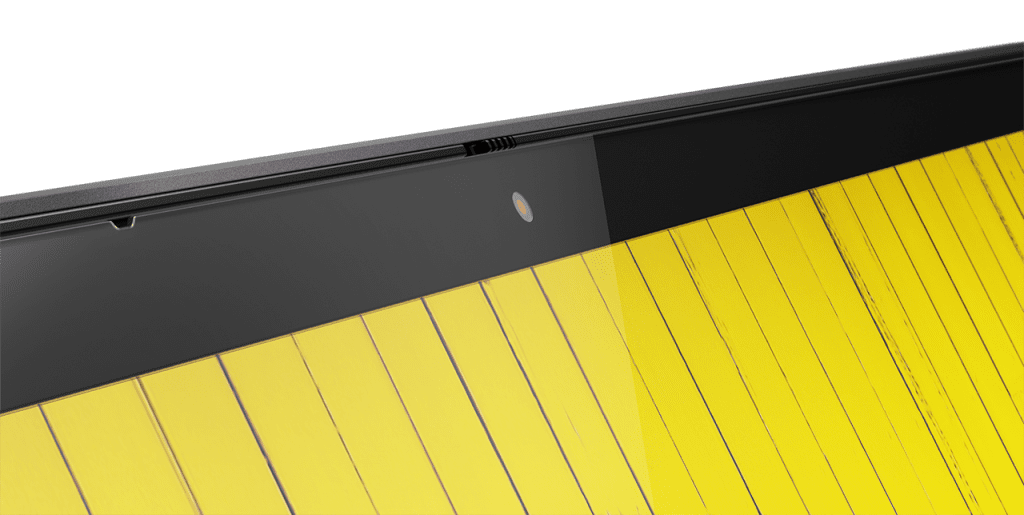 Privacy and peace of mind
During our hunt for a deeper understanding, personal privacy was another user pain point that continually came up. We observed people putting tape or stickers over the camera in their laptop every day.
So, we incorporated a physical lens cover that you manually slide to block the camera – called the TrueBlock Privacy Shutter. It's a small piece of plastic with the potential to make a big impact, bringing users extra comfort and peace of mind.
Purposeful Beauty
Throughout the design process we focused heavily on valuable experience and purposeful beauty. We didn't want the cosmetics, colors or materials to overpower what was truly important. The tonal color composition was chosen to be quiet yet powerful. The authentic nature of how the aluminum is crafted is revealed in the finishing as well as the form. The combination of bead blasted surfaces with areas of soft polish create a subtle sophisticated voice of the product.
"If we're only talking about how it looks, we're talking about the wrong thing."
From the beginning, we felt that we could do something that had a greater meaning to people. Throughout the journey, we listened to and built relationships with real users, all of whom inspired us to jump the hurdles and persevere through the challenges. I am delighted by the team's dedication to not only create a device embodying refined craftsmanship and innovation but to truly bring more value and purpose to the Yoga C930.
Announced at IFA in Berlin, the Yoga C930 starts at €1499 (VAT included) and is expected to be available starting September on www.lenovo.com and select retailers.2
1 Cortana and Alexa are expected to be available on the Yoga C930 (with far-field voice recognition technology supporting up to 4 meters away on Cortana, and 2.74 meters on Alexa). Users will need to download and install Alexa; the latest system updates on Lenovo Vantage and Windows 10 April 2018 update (Version 1803 or higher) will also be required to access Alexa.
Alexa is expected to be available on Yoga S730 later this year, and same conditions will be necessary to enable Alexa. Alexa is expected to eventually be pre-loaded on both Yoga C930 and Yoga S730. For both devices, Alexa will be enabled in the US; and in the UK and Germany later this year.
2 Prices may not include tax and do not include shipping or options and are subject to change without notice; additional terms and conditions apply. Reseller prices may vary. On-shelf dates and color options may vary by geography and products may only be available in selected markets. All offers subject to availability. Lenovo reserves the right to alter product offerings, features and specifications at any time without notice.