By Rob Herman
Workstations are designed to conquer. Packed with high-end performance and ready to tackle the most complex problems you can throw at them. They have to be designed for peak performance, but also constant use. Basically, they must work, every time, all of the time, period. To do that, Lenovo consistently provides design innovation in our workstation portfolio – from our robust thermal cooling to tool-less chassis design and accessibility.
However, as the needs of our customers continue to evolve, our products must also advance to support our customers' most complex projects. That's why we are announcing an update to our ThinkStation P920 and P720 systems – introducing components that enhance your performance. This ensures our powerful, reliable desktop workstations are equipped with the most up-to-date hardware and high-end components to meet the challenging requirements of your unique workflows.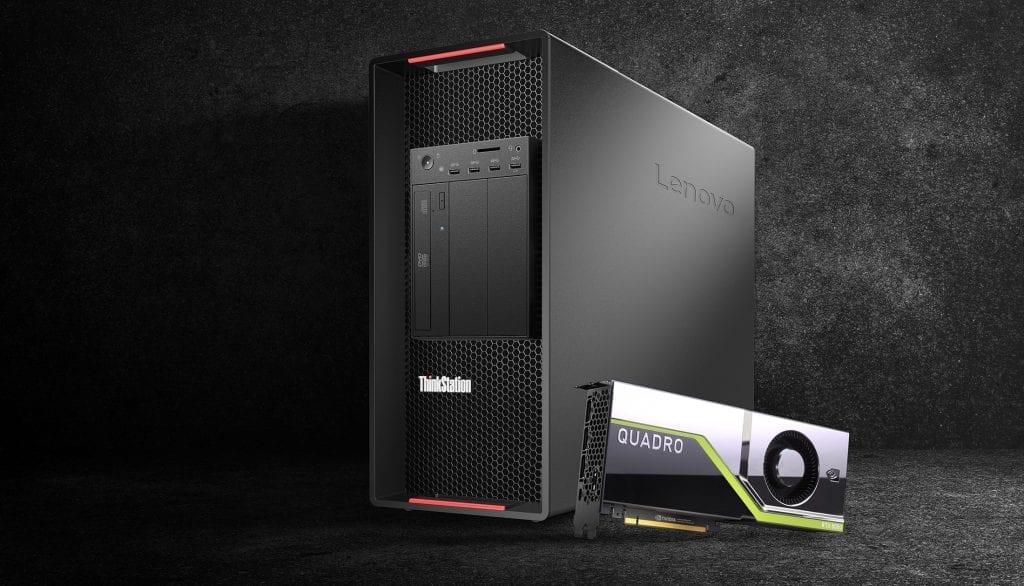 What's New?
Powered by the new 2nd Gen Intel® Xeon® Scalable Processors, the ThinkStation P920 and P720 offer unmatched levels of processing power. Designed for heavily-threaded, I/O-intensive workloads across a number of industries, Intel's new Xeon CPUs are optimized for purpose-built platforms for the most demanding workstation professionals – with up to 28 cores and increased frequency of up to 4.4. GHz.
We're also adding support for the NVIDIA® Quadro RTX™ 8000 GPUs. Powered by the NVIDIA Turing™ architecture and the NVIDIA RTX platform to deliver the world's most powerful graphics card solution for professional workflows. With NVIDIA Quadro RTX 8000 powering our latest workstations, industry professionals can now wield the power of hardware-accelerated ray tracing and AI to boost productivity and develop content at unparalleled speeds —not only saving time, but also saving money. Also, using NVLink, two RTX 8000s can be connected to provide up to 96GB of total graphics memory; scaling for the largest rendering, visualization, compute, and AI workloads.
The Challenge
However, delivering the next generation of ThinkStation is not as simple as swapping in a new graphics card or popping in a new processor. Incorporating these components comes with new challenges; especially with regard to power and thermal requirements.  For example, without the right design expertise, the heat could reach precarious levels that could compromise the reliability and performance and potentially shorten the life of the workstation. Afterall, what's the point of having all this power and high-performing technology if you can't take advantage of it, dependably?
Our Approach
First and foremost, it starts with dedication to the details; considering every component, every interaction, every experience and how our professional audience will demand our hardware to perform. Our architecture and engineering teams understand the relationship between the components and the machine; ensuring every ounce of performance and reliability is optimized for the customer.
It starts with a deep-dive of the power and thermal specifications of the new components and technologies — and how best to integrate them into our systems. Next, we conduct theoretical power calculations and thermal simulations to determine the impact of the higher-power consumption and the rate of heat dissipation. Once complete, and prototype hardware begins to arrive, we validate in our labs and verify our initial calculations and simulations.
At this point, the real testing can begin. Everything from application stress-testing to validate power consumption and component performance, to cycle testing to simulate years of system powering up or powering down, to thermal chamber testing to subject the systems to temperature extremes, and more.   Lenovo engineers and partners run our systems through hundreds of hours of validation testing to ensure these components can meet the standard our customers have come to expect.
The Results
According to TBR's latest PC Reliability Study, 88 percent of Lenovo customers report satisfaction with our current products, and 91 percent say they are likely to buy again based on quality and reliability – an industry-leading response. To put it simply, we know our customers cannot afford to invest in a system that will fail. In fact, they have more important things to do, more challenging problems to solve, more barriers to break down, more cool solutions to create.
We don't take shortcuts; we do things the right way. By the time the systems are handed off to our manufacturing teams to begin production, our engineers have validated and ensured we meet reliability standards we have set for our portfolio of products, resulting in the most reliable workstations available.
Today's launch of the ThinkStation P920 and P720 is no exception. With these powerful new systems, we continue to meet and ultimately exceed the expectations our customers have for reliable workstations. The ThinkStation P920 and P720 will be available in May. To learn more, visit www.lenovo.com/thinkstations.