By: Rob Herman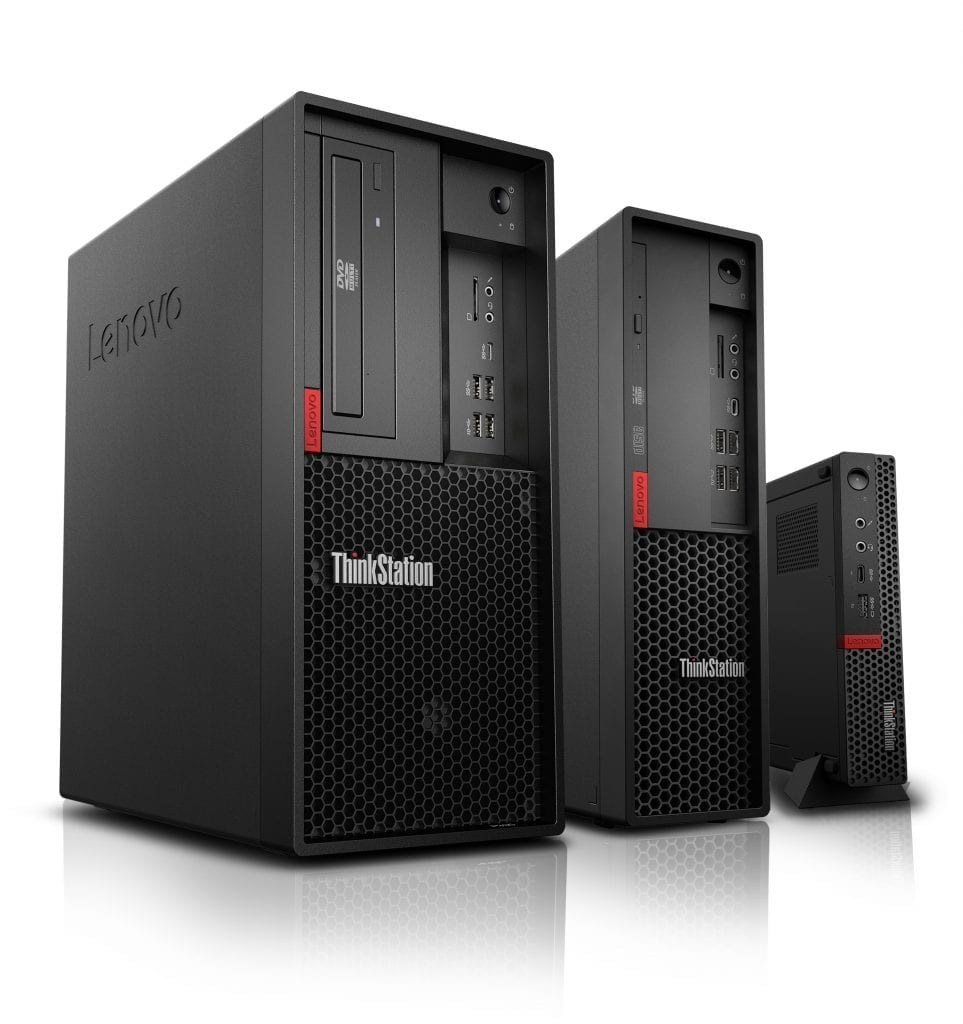 At Lenovo, we understand that mission-critical tasks require superior reliability and performance. Today, we are launching a new family of entry-level workstations that lead on both counts – the Lenovo ThinkStation P330 Tower, Small Form Factor (SFF) and Tiny.
Redesigned for optimal performance, right for your environment, this family of workstations is ready to take on your biggest tasks. As workstations continue to drop in size, the ThinkStation P330 Tower, SFF and Tiny are proving smaller is better than ever.
The ThinkStation P330 Tower and SFF's new mechanical design include a decrease in size of up to 30 percent, while the ThinkStation P330 Tiny continues to offer outstanding performance in the world's smallest chassis at only 1L. With the Tiny, designers, engineers and other pro-users benefit from a host of accessories and mounting options – allowing them to fit the system anywhere from behind a monitor to under a desk for even the most space-conscious users.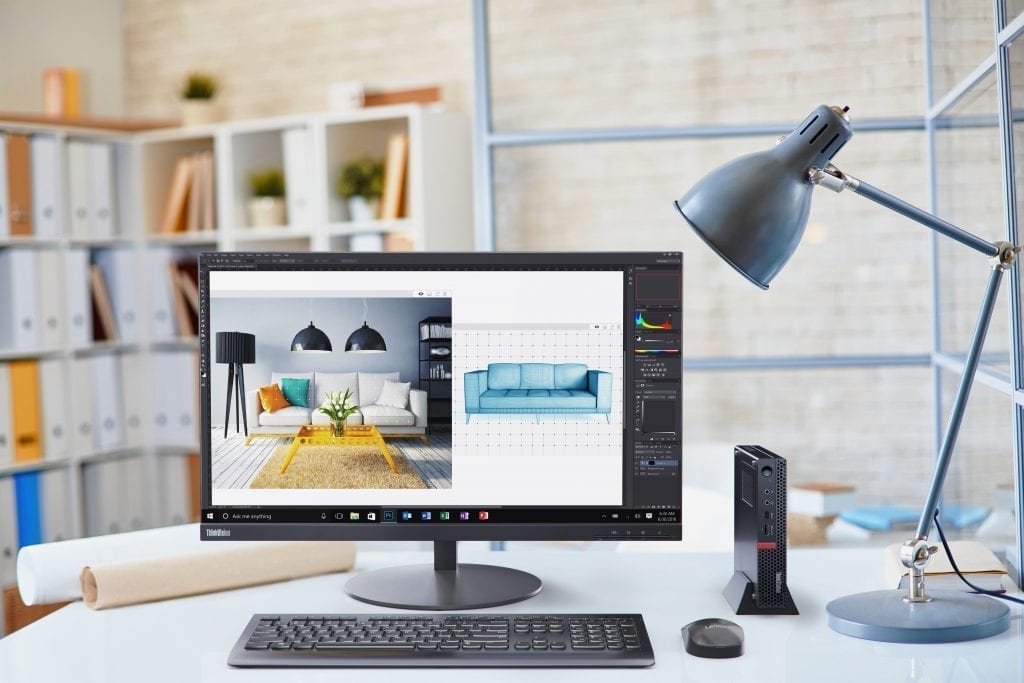 The addition of the newly announced Intel® Xeon® E processor and recently introduced 8th Generation  Intel® Core™ processors make the deal even sweeter with up to 44 percent increase in performance1, support for up to six cores per CPU and mind-blowing clock speed of up to 4.7 GHz. With the power of these new processors, workstation users can enjoy breakthrough performance for modeling, numerical computation and content creation done in real-time. Not to mention the benefits of Intel® Optane™ memory – providing users with a faster, smoother and more responsive PC experience.
"The new Intel® Xeon® E processor delivers a powerful combination of performance and capabilities for entry workstations," said Jennifer Huffstetler, Vice President and General Manager of Datacenter Product Marketing, Intel Corporation. "With the addition of the Intel Xeon E processor to the Lenovo ThinkStation P330 family of professional workstation solutions, Lenovo continues to deliver the performance, capabilities and diverse requirements demanded by creative professionals around the world."

The ThinkStation P330 Tower and SFF also come equipped with the latest and fastest NVIDIA Quadro GPUs – allowing our users to get the performance that fits their project and their budgets. This includes entry-level methods of creating and consuming virtual reality on the P330 Tower with the NVIDIA Quadro P4000 GPU. The ThinkStation P330 Tower and SFF workstations also offer up to 64GB DDR4 memory and multiple storage bays supporting cutting-edge storage technology – including M.2 NVMe directly on the motherboard along with Flex module support for easy customization. The Tiny also continues to pack a punch with up to 2TB of M.2 NVMe SSD storage and the NVIDIA Quadro P620 GPU – supporting the use of up to six independent displays.
This powerful family of solutions offers the complete package of right-size and scalable options across a spectrum of industries – from engineering and architecture to finance and medical – and is perfectly tailored for professional use and reliability.
For engineers, architects and designers in need of raw processing power to run their CAD applications, the ThinkStation P330 Tower is up to the task. The workstation's high speed processor, powerful graphics enabling access to low-cost VR, flexible storage and memory make it ideal for the small- and medium-sized firms in need of a CAD workhorse that can handle their most complex applications.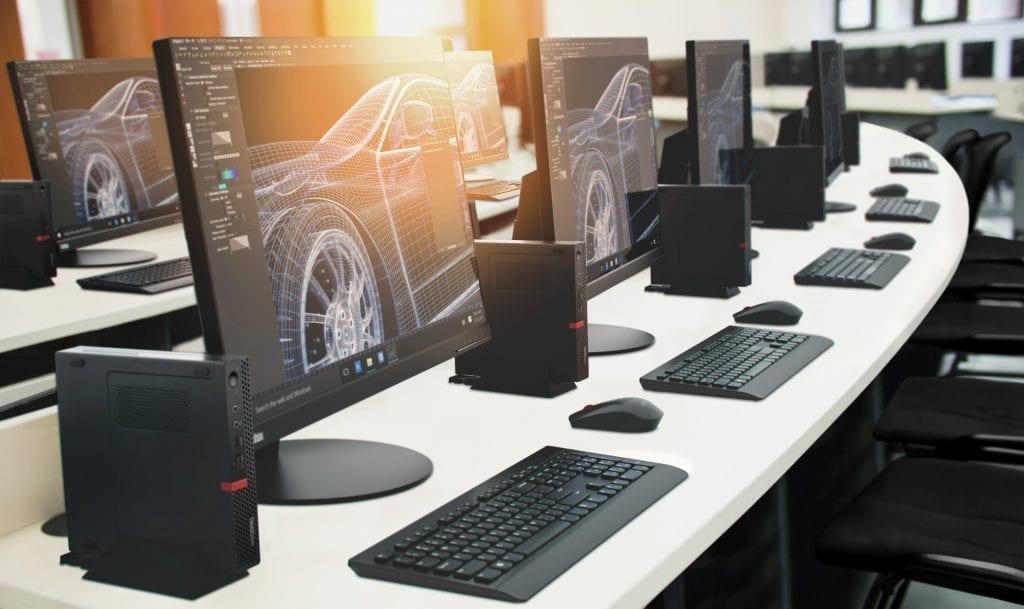 The ThinkStation P330 SFF is the perfect option for customers in search of more expandability than what's offered with the Tiny. Perfect for tight spots, small offices and driving CAM solutions, the P330 SFF is the high-performing engineering workstation that offers advanced power and productivity at entry level value. Surprisingly small and nimble, the small form factor is also well suited to compact work environments – making it ideal for users in the medical industry to power doctor review stations and other medical cart solutions.
Don't let size fool you – the ThinkStation P330 Tiny is the right solution for a range of uses including the fast and emerging area of intelligent edge solutions. Engineered to go where others can't, it is the board room solution for architecture and engineering firms searching for a small, packed-with-power workstation. With the power to run numerous ISV-certified CAD applications – from Revit to SOLIDWORKS to AutoCAD, it is also an ideal solution for CAD in STEM training and education. Those in financial trading can rely on the ThinkStation P330 Tiny to operate up to six independent displays – ensuring work is completed quickly and efficiently even within a small space.
Of course, these are just a few examples of how these workstations can support your needs. Regardless of your space constraints or industry, this trio of workstations are versatile, flexible and deliver breakthrough performance at whatever size is best suited for your needs and your environment.
The ThinkStation P330 Tower, SFF and Tiny will be available in August. To learn more about this family of solutions, click here.
Intel, the Intel logo, Optane, Core and Xeon are trademarks of Intel Corporation or its subsidiaries in the U.S. and/or other countries.
1. Based on SPECcpu 2017 Integer Rate Base scores from gen-to-gen; using the Intel Xeon E-2186G and the Intel Xeon E3-1280v6 processors.