Also announcing powerhouse ThinkBook™ 16p Gen 4 and innovative Lenovo Magic Bay accessories
Unveiling new ThinkBook 13x Gen 2 Wireless Dock and ThinkCentre™ neo 50q Tiny form factor desktop
January 5, 2023 – Lenovo today announced at CES® 2023 an innovative new model in the ThinkBook Plus series that reimagines Lenovo's strong heritage of the twistable form factor with a dual rotating display that features an OLED panel on one side and a colorful e-Ink screen on the other. Lenovo also unveiled our latest ThinkBook 16p Gen 4 laptop powered by high performance components including 13th Gen Intel® Core™ processors and up to NVIDIA GeForce® RTX™ 4060 discrete graphics. It features an innovative Lenovo Magic Bay modular accessory design with magnetic pin connector allowing easy expansion for optionally included Lenovo Magic Bay 4K Webcam, Lenovo Magic Bay LTE or Lenovo Magic Bay Light accessories.
Furthermore, Lenovo has also introduced a new unique ThinkBook 13x Gen 2 Wireless Dock combining several wireless technologies to create a virtually cable-free docking and charging solution. Finally, Lenovo unveiled the latest in the portfolio of Tiny form factors. ThinkCentre neo 50q is a 1L space-saving desktop designed specifically for SMB customers.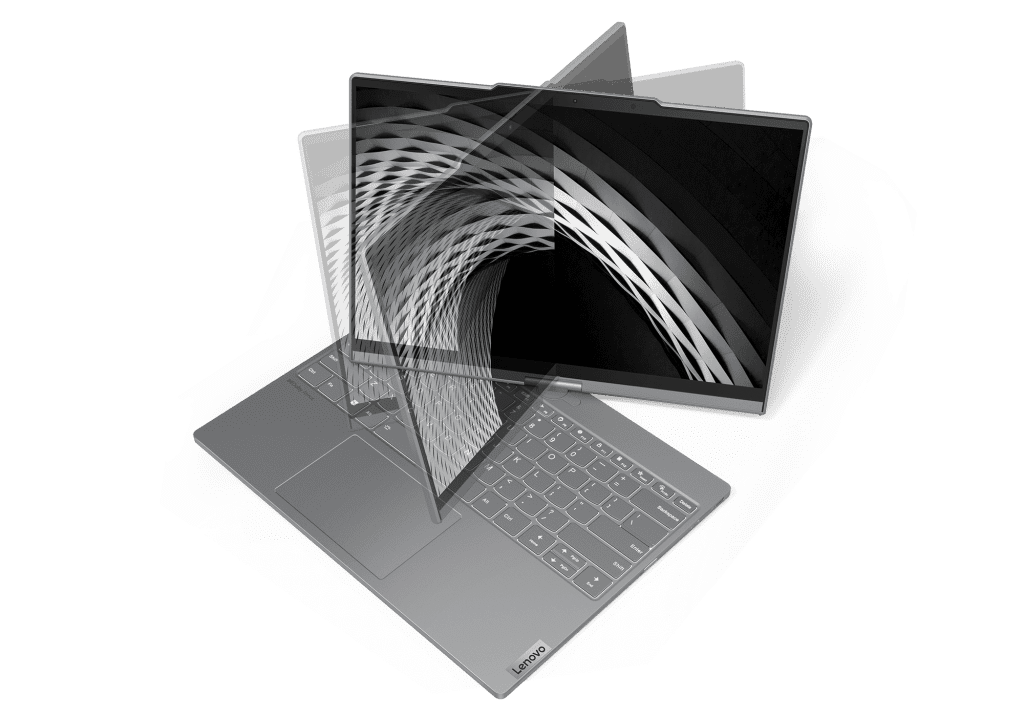 A New Spin on Hybrid Computing
Since its inception in 2020, ThinkBook Plus has become a synonym for unique and innovative SMB devices including ThinkBook Plus Gen 2 with e-Ink display and Gen 3 with a secondary 8-inch display beside the keyboard. Lenovo has a long history of innovation with twist form factors dating back to 2005 with the ThinkPad™ X41 tablet and later the ThinkPad Twist from 2012. The new ThinkBook Plus Twist reinvents the category by integrating an innovative rotating dual display that offers multimode versatility while enhancing the user experience in multiple areas that has created a unique laptop for a new generation.
While maintaining the core attributes of ThinkBook Plus Gen 2, Lenovo's design and engineering teams listened to customer feedback and user insights to implement numerous improvements and innovations for ThinkBook Plus Twist:
Latest 13th Gen Intel Core processors
New narrow-bezel 13.3-inch 2.8K OLED display with touch glass and twist hinge
New front-lit colorful 12-inch e-Ink display on top cover with improved 12Hz refresh rate and touch glass
Intel Wi-Fi 6E1 improves wireless connectivity performance and stability on supported networks
Full size pen support on OLED and e-Ink displays with up to 18 hours battery life
ThinkBook Plus Twist can be highly versatile with multiple modes that can be configured into clamshell format or tablet format, both of which can prioritize either the OLED display or the colorful e-Ink display thanks to the unique twist hinge.
Frequent business travellers will love the e-Ink display in either "typewriter" laptop mode or "e-paper" tablet mode allowing them to easily draft, edit and proofread documents via the keyboard or the pen. The e-Ink display can reduce eye strain from longer periods of use and also uses less power meaning longer stints between charging. For more advanced document or image workflows, users can switch to the OLED tablet mode and interact via the pen on the vivid 400nit 2.8K display.
These highly mobile workers will also relish the versatility as users can glance and interact with calendar appointments and emails on the e-Ink display while on the move. Then easily switch to OLED laptop display mode with a twist and press a key to participate in a high-definition video conference through the FHD camera and great audio, thanks to dual-microphones that offer smart noise cancellation to reduce ambient noise. While in OLED laptop mode users can leverage the full power of 13th Gen Intel Core processors and Windows 11 delivering a high-performance productivity workhorse. At the end of the day, switch to OLED tablet mode to relax with a favorite streaming service or twist to e-Ink tablet mode for a few chapters of the latest bestseller.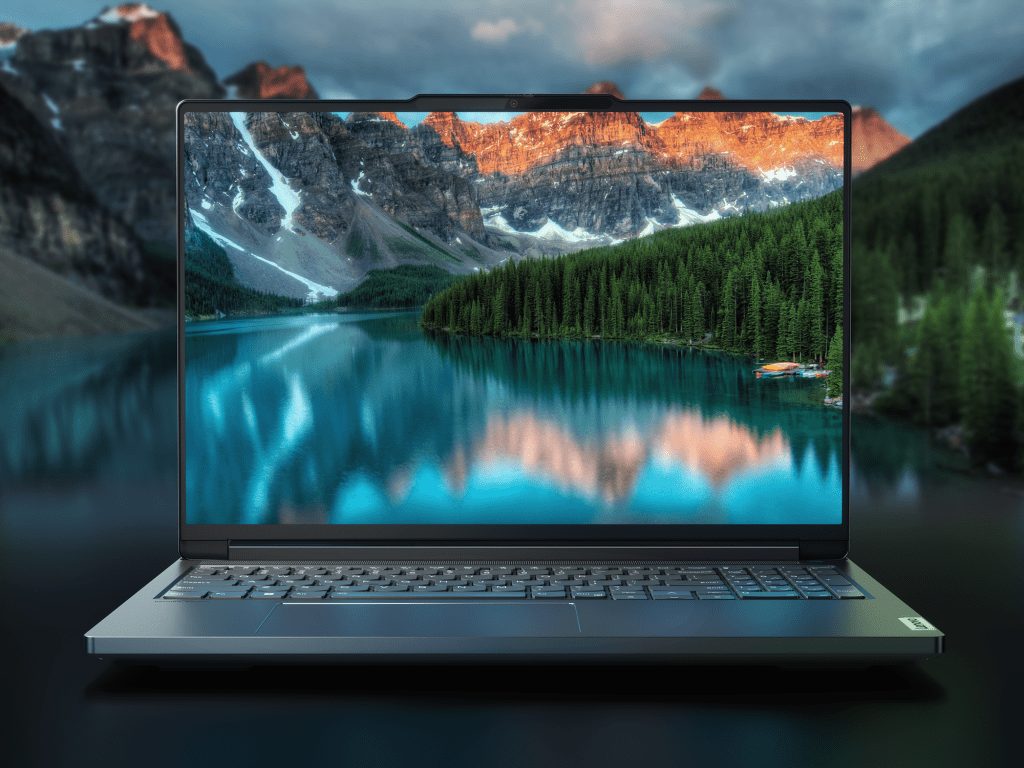 Supercharged ThinkBook with unique Lenovo Magic Bay for Power Users
ThinkBook 16p Gen 4 with optional Lenovo Magic Bay accessories delivers on power and productivity in spades. A quick glance at the technical specifications confirms its performance credentials. The latest 13th gen Intel Core H-series processors with optional discrete graphics up to NVIDIA GeForce® RTX™ 4060, display options up to a 165hz 3.2K 16-inch panel with Dolby Vision® support, DDR5 memory and dual SSD support with up to 2TB of storage2 makes this the most powerful ThinkBook yet, ideal for high intensity workloads, image and video processing, and gaming during those precious downtime moments.
Innovations however go beyond technical specifications. ThinkBook 16p Gen 4 introduces the first redesign of the portfolio's performance models and has been designed with a better end user experience in mind, with more versatility through amazing video conference collaboration and mobility experience, thanks to Lenovo Magic Bay solutions. A higher capacity 80Whr battery with fast charging capability will offer excellent battery longevity and less time spent connected to AC power. A larger glass touchpad is designed for more fluent input, and conferencing needs are met with the FHD camera and four Harman Kardon user-facing speakers that deliver immersive audio whether in a conference call or casual gaming. Dual noise cancelling microphones are engineered for teammates to hear the user's voice above ambient noise at work or play.
A unique feature of this powerhouse is the magnetic pogo pin connector that sits at the top of the display, which is designed to fit modular Lenovo Magic Bay accessories. These accessories, which can be optionally bundled in select configurations of ThinkBook 16p Gen 4, can turn the ThinkBook into a video streaming home studio, or offer the added benefit of 4G LTE3 connectivity for work and play on the move.
With the help of Lenovo View software, the integrated FHD camera can work in conjunction with the detachable Lenovo Magic Bay 4K Webcam and fuse both video streams into one. This offers, amongst other functions, automatic face tracking and whiteboard recognition in which the software can erase anything covering the writing and drawings on the whiteboard, delivering a pure clean picture.
Three new Lenovo Magic Bay accessories are easy to use with their pogo pin connection that offer simple extendibility without the need for extra cables, dongles, or power packs.
Lenovo Magic Bay 4K Webcam is built for video conferencing and high-resolution streaming. It includes auto focus and auto framing with a selectable field of view, auto ambient light adjustment, and a maximum resolution of up to 4K at 30fps. For added security, the camera features an integrated electronic privacy shutter. The 270-degree hinge enables the webcam to rotate through various angles giving users additional flexibility. They can either use the camera in the front-facing mode to capture themselves or swivel to a world-facing mode to demo products or capture other participants or locations.
Lenovo Magic Bay Light is designed to solve one of the most common challenges with video conferencing or streaming. Poor lighting is often the cause of user frustration, either too dark or too light, and ambient light frequently creates unwanted or unflattering shadows. Lenovo Magic Bay Light can deliver up to 200-lux of adjustable brightness with minimal power consumption. Easily connected to the ThinkBook 16p Gen 4, the light will auto power on when the built-in camera is activated meaning professional looking videos are possible virtually anywhere.
In fact, work (or play) from anywhere has become normal. Connectivity, however, often remains a challenge either due to more remote locations or unsecured public Wi-Fi hotspots. Lenovo Magic Bay LTE is designed to address many of those connectivity challenges. Offering 4G LTE3 speeds for greater flexibility on the move, the Lenovo Magic Bay LTE includes an LED indicator for connection status and a USB Type-C port with cable for compatibility with other laptops.
Wireless is the Future of Docking
Furthermore, Lenovo has introduced its first full-feature wireless charging solution for the ThinkBook 13x Gen 2. Announced at CES in 2022, the ThinkBook 13x Gen 2 featured an optional accessory that delivered 65W wireless laptop charging and other mobile devices. For 2023, Lenovo unveiled a new and complete wireless docking solution, the ThinkBook Wireless Dock for ThinkBook 13x Gen 2. Combining several cutting-edge technologies with the goal of transforming the way we dock, the new solution utilizes Wi-Fi 61, Power-by-Contact, and universal wireless charging to solve multi cable frustrations. The ThinkBook Wireless Dock evolves from "plug and play" to a simpler "put and play" experience.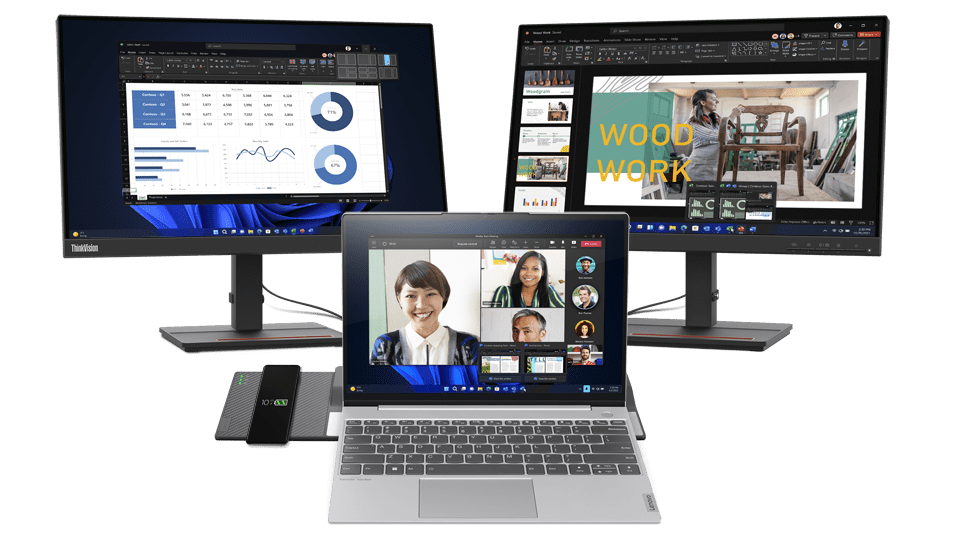 The use of Power-by-Contact to wirelessly charge the laptop is a breakthrough technology that transfers power using conductive electrodes connected to a receiving circuit and to the receiver's battery. Pair that with a wireless charging pad that provides up to 10W for universal wireless charging-supported smart devices and accessories placed on the dock's dedicated wireless bay.
User experience is greatly simplified as they simply put the laptop onto the charging pad and connection information is automatically retrieved from the wireless dock through Wi-Fi. Furthermore, when removing the laptop, the connection automatically ceases after a few seconds, preventing any residual data connection that could potentially be a security risk.
Thanks to the high performance of the Wi-Fi 61, wireless docking also makes it possible for users to enjoy an impressive low-latency dual display experience of up to 4K at 60Hz resolution along with blazing data transfer speeds. The wireless dock includes three USB-A ports, one USB-C port and a Lenovo slim-tip connector to deliver power to a true wireless docking solution.
The Wireless Dock will be exclusively bundled with select 2023 models of ThinkBook 13x Gen 24.
Business-essential productivity made for modern spaces – New Tiny ThinkCentre neo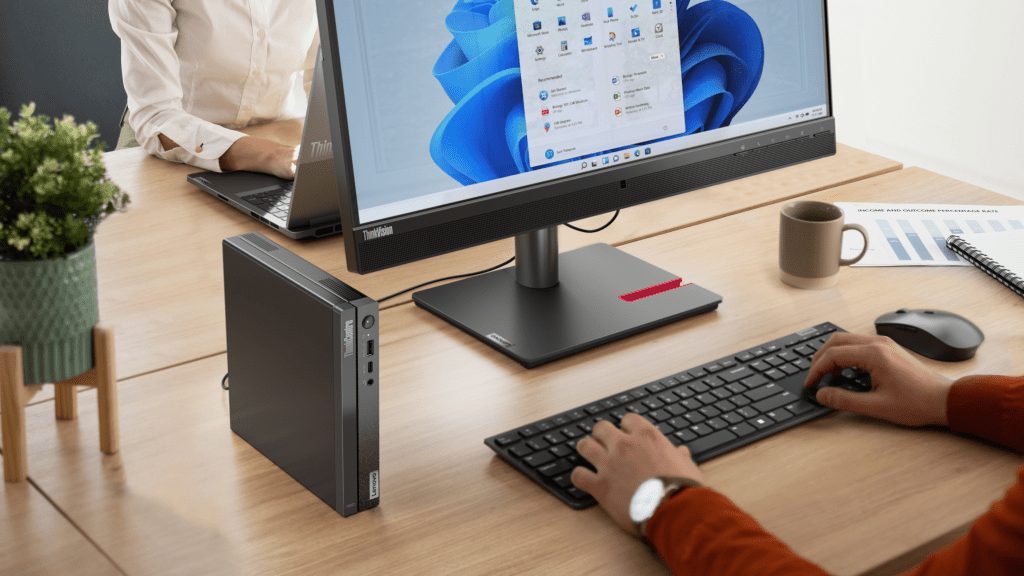 Demonstrating big ideas can come in small packages, the ThinkCentre neo 50q Gen 4 is one of the latest iterations in Lenovo's new ThinkCentre neo desktop PC family that prioritizes key concerns of SMBs and enterprises alike – productivity, collaboration, and sustainability. A modern take on the classic ThinkCentre Tiny desktop, the ThinkCentre neo 50q Gen 4 offers businesses some serious power with the latest 13th Gen Intel Core processors packed in a small, space-saving 1L chassis that features cleverly hidden ventilation built into the front bezel. Providing up to 1 TB of blazing fast SSD storage2 paired with 1TB HDD storage2, and up to 32GB of DDR4 memory, the workday will fly by with faster and smoother app launches and processing. This combined with Wi-Fi 6 connectivity1 with ample port options, including a customizable BTB port, makes staying productive, even across devices, a breeze.
The Lenovo ThinkCentre neo 50q Gen 4 is available with either a Windows 11 or IGEL OS pre-installed. Those with IGEL will be validated as IGEL Ready Advanced level, meaning they are continuously tested and validated by IGEL with the latest versions of the operating system, helping businesses to simplify and secure their deployment of cloud-enabled workspaces while supporting an immersive, productive user experience in today's modern work environments. Additionally, the ThinkCentre neo 50q Gen 4 provides an enhanced level of security through Lenovo ThinkShield that provides an easy and holistic umbrella of protection, offering organizations some peace of mind knowing that their hardware, software, network, and location are more secure. All of this is wrapped up in a modern and stylish, yet eco-conscious, low-halogen form factor that features an energy-efficient mobile processor. Its attractive terrazzo-adorned bezel is also made with 85% post-consumer recycled content (PCC) while the remaining part of the bezel is made with 35% PCC and its packaging is made from ocean-bound (OBD) plastic and paint-free raw materials.
As a way of helping the environment, the Lenovo CO2 Offset Service can be added to these ThinkBook and ThinkCentre devices to offset the carbon emissions produced across the product's average lifecycle. This serves as an easy and transparent way to support one of the United Nations Framework Convention on Climate Change's projects.
Quote
"ThinkBook has rapidly become established as a premium laptop brand with a complete portfolio to address the needs of modern small business users," said Eric Yu, Senior Vice President of Lenovo SMB and Commercial Product Center in the Intelligent Devices Group. "These latest ThinkBook laptops along with the Magic Bay accessories further demonstrate the innovations in technology and user experiences that ThinkBook aims to deliver."
U.S. Pricing and Availability
ThinkBook Plus Twist will start at $1649 is expected to be available starting June 2023.
ThinkBook 16p Gen 4 will start at $1349 is expected to be available starting May 2023.
Lenovo Magic Bay accessories will be available exclusively with ThinkBook 16p Gen 4. Please contact local teams for accurate bundle pricing options.
ThinkBook Wireless Dock for ThinkBook 13x Gen 2 will be available in select markets as a bundle configuration.
ThinkCentre neo 50q Gen 4 with Windows 11 OS will start at $499 and is expected to be available starting Q3 2023. Contact local sales representatives for device pricing with the IGEL OS.
Visit the Lenovo StoryHub CES 2023 press kit for images and full specs, and Lenovo's CES 2023 Virtual Showcase and Event Page for more details.
Key Product Specs
ThinkBook Plus Twist
Performance
Processors
Up to 13th Gen Intel Core Processors
OS
Windows 11
Memory
Up to 16GB LPDDR5X
Storage
Up to 1TB PCIe Gen 4 SSD2
Graphics
Intel Integrated Graphics
Displays
13.3-inch 2.8K OLED with touch glass and pen support, 400nits, 60Hz, 100% DCI-P3, Dolby Vision support 12-inch front-lit Color e-Ink Touch display with pen support
Audio
Lenovo sound with dual speakers and dual-array microphones, Dolby Atmos® support
Camera
FHD RGB camera with shutter
Battery
56Whr
Physical Security
Smart Power-on Fingerprint Reader Camera Shutter
Connectivity
Ports
2 x Intel® Thunderbolt™ 4 USB-C ports
1 x 3.5mm audio jack
Wireless
WLAN Intel Wi-Fi 6E 802.11 AX (2×2)
Bluetooth® 5.1
  ThinkBook 16p Gen 4
Performance
Processors
Up to 13th Gen Intel Core H-series Processors
OS
Windows 11
Memory
Up to 32GB DDR5
Storage
Dual SSD up to 2x 1TB PCIe Gen 4 SSD2
Graphics
Up to NVIDIA GeForce® RTX™ 4060 discrete graphics
Displays
16-inch 3.2K IPS, 400nits, 120Hz, Dolby Vision support 16-inch 2.5K IPS, 400nits, 60Hz, Dolby Vision support TUV EyeSafe
Audio
Four speakers by Harman/Kardon and dual-array microphones, Dolby Atmos support
Camera
FHD IR or FHD RGB camera with shutter, Lenovo Magic Bay support for 4K Camera
Battery
80Whr with fast charge
Security
Chip
Physical
Smart Power-on Fingerprint Reader Camera Shutter
Connectivity
Ports
2 x USB-A
2 x USB-C
1 x HDMI
1 x SD Card Reader
1 x 3.5mm audio jack
Wireless
Up to WLAN Intel Wi-Fi 6E 802.11 AX (2×2)
Bluetooth 5.1
ThinkCentre neo 50q Gen 4
Processors
Up to 13th Gen Intel Core i5 H-series
Operating System 
Windows 11 Pro, Windows 11 Home, or IGEL(contact local Lenovo sales representative for pricing with an IGEL OS)
Memory 
Up to 32GB DDR4, 2x SODIMM (Full PC version)
Up to 16GB DDR4, 2x SODIMM (ThinClient version)
Storage 
Up to 1TB SSD2
Up to 1TB HDD (7200 RBM)2
Graphics
Intel Iris Xe Graphics
PSU
65W / 90W Adaptor (full PC version)
65W Adaptor (ThinClient version)
Form Factor 
1L Tiny
Dimensions
182.9mmx 179mm x 34.5mm
(7.20 x 7.04 x 1.35 in)
Weight
1.1kg (2.45 lbs)
Wireless
Up to Wi-Fi 6
Bluetooth 5.1
Color
Raven Black with Terrazzo Exterior
Ports 
Front:
1 x USB 3.2 Gen 2
1 x Type C USB 3.2 Gen 2
1 x Combo AudioRear:
1 x LAN (RJ45)
2 x USB 3.2 Gen 1
2 x USB 2.0
1 x HDMI 2.1 TMDS
1 x DP1.4b
1 X BTB punch-out port (not available with Celeron SKUs on ThinClient version)
Software
Lenovo Vantage
Lenovo Smart Storage
MS Office (Trial)
McAfee Livesafe (Trial)
Kaspersky
Certification / Registration
ENERGY STAR® Certified
TCO Certified®
TÜV Ultra Low Noise
RoHS
ErP Lot3
GreenGuard / VOC
Low Halogen
EPEAT® – registered where applicable — see www.epeat.net for registration status by market.
About Lenovo
Lenovo (HKSE: 992) (ADR: LNVGY) is a US$70 billion revenue global technology powerhouse, ranked #171 in the Fortune Global 500, employing 75,000 people around the world, and serving millions of customers every day in 180 markets. Focused on a bold vision to deliver smarter technology for all, Lenovo has built on its success as the world's largest PC company by further expanding into key growth areas including server, storage, mobile, solutions and services. This transformation together with Lenovo's world-changing innovation is building a more inclusive, trustworthy, and sustainable digital society for everyone, everywhere. To find out more, visit https://www.lenovo.com, and read about the latest news via our StoryHub.
1 Requires separately purchased Wi-Fi router and plan that may vary by location. Additional terms, conditions and/or charges apply.  Connection speeds will vary due to location, environment, network conditions and other factors.
2 Actual available capacity is less and varies due to many factors, including formatting, partitioning and operating system, etc. which utilize part of this capacity. The available capacity may change with software updates.
3 Requires 4G network service and separately purchased cellular data plan that may vary by location. Additional terms, conditions and/or charges apply. Connection speeds will vary due to location, environment, network conditions and other factors
4 Availability may vary by geography and products may only be available in selected markets. All offers subject to availability. Lenovo reserves the right to alter product offerings, features and specifications at any time without notice.
LENOVO, THINKBOOK, and THINKPAD are trademarks of Lenovo. Intel, Intel Core, and Thunderbolt are trademarks of Intel Corporation or its subsidiaries in the U.S. and/or other countries. Dolby and Dolby Vision are among the registered and unregistered trademarks of Dolby Laboratories, Inc. in the United States and/or other countries. NVIDIA, GEFORCE, GEFORCE RTX are trademarks of NVIDIA Corporation. Wi-Fi is a trademark of Wi-Fi Alliance. All other trademarks are the property of their respective owners.  ©2022, Lenovo Group Limited.