New ThinkPad T495, T495s and X395 Laptops with up to 2nd Generation AMD Ryzen 7 PRO Mobile Processors
Morrisville, NC – May 8, 2019 – Lenovo™ announced today the latest additions to its trusted ThinkPad portfolio: the T495, T495s, and X395. These all-new Windows® 10 laptops, with up to the 2nd Gen AMD Ryzen 7 PRO Mobile Processors with Radeon™ Vega graphics, joins the ranks of the industry-leading ThinkPad T and X line-up with thin and light laptops for outstanding mobility.
ThinkPad has kept the confidence of end-users through intense focus on design and engineering. With two models weighing under three pounds, these new products offer businesses the superior mobile experience that they demand, while still scoring huge in the key areas of first-rate security, performance, manageability and durability. Included are all the features to ensure the top-notch experience that's expected from the Think family of products.
With a longer battery life of up to four more hours on a single charge1 and increased performance by up to 18 percent2 as compared to benchmarks of the prior generation, the new T and X series offers laptop buyers serious feature upgrades without compromises in hardware security and manageability.
"These new flagship ThinkPad series mark the first time AMD benefits are inside our thin and light T, Ts, and X laptops," said Jerry Paradise, vice president, Lenovo Intelligent Devices Group Commercial Product Portfolio. "With these ultra-mobile systems, users will experience premium, first-class computing."
Expanded Features for a Changing World
As workspaces evolve, end-users want smarter, more secure devices that provide features and benefits core to what makes a laptop central to their everyday lives. Whether on-the-job or on-the-go, personnel will get outstanding performance with up to 2nd Gen Ryzen 7 PRO Mobile Processors with Radeon Vega Graphics, designed to boost productivity, enhance multimedia and improve energy efficiency for an exceptional user experience. Enhanced with Radeon FreeSync™ technology,3 users will experience gorgeous pixel quality and a fluid frame refresh rate, virtually free of screen stutters—perfect for videos, presentations and light PC gaming on the side.
By adding an extra G-force crash hazard shock procedure4 to our already exhaustive ThinkPad Mil-Spec tests, this new laptop line is tough enough to withstand the bumpy hazards of a hard day's work. This, alongside all the customer-focused features, is why ThinkPad continues to lead the way in workplace transformation and enabling smarter business.
Superior Sight and Sound
Experience a brighter, crisper display quality that doesn't sacrifice device battery life1, durability or its overall sleek, slim look. New to the AMD series, the 14-inch Full HD (1920×1080) display at 400 nits makes text and icons easier to see in dim surroundings even at a lower power setting than other PCs its size. Paired with ThinkPad's white backlit legendary keyboard, customers will experience superb resolution at a comfortable viewing distance.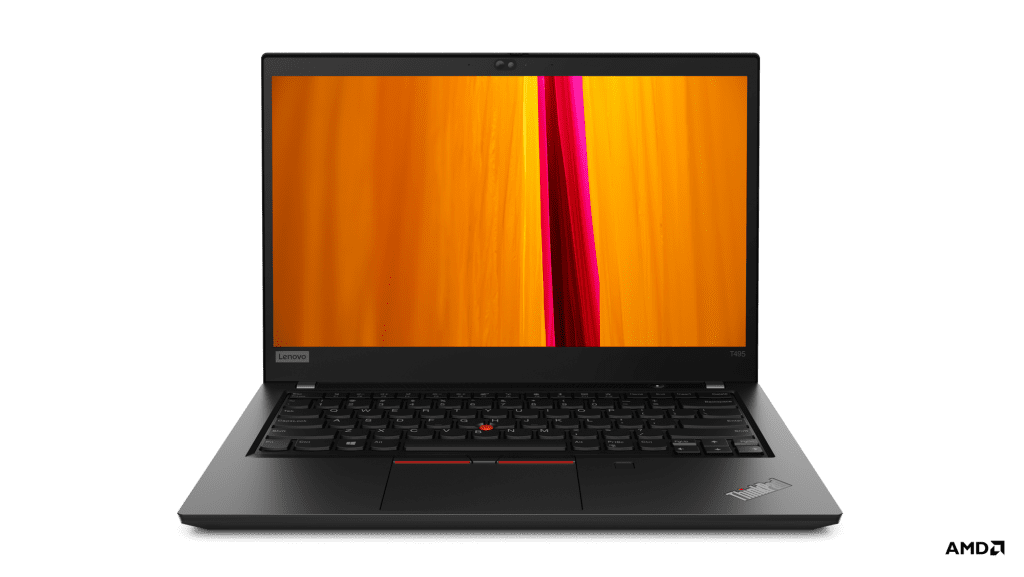 Group calls can often be laden with issues such as poor audio, garbled voices and distracting background noise. To reduce frustration, we've matched ThinkPad's dual far-field microphones on our AMD models for improved 360° reception to enhance VoIP conferencing performance, especially for participants in noisy environments. We've also equipped devices with the ability to use side mechanical docking featuring new flexible support mechanics to enable self-leveling at nearly any angle for increased connectivity, stability and longer platform durability.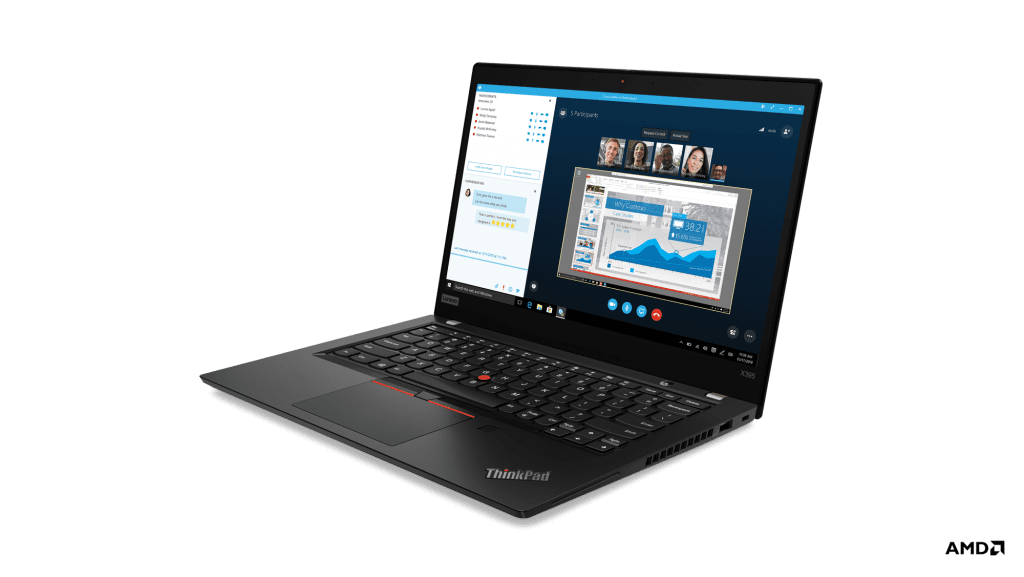 Smarter Security Measures in Place
Enjoy greater peace of mind with just a slide of the ThinkShutter, the all-in-one integrated camera security cover that physically protects ThinkPad users from view of malicious webcam snoopers. For an extra layer of security, we've also integrated an optional ePrivacy filter, the ThinkPad PrivacyGuard on both the T495s and X395, aimed at shielding your screen content from unwanted side glances from prying onlookers. Users wanting an early warning if someone might be "shoulder surfing" only need to wait a few months for the added ThinkPad PrivacyAlert5 feature that automatically enables the PrivacyGuard. Unique to the 2nd Gen Ryzen PRO Processors, AMD Memory Guard (transparent secure memory encryption (TSME)) helps provide protection against cold boot attacks, if an attacker has physical access to the system. AMD Memory Guard provides OS and application-independent DRAM encryption, performing real-time encryption/decryption of system RAM.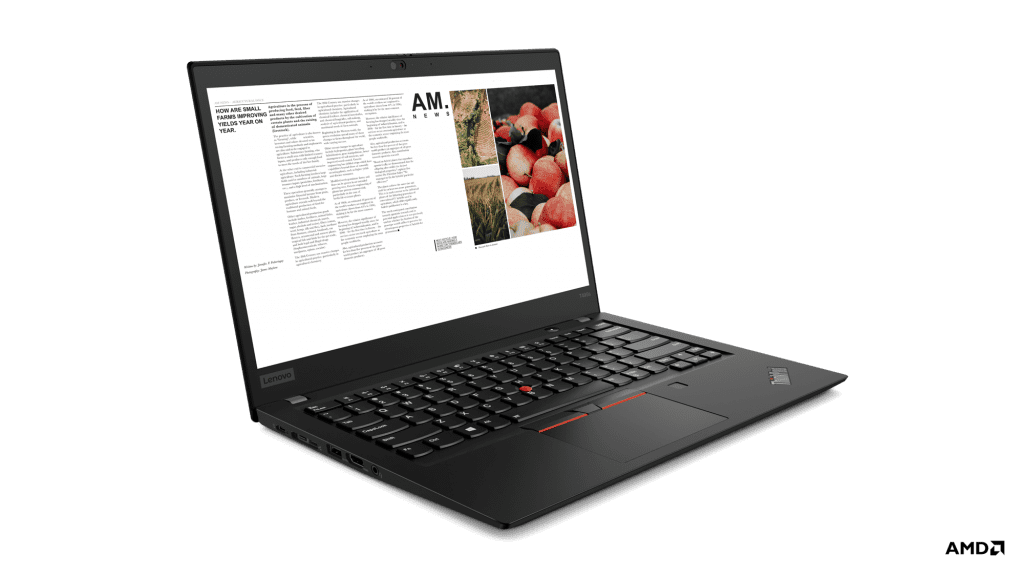 Packed with these features and more, this line of ThinkPad laptops comes protected by one of the most comprehensive end-to-end security platforms on the market, Lenovo ThinkShield. Data and device loss or identity theft can happen at any time, costing companies millions of dollars in recovery. Find peace of mind with Lenovo's cost-efficient, reliable and built-in security features to help safeguard your organization; ThinkShield has enterprise-level CTOs covered during their product's entire lifecycle from development, supply-chain, to essential updates.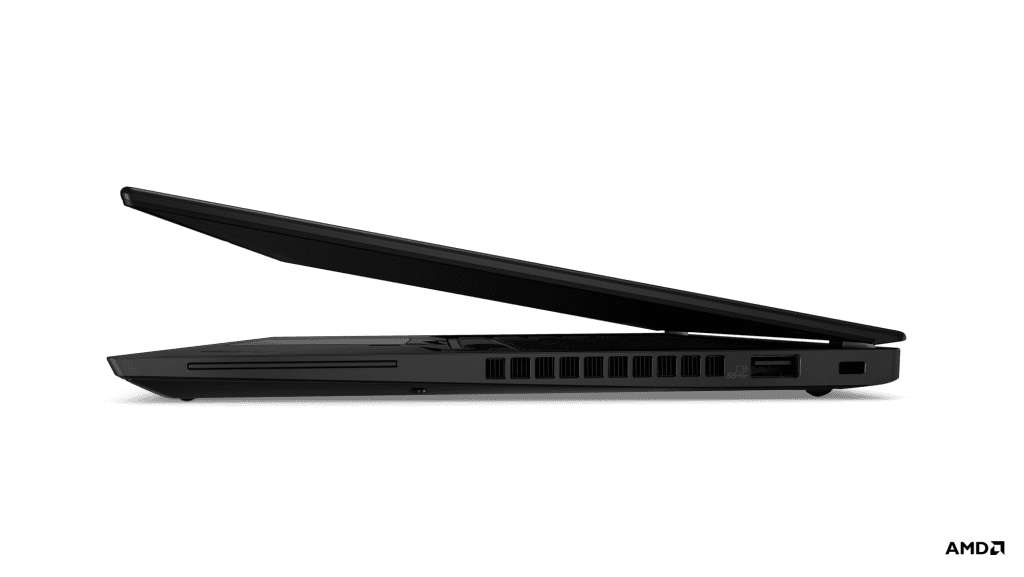 Powered by AMD and designed by the experts behind ThinkPad, Lenovo is making it easier to arm people in the workplace with smarter, cost-effective technology. For more information on the Think family of products, visit: www.lenovo.com/think.
Data Sheets
Full Image Set
North America Pricing and Availability:
ThinkPad T495 (14-inch) is expected to be available starting in May 2019, with a starting price of $939.6
ThinkPad T495s (14-inch) is expected to be available starting in June 2019, with a starting price of $1,089.6
ThinkPad X395 (13-inch) is expected to be available starting in June 2019, with a starting price of $1,089.6
1 Battery life estimated up to 16.4 hours with improvements. All battery life claims are approximate and based on test results using the MobileMark 2014 ver 1.5 battery life benchmark test. Actual results will vary and depend on numerous factors including product configuration and usage, software, operating conditions, wireless functionality, power management settings, screen brightness and other factors. The maximum capacity of the battery will naturally decrease with time and usage. See https://bapco.com/products/mobilemark-2014/ for additional details. AMD has not independently verified this information.
2 Processor percent increase estimated via device benchmark comparisons between Ryzen 5 Pro 3500U vs. Ryzen Pro 2500U using Sysmark 2014SE, 3DMark Firestrike, 3DMark Skydiver, and PCMark8 testing work.
3 Radeon FreeSync technology requires a monitor and AMD Radeon graphics, both with FreeSync support. See www.amd.com/freesync for complete details. Confirm capability with your system manufacturer before purchase. GD-127
4 Lenovo uses the US Department of Defense's MIL-SPEC standards to test devices against hazardous physical and environmental conditions to determine durability. Lenovo ThinkPad devices are tested against 12 categories and 22 MIL-STD 810-G procedures to prove their toughness. Method 516.6 Shock adds Procedure V: Crash Hazard Shock, a test for high G force shock to the system.
5 ThinkPad PrivacyAlert slated to ship July 2019.
6 Prices do not include tax, shipping or options and are subject to change without notice; additional terms and conditions apply. Reseller prices may vary. On-shelf dates may vary by geography and products may only be available in select markets. All offers subject to availability. Lenovo reserves the right to alter product offerings, features and specifications at any time without notice.
About Lenovo
Lenovo (HKSE: 992) (ADR: LNVGY) is a US$45 billion Fortune Global 500 company and a global technology leader in driving Intelligent Transformation through smart devices and infrastructure that create the best user experience. Lenovo manufactures one of the world's widest portfolios of connected products, including smartphones (Motorola), tablets, PCs (ThinkPad, Yoga, Lenovo Legion) and workstations as well as AR/VR devices and smart home/office solutions. Lenovo's data center solutions (ThinkSystem, ThinkAgile) are creating the capacity and computing power for the connections that are changing business and society. Lenovo works to inspire the difference in everyone and build a smarter future where everyone thrives.  Follow us on LinkedIn, Facebook, Twitter, Instagram, Weibo, read about the latest news via our StoryHub, or visit our website at http://www.lenovo.com.
LENOVO, THINKPAD, THINKSHIELD and THINKSHUTTER, are trademarks of Lenovo. WINDOWS is a trademark of Microsoft Corp. AMD, Ryzen, Radeon, A-Series and combinations thereof, are trademarks of Advanced Micro Devices, Inc. All other company, product and service names may be trademarks or service marks of others and are the property of their respective owners. ©2019, Lenovo Group Limited.