ORLANDO, FL, June 12, 2019 – Lenovo announced today, at InfoComm 2019, the latest addition to our smart office portfolio, ThinkSmart Hub 500 for Zoom Rooms. This milestone expands the all-in-one meeting room system portfolio, offering customers a new unified communications platform optimized for easy setup and efficient meetings. Zoom Rooms is a software-based conference room solution that transforms meeting rooms into modern, easy-to-use and powerful collaborative workspaces, with integrated HD video and audio, one-touch to join and one-click wireless sharing.
ThinkSmart Hub 500's all-in-one design facilitates efficient conferencing to save you time. One-touch start functionality means meetings get going quickly and the rotatable touchscreen lets anyone within arm's reach take control. The purpose-built room system is scalable across room sizes and is protected by ThinkShield security.
ThinkSmart Hub 500 for Zoom Rooms
ThinkSmart Hub 500 for Zoom Rooms is an all-in-one meeting room system with an Intel® vPro™ processor, integrated speakers, dual microphones, and a touchscreen control display to further enhance the Zoom platform experience. The clever compact design reduces table top clutter, while built-in Dolby® Audio™ premium and a 360-degree microphone array ensure everyone in the room is heard clearly.
And to ensure a frustration-free experience, ThinkSmart Software, coming soon, enables easy automated device setup and provides real-time dashboards that shows device status. Administrators can view, manage, update and monitor all ThinkSmart Hub devices from a single console. For further assistance, Lenovo's Smart Office Professional Services are available to help set up, maintain, and manage on an ongoing basis.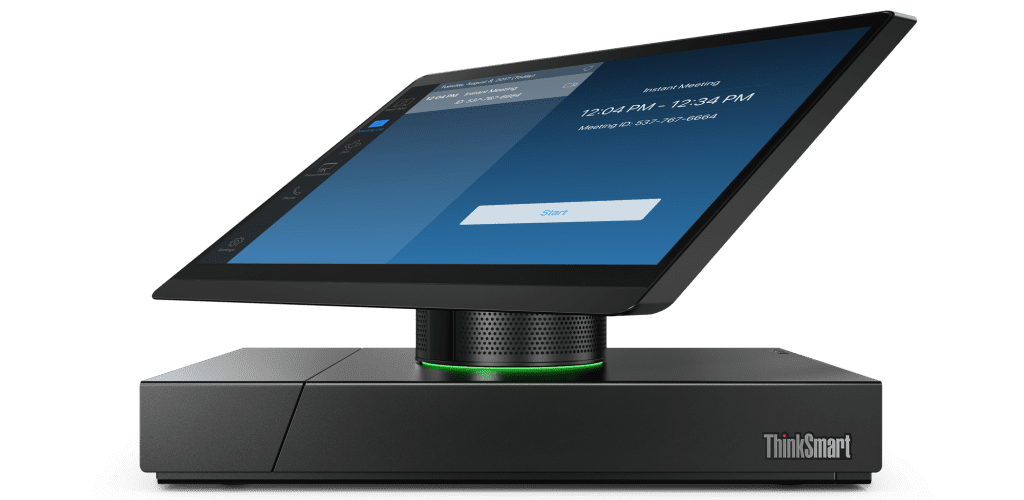 Accessory Ecosystem
Though designed for the huddle room, Hub 500 can be rolled out across various meeting room sizes by simply adding the right mix of accessories. Lenovo continues to develop partnerships with key players in the smart office space.
For example, Lenovo and Avocor have established a strong partnership to provide Avocor interactive displays through Lenovo's Vendor Label Hardware Program so customers can purchase solutions through a single source. Avocor displays, which are Zoom Rooms certified, enable teams to collaborate seamlessly across the table and across the globe by providing 4K video so each team member is crystal clear, as well as pixel-perfect detail and tablet-like responsiveness, so teams can work more efficiently and effectively from any remote location. Lenovo and Avocor will be delivering solutions that allow participants to focus on effective communication and creativity without worry about cumbersome or hard-to-use technology.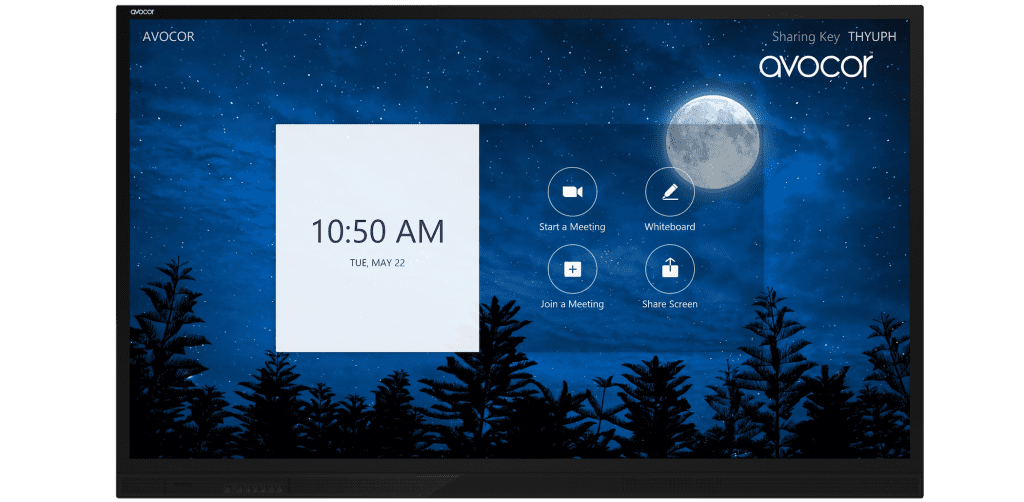 Huddly IQ is an AI-powered conference camera that delivers smart video for more engaging meetings. Intelligent features and an onboard neural engine allow Huddly IQ to respond to its environment and remove the need for end-user control. Furthermore, Huddly IQ can get smarter. As an edge-based deep learning platform, software enhancements and new features can be seamlessly added as the device learns and evolves.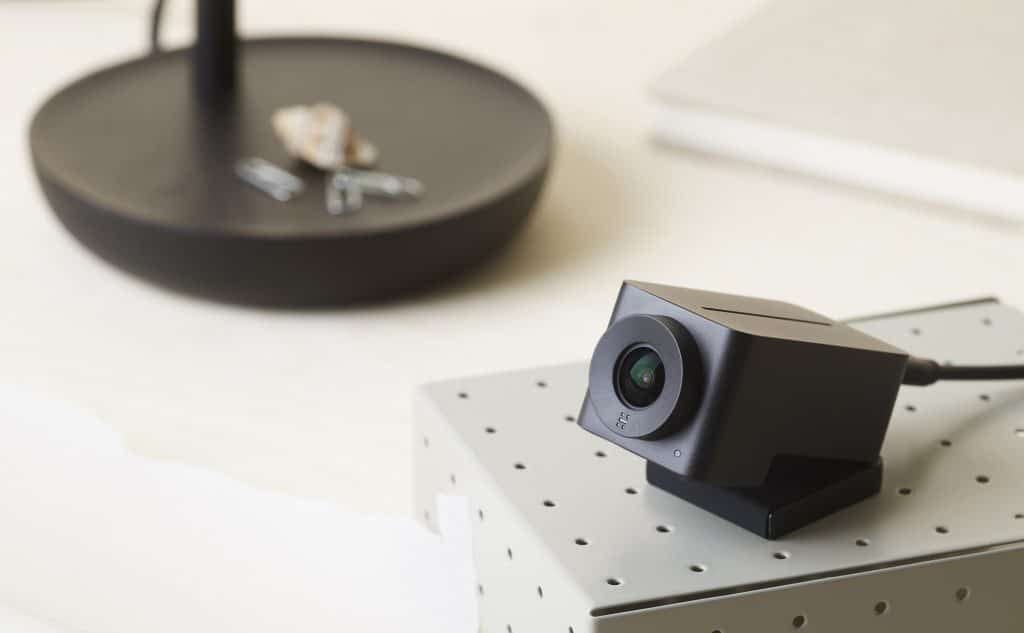 Quotes
"We are very excited to partner with Zoom to create smart office technology that will enhance the overall employee experience and deliver powerful business collaboration," said Joseph Mingori, general manager, Lenovo Smart Office Business. "We have clear goals to be a leader in this space, and strong partnerships with companies at the forefront of smart office innovation like Zoom, Huddly and Avocor will help customers transition to smarter workspaces."
"The smart office market is growing exponentially and partnering with Lenovo to develop an industry-leading Zoom Rooms solution will be instrumental in helping customers embrace smart collaborative tools," said Oded Gal, Zoom head of product management. "The simple-to-setup and intuitive ThinkSmart Hub 500 for Zoom Rooms is the perfect partner for companies to enable local and remote employees communicate efficiently, on time, every time."
Lenovo and Maverick AV Solutions have partnered to develop a set of Zoom Rooms bundle kits for small, medium and large meeting rooms, further demonstrating our commitment to Zoom Rooms solutions. The kits, available in the US, Canada and select countries in Europe, will be based on ThinkCentre Tiny M920 "ThinkSmart Edition" desktop configurations. Further details are available from Maverick AV Solutions.
Demonstrations of Lenovo's ThinkSmart Hub 500 for Zoom Rooms and more smart office technology will be shown at InfoComm 2019 between June 12-14 in the Orange County Convention Center, Orlando, West Level 2, booth # 5073 and additional Lenovo solutions with Avocor and Huddly in Avocor's booth #4771.
Pricing and Availability
ThinkSmart Hub 500 for Zoom Rooms will be available from July 2019, starting at $1799.
Avocor E series and F series interactive displays, and Windows collaboration displays are available in the US through Lenovo Vendor Label Hardware Program from July.
Huddly IQ is available through Lenovo Vendor Label Hardware Program.
About Lenovo
Lenovo (HKSE: 992) (ADR: LNVGY) is a US$50 billion Fortune Global 500 company, with 57,000 employees and operating in 180 markets around the world.  Focused on a bold vision to deliver smarter technology for all, we are developing world-changing technologies that create a more inclusive, trustworthy and sustainable digital society. By designing, engineering and building the world's most complete portfolio of smart devices and infrastructure, we are also leading an Intelligent Transformation – to create better experiences and opportunities for millions of customers around the world. To find out more visit https://www.lenovo.com, follow us on LinkedIn, Facebook, Twitter, YouTube, Instagram, Weibo and read about the latest news via our StoryHub.