SAN JOSE, Calif. and RESEARCH TRIANGLE PARK, N.C. – June 25, 2013 –VeriFone Systems, Inc. (NYSE: PAY), and Lenovo (HKSE: 992) (ADR: LNVGY) announced today that they have joined forces to offer a versatile, enterprise-class, mobile point of sale (mPOS) platform. Powered by Windows 8 Pro, it easily integrates with existing retail store systems.
The mPOS platform integrates a ThinkPad™ Tablet 2based on the Intel® Atom™ Z2760 processor with VeriFone's secure PAYware Mobiletechnology designed exclusively for the Lenovo tablet. The integrated device is based on the Microsoft Windows 8 Pro operating system and will enable retailers to easily transition to a mPOS platform that works with their existing business infrastructure and operations, including multichannel management, store operations, e-commerce, merchandising, financials, and supply chain management.
"Retailers are increasingly eager to adopt mPOS but have been frustrated by proprietary platforms that ignore their major investments in the Windows-based point-of-sale systems on which they run their businesses," said Joe Mach, senior vice president and general manager, Vertical Solutions for VeriFone. "VeriFone will continue to work with industry leaders such as Lenovo to provide mobile payment and mobile POS platforms that work with any smart device retailers want to employ."
"The availability of mPOS platforms that easily integrate with existing back-end infrastructure and traditional POS systems is a must for retailers today," said Michelle Tinsley, director, Transactional Retail, Retail Solutions Division for Intel. "Platforms based on power-efficient Intel® Atom™ processors supporting exceptional battery life will enable more retailers to seamlessly implement mPOS for better service to their customers."
Retail sales associates can use the ThinkPad Tablet 2 mPOS platform to engage customers and deliver responsive support, quickly scan barcodes, and securely accept card-based payments, from anywhere in the store. Available with best-in-class security solutions such as McAfee and VeriFone's VeriShield Total Protect, Secured by RSA, for end-to-end encryption, the ThinkPad Tablet 2 mPOS platform provides state-of-the-art data protection for acceptance of mag-stripe credit cards, signature debit, and store specialty transactions.
"Empowering our customers to fully capture the powerful benefits of mobile and touch technology in their businesses demands tightly integrated hardware and software solutions like this ThinkPad Tablet 2 mPOS offering," said Tom Looney, vice president, North America Relationship Business, Lenovo.  "Forging strong alliances to create these platforms with 'best in class'payment technology providers like VeriFone is a critical part of our PC Plus strategy to help organizations become even more agile and responsive in their operations."
Powered by the Intel® Atom™ processor, the ThinkPad Tablet 2 mPOS platform enables easy integration and architectural consistency across devices including tablets, kiosks, and existing POS systems, all running the same operating system and supporting VeriFone payment services.  The Intel Atom processor is a power efficient system-on-a-chip designed specifically for mobile devices and provides exceptional battery life.
The VeriFone and Lenovo platform is being piloted by leading retailers this summer and will have general U.S. availability in September.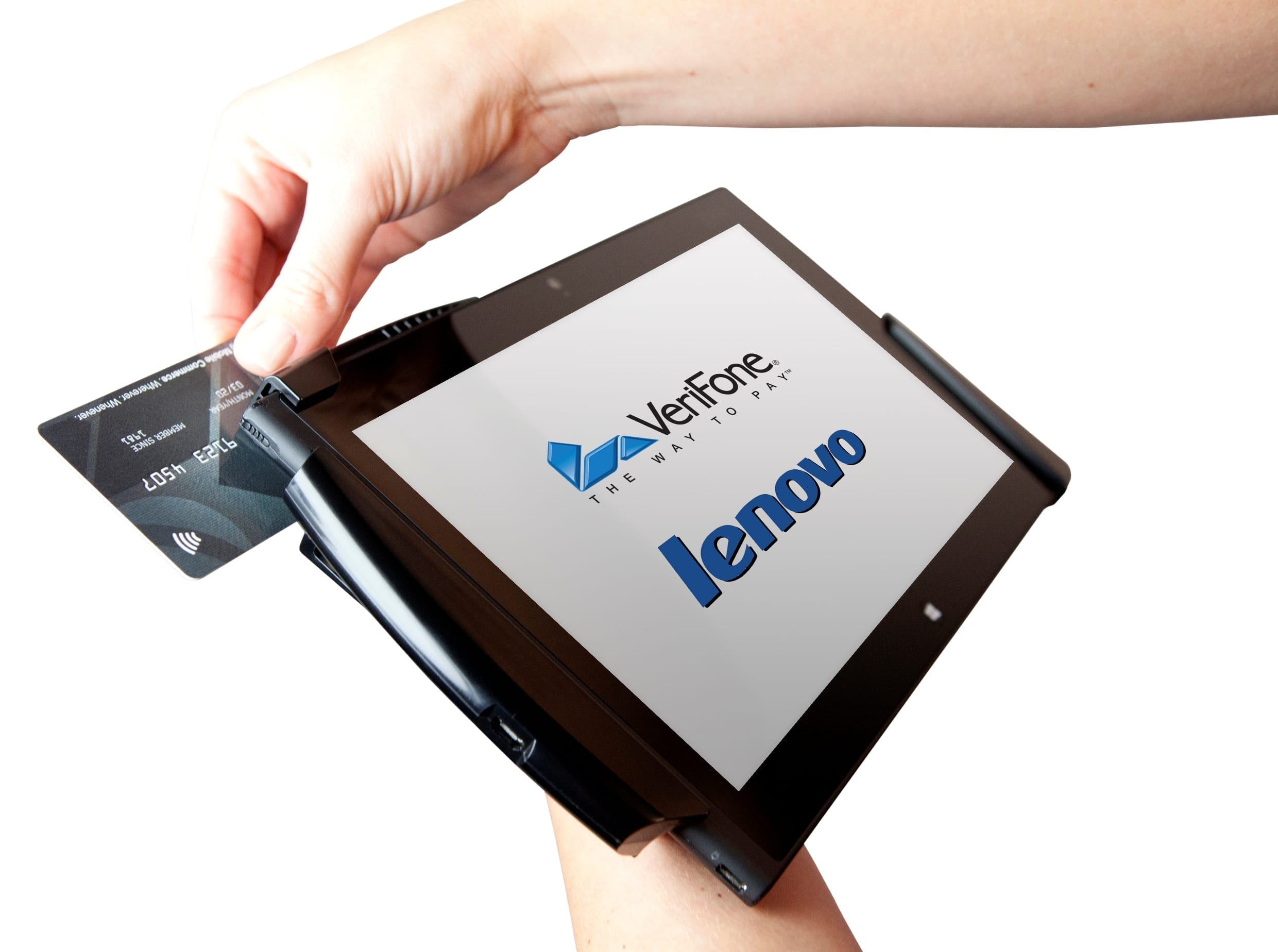 Safe Harbor Statement under the Private Securities Litigation Reform Act of 1995 for VeriFone Systems, Inc.
This press release includes certain forward-looking statements related to VeriFone Systems, Inc. within the meaning of the Private Securities Litigation Reform Act of 1995. These statements are based on VeriFone management's current expectations or beliefs and are subject to uncertainty and changes in circumstances. Actual results may vary materially from those expressed or implied by the forward-looking statements herein due to changes in economic, business, competitive, technological and/or regulatory factors, and other risks and uncertainties affecting the operation of the business of VeriFone Systems, Inc. These risks and uncertainties include: the successful rollout of our mobile point of sale solution integrated with the Lenovo ThinkPad Tablet 2, customer acceptance and adoption of our new solution offerings, our ability to protect against fraud, the status of our relationship with and condition of third parties upon whom we rely in the conduct of our business, our dependence on a limited number of customers, uncertainties related to the conduct of our business internationally, our dependence on a limited number of key employees, short product cycles, rapidly changing technologies and maintaining competitive leadership position with respect to our payment solution offerings. For a further list and description of such risks and uncertainties, see our filings with the Securities and Exchange Commission, including our annual report on Form 10-K and our quarterly reports on Form 10-Q. VeriFone is under no obligation to, and expressly disclaims any obligation to, update or alter its forward-looking statements, whether as a result of new information, future events, changes in assumptions or otherwise.
Intel and Atom are registered trademarks of Intel Corporation in the United States and other countries.
About Lenovo
Lenovo (HKSE: 992) (ADR: LNVGY) is a US$34 billion personal technology company – one of the top two PC makers in the world and an emerging PC Plus leader – serving customers in more than 160 countries. Dedicated to exceptionally engineered PCs and mobile internet devices, Lenovo's business is built on product innovation, a highly-efficient global supply chain and strong strategic execution.  Formed by Lenovo Group's acquisition of the former IBM Personal Computing Division, the Company develops, manufactures and markets reliable, high-quality, secure and easy-to-use technology products and services. Its product lines include legendary Think-branded commercial PCs and Idea-branded consumer PCs, as well as servers, workstations, and a family of mobile internet devices, including tablets and smart phones. Lenovo, a global Fortune 500 company, has major research centers in Yamato, Japan; Beijing, Shanghai and Shenzhen, China; and Raleigh, North Carolina.  For more information see www.lenovo.com.
About VeriFone Systems, Inc. (www.verifone.com)
VeriFone Systems, Inc. ("VeriFone") (NYSE: PAY) is the global leader in secure electronic payment solutions. VeriFone provides expertise, solutions and services that add value to the point of sale with merchant-operated, consumer-facing and self-service payment systems for the financial, retail, hospitality, petroleum, government and healthcare vertical markets.  VeriFone solutions are designed to meet the needs of merchants, processors and acquirers in developed and emerging economies worldwide.