RESEARCH TRIANGLE PARK, NC – Feb. 22, 2011:
Lenovo
 (HKSE: 992) (ADR: LNVGY) today announced six new ThinkPad laptops – the T420s, T420, T520, L420, L520 and W520 – that maximize performance and offer a higher level of productivity for today's mobile business professionals. These laptops are built upon a platform of new Lenovo innovations that respond to key business needs including: video and voice calling, smart PC features for power and performance management, all-day battery life, enterprise management and an intuitive, easy-to-use computing experience.
The ultra-thin, sub four pound ThinkPad T420s speeds up boot time 30 percent1 with Lenovo Enhanced Experience 2.0; the T420 reaches new battery life benchmarks of up to 30 hours with an extended battery; the W520 mobile workstation offers twice the performance of previous models; and the L Series gives customers recognized ThinkPad durable design at an exceptional value.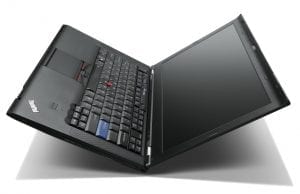 "Inspired by our customers, the 2011 ThinkPad laptops deliver the best technologies the industry has to offer, enabling users to do more with their computing experience," said Dilip Bhatia, vice president, ThinkPad Marketing, Lenovo. "We used customer feedback to help us create our latest ThinkPad laptops that provide strong improvements in key areas such as battery life, video and conferencing communications and performance. We've even made the ThinkPad laptops smarter by engineering self-aware technologies for unprecedented performance and power management capabilities."
Smart PC Power & Performance Management
The new laptops incorporate self-aware and adaptive technologies to sense where power is needed most to ensure priority components receive power for improved overall performance and battery life. Intel® Turbo Boost Technology 2.0 dynamically increases processor speed during performance intensive tasks such as video editing, data analysis and 3D applications. Lenovo Turbo Boost+ enables the laptops to stay in Turbo Boost even longer by keeping processor temperatures below required thermal limits. With reduced power to non-essential hardware, the laptops achieve up to 30 percent longer battery life while playing multimedia so users can watch DVDs, listen to MP3s or stream web content longer.
All-Day Battery Life
With its standard 9-cell battery, the ThinkPad T420 delivers up to 15 hours of battery life, while the T420s, delivers up to 10 hours with its 6-cell and optional optical bay battery combined. For extreme battery life needs, the ThinkPad T420, with its standard 9-cell battery and optional 9-cell slice battery, provides up to 30 hours of computing power. As the first business class laptops to feature NVIDIA® Optimus™ automatic graphic switching technology, T Series and W Series laptops provide 33 percent better battery performance over previous discrete graphics models.
Video & Voice Calling
The laptops include a variety of technologies for enhanced video and voice conferencing. Private Chat and Conference Call microphone modes allow users to switch easily between modes with a single mouse click. Private Chat mode can also use noise cancelling technology to focus on a single voice, while Conference Call mode opens the audio capture field to 360 degrees around the notebook, allowing for multiple user interaction in the room.
The laptops also include keyboard noise suppression technology to help eliminate the distracting keyboard clicking that often occurs while typing during PC-based voice calls. The laptops can also help users avoid embarrassing conference call mistakes with a dedicated LED-lit microphone mute key which indicates when the microphone is sending audio.
Designed for Enterprise
Built upon a platform of advanced industry technologies, including the performance and energy efficiency of the 2nd generation Intel® Core™ and Core™ vPro™ processors, the new ThinkPad laptops offer enterprise IT managers high reliability and easy deployment and manageability. For example, the ThinkPad T, W and L Series share the same docking station to simplify deployment, reduce costs and allow hardware sharing among employees. The laptops also share common batteries for lower cost and easy component management.
For improved enterprise-class security, the new ThinkPad laptops offer multiple layers of security throughout the hardware, software, BIOS and options including encrypted hard drives with remote management support, a fingerprint reader with one touch swipe for power on and authentication and 
Intel® Anti-Theft Technology (Intel® AT)
 – a laptop theft deterrence mechanism that disables the laptop preventing unauthorized data access.
Intuitive, & Easy-to-Use
A new feature, Lenovo's Instant Resume, maintains users' wireless connection on the laptop during sleep mode for up to 99 minutes
2
, eliminating the need to login and reconnect. For improved audio sound, the ThinkPad T420s is the first business class notebook to offer 
Dolby® Home Theater® v4
, Dolby's latest audio technology with virtualized surround sound and dialog enhancement technology for clearer sound in movies, music and during video calls.
For quick and easy startup and shutdown, the laptops also feature 
Lenovo Enhanced Experience 2.0 for Windows 7
 – an exclusive certification for Lenovo products that allows users to start their laptop on average 20 seconds faster than a typical Windows 7 computer
3
.  Users will also enjoy watching high definition movies and online videos with the help of integrated Intel® HD Graphics.
To learn more about the latest 2011 Lenovo ThinkPad laptops, please watch 
this video
 for more details.
Pricing and Availability4
The ThinkPad T, L and W Series will be available starting in March from Lenovo business partners and 
www.lenovo.com
. Pricing for the T420s, T420, T520, L420, L520 and W520 starts at approximately $1,329, $779, $909, $719, $719 and $1329, respectively.
About Lenovo
Lenovo (HKSE: 992) (ADR: LNVGY) is dedicated to building exceptionally engineered personal computers. Lenovo's business model is built on innovation, operational efficiency and customer satisfaction as well as a focus on investment in emerging markets. Formed by Lenovo Group's acquisition of the former IBM Personal Computing Division, the company develops, manufactures and markets reliable, high-quality, secure and easy-to-use technology products and services worldwide. Lenovo has major research centers in Yamato, Japan; Beijing, Shanghai and Shenzhen, China; and Raleigh, North Carolina. For more information see 
www.lenovo.com
.
130%Boot time improvement over similar system without Lenovo Enhanced Experience 2.0.
2Lenovo's Instant Resume can be configured to maintain users' wireless connection from 1-99 minutes after the lid has been close.
3Testing conducted by CNET Labs, Beijing in November 2010, using the independent Microsoft VTS tool to measure start-up, shutdown, resume and other Windows 7 performance measurements. 42 competitors PCs were tested from Acer, Apple, Dell, HP, Samsung, Sony and Toshiba, representing both commercial and consumer desktop and notebook products at mainstream price points. These were compared with comparable Lenovo products. Data from competitors and Lenovo PCs were averaged and compared to calculate the claims used.
4 Prices do not include tax or shipping and are subject to change without notice and is tied to specific terms and conditions. Reseller prices may vary. Price does not include all advertised features. All offers subject to availability. Lenovo reserves the right to alter product offerings and specifications at any time without notice.